Hound Stealth Bomber
2
0
122 Views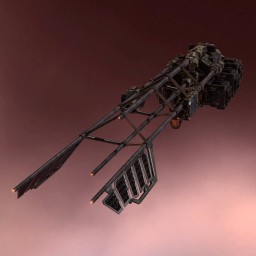 Modulename
91,080m targeting range(For me).
It should have decent range as well as dampening abilities. Pretty good damage and relatively fast while cloaked. Isk is not to much of a concern, those rigs are cheap anyway.

Looking for suggestions ideas to improve this setup and get another perspective.

I had to put the 'Guise' cloaking device to make it fit CPU wise. You could also just exchange something else to make it fit with a regular improved cloak or they may be a skill I am forgetting about that would reduce CPU needs. You could just use malkuth launchers for example, or downgrade one of the T2 low slot modules.
Targeting
| | | |
| --- | --- | --- |
| | Maximum targets | 8 |
| | Maximum targeting range | 112.67828 km |
| | Scan resolution | 550.54 |
| | Sensor strength | 0 18 0 0 |
Size/Movement
| | | |
| --- | --- | --- |
| | Maximum velocity | 108.98 |
| | Inertia modifier | 2.97 |
| | Signature radius | 38 m |
| | Cargo capacity | 204 m3 |
Systems
| | | |
| --- | --- | --- |
| | Capacitor capacity | 356.25 GJ |
| | Capacitor recharge time | 2 minutes 40 seconds |
| | Powergrid | 3921 / 50MW |
| | CPU | 290.5 / 387.5 tf |
Shields
| | | |
| --- | --- | --- |
| | Shield capacity | 653.13 |
| | Shield recharge time | 7 minutes 48 seconds |
| | Shield resistances | 25% 50% 40% 30% |
Armor
| | | |
| --- | --- | --- |
| | Armor hit points | 531.25 |
| | Armor resistances | 70% 10% 25% 43.13% |
Structure
| | | |
| --- | --- | --- |
| | Structure hit points | 437.5 |
| | Structure resistances | 0% 0% 0% 0% |
| | Drone bandwidth | 0 Mbit/sec |
| | Drone control range | 0 m |
Drones
| | | |
| --- | --- | --- |
| | Drone capacity | 0 m3 |
Download EVEMon Skill Plan
[Hound, Hound Stealth Bomber ]
Overdrive Injector System II
Signal Amplifier II
Ballistic Control System II

Sensor Booster II
Phased Muon Sensor Disruptor I
Phased Muon Sensor Disruptor I

'Arbalest' Cruise Launcher I
'Arbalest' Cruise Launcher I
'Arbalest' Cruise Launcher I
Improved 'Guise' Cloaking Device II
Empty

Large Ionic Field Projector I
Large Particle Dispersion Projector I



Item
Quantity
Value
Hound
1
18,598,000
Overdrive Injector System II
1
451,938
Sensor Booster II
1
990,000
Signal Amplifier II
1
844,522
Phased Muon Sensor Disruptor I
2
3,000,000
'Arbalest' Cruise Launcher I
3
12,502
Improved 'Guise' Cloaking Device II
1
61,062
Ballistic Control System II
1
850,012
Large Ionic Field Projector I
1
9,000,000
Large Particle Dispersion Projector I
1
501
Caldari Navy Nova Cruise Missile
1
886
Scan Resolution Script
1
12,634
Targeting Range Dampening Script
1
10,000
Total
36,857,061