Fitting contest entry - kiting executioner
0
0
217 Views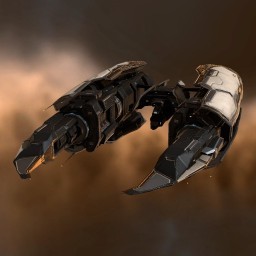 Modulename
Stats on a 40d old character from EFT:
EHP: 2433
DPS: 74 (214/volley)
Mobility: 2914m/s
Capacitor: 2m37s
Range: 15+3.6 (scorch S)

Executioner kiting fit, easy to pick up for beginners and can provide very good results against other beginners and/or more experienced pilots flying brawling fits. Basic tactics in an encounter is to hit orbit at 15km, mwd/disruptor/guns on the enemy and then maneuver to keep the range between 13-18km at all times until the opponent perishes.

you can get pretty decent skills in just 40 days, amarr frigate V, small pulse spec III, all gunnery supports at III(sharpshooter IV), electronics, engineering, mechanics, hull upgrades, weapon upgrades, high speed maneuvering, energy management, energy systems operation at IV and acceleration control, evasive maneuvering III (40d9h24m22s in evemon). And that is without a remap or implants.

You could also drop the plating and damage control from low slots in favor of nanofiber structure II and heat sink II for an extremely fragile ship with more speed/agility and DPS.

Hope you enjoy this.
Targeting
| | | |
| --- | --- | --- |
| | Maximum targets | 4 |
| | Maximum targeting range | 34.375 km |
| | Scan resolution | 1150 |
| | Sensor strength | 0 0 0 8 |
Size/Movement
| | | |
| --- | --- | --- |
| | Maximum velocity | 3564.53 |
| | Inertia modifier | 1.92375 |
| | Signature radius | 186 m |
| | Cargo capacity | 115 m3 |
Systems
| | | |
| --- | --- | --- |
| | Capacitor capacity | 337.5 GJ |
| | Capacitor recharge time | 2 minutes 15 seconds |
| | Powergrid | 48.7 / 61.88MW |
| | CPU | 175 / 175 tf |
Shields
| | | |
| --- | --- | --- |
| | Shield capacity | 312.5 |
| | Shield recharge time | 7 minutes 48 seconds |
| | Shield resistances | 12.5% 56.25% 47.5% 30% |
Armor
| | | |
| --- | --- | --- |
| | Armor hit points | 562.5 |
| | Armor resistances | 65.66% 45.06% 48.49% 55.36% |
Structure
| | | |
| --- | --- | --- |
| | Structure hit points | 437.5 |
| | Structure resistances | 60% 60% 60% 60% |
| | Drone bandwidth | 0 Mbit/sec |
| | Drone control range | 0 m |
Drones
| | | |
| --- | --- | --- |
| | Drone capacity | 0 m3 |
Download EVEMon Skill Plan
[Executioner, Fitting contest entry - kiting executioner]
Adaptive Nano Plating II
Tracking Enhancer II
Damage Control II

Warp Disruptor II
5MN Y-T8 Compact Microwarpdrive
F-12 Nonlinear Tracking Processor

Small Focused Pulse Laser II
Small Focused Pulse Laser II
Small Focused Pulse Laser II
Empty

Small Processor Overclocking Unit I
Small Ancillary Current Router I
Small Energy Locus Coordinator I



Item
Quantity
Value
Executioner
1
396,000
Adaptive Nano Plating II
1
178,678
Tracking Enhancer II
1
640,000
Damage Control II
1
501,090
Small Focused Pulse Laser II
3
555,497
Warp Disruptor II
1
1,160,000
5MN Y-T8 Compact Microwarpdrive
1
190,516
F-12 Nonlinear Tracking Processor
1
226
Small Processor Overclocking Unit I
1
16,848
Small Ancillary Current Router I
1
995,000
Small Energy Locus Coordinator I
1
68,000
Total
5,812,849