Osprey: Large RR
9
0
160 Views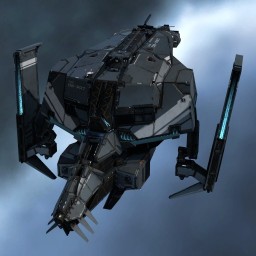 Modulename
Planned with all skills lvl5:
Defence:
cold
(hot)
20582EHP
(21883EHP)
EM/Thermal/Kinetic/Explo
54,7/51/63,3/69
58,6/55,2/66,4/72
For more tank downgrade the DC and drop the Sebo for an Invu (needs 4% CPU Implant though!)
RR and Range:
312HP/s
with 3RR @ 92,4km(large RR)/66km (med RR)
249HP/s with just 2 large RR
Cap:
100% stable everything active (Cap chain of course!)
Sensor Strength:
37,6 / 43 heated
130km
targeting range with Range Script
Speed:
640m/s

(835m/s)
5,8 CPU and 11,08 PG left.....
Concept:
It Reps more than a Scimi with 4 T2 RR !!! It has 21km more range (with large RR), it is capstable with Energy transfers...
Sebo is there to be able to use that great range of Large RR, but it can be changed to an ECCM depends on what you're fighting!
ANOTHER GREAT DEAL
: You dont need perfect skills to run this loadout, even lvl3 or 4 skills are enough to be capstable and have fun with this ship, unlike most other Logis!
Of course, do not use it for solo pvp and have at least 2 of them in your gang. Enjoy.....
Targeting
| | | |
| --- | --- | --- |
| | Maximum targets | 8 |
| | Maximum targeting range | 101.5625 km |
| | Scan resolution | 455 |
| | Sensor strength | 29.4 0 0 0 |
Size/Movement
| | | |
| --- | --- | --- |
| | Maximum velocity | 675.2 |
| | Inertia modifier | 0.41175 |
| | Signature radius | 131.48 m |
| | Cargo capacity | 485 m3 |
Systems
| | | |
| --- | --- | --- |
| | Capacitor capacity | 1718.75 GJ |
| | Capacitor recharge time | 3 minutes 26 seconds |
| | Powergrid | 684 / 702.58MW |
| | CPU | 549 / 512.5 tf |
Shields
| | | |
| --- | --- | --- |
| | Shield capacity | 5534.38 |
| | Shield recharge time | 15 minutes 37 seconds |
| | Shield resistances | 54.72% 69.38% 63.25% 51% |
Armor
| | | |
| --- | --- | --- |
| | Armor hit points | 1250 |
| | Armor resistances | 57.5% 23.5% 36.25% 53.25% |
Structure
| | | |
| --- | --- | --- |
| | Structure hit points | 1812.5 |
| | Structure resistances | 60% 60% 60% 60% |
| | Drone bandwidth | 20 Mbit/sec |
| | Drone control range | 0 m |
Drones
| | | |
| --- | --- | --- |
| | Drone capacity | 20 m3 |
Download EVEMon Skill Plan
[Osprey, Osprey: Large RR]
Reactor Control Unit II
Reactor Control Unit II
Damage Control II

Sensor Booster II
Adaptive Invulnerability Field II
Large F-S9 Regolith Compact Shield Extender
10MN Afterburner II
Conjunctive Gravimetric ECCM Scanning Array I

Medium S95a Remote Shield Booster
Large S95a Remote Shield Booster
Large S95a Remote Shield Booster
Medium 'Regard' Remote Capacitor Transmitter
Medium 'Regard' Remote Capacitor Transmitter

Medium Processor Overclocking Unit I
Medium Anti-EM Screen Reinforcer I
Medium Core Defense Field Extender I



Item
Quantity
Value
Osprey
1
8,411,280
Reactor Control Unit II
2
469,488
Sensor Booster II
1
990,000
Damage Control II
1
501,090
Adaptive Invulnerability Field II
1
1,728,000
Medium Processor Overclocking Unit I
1
113,989
Large F-S9 Regolith Compact Shield Extender
1
60,010
Medium S95a Remote Shield Booster
1
674,998
Large S95a Remote Shield Booster
2
313,681
10MN Afterburner II
1
1,999,000
Medium 'Regard' Remote Capacitor Transmitter
2
100,000
Conjunctive Gravimetric ECCM Scanning Array I
1
8
Medium Anti-EM Screen Reinforcer I
1
173,891
Medium Core Defense Field Extender I
1
1
Total
16,418,605