Dominix Navy Issue, PvE Mission (Shield)

0
0
79 Views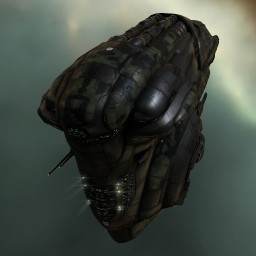 Modulename
This is a Level 4 mission running fit for the Dominix Navy Issue. This fit is an advanced fit, it is not a basic/starter fit, nor is it an expert, perfect, or 'super' fit. It is designed to actually be flown/used for its stated purpose.
Stats at All level 5 skills*:
Targeting/Drone Control Range: 87.5km/86km
Gardes+AM (<41km)/Wardens+L (<83km): 1089/784dps
Tank: 460dps
This fit:
*uses no deadspace or officer modules.
*uses T1 ammunition and rigs.
*has good cap (2.3 minutes without the cap booster; definitely enough for any L4 with it)
*requires no implants
I haven't found any other fits with better tank/dps using these guidelines; if anyone has, please post/link them for me in a comment.
If you:
*have/want to use implants,
*have perfect fitting skills and T2 large rails trained,
*don't want to use/think you don't need a cap booster, and/or
*have/are willing to buy deadspace/officer modules
...then you might consider different fits, like these very nice ones:
http://eve.battleclinic.com/loadout/62918-Dominix-Navy-Issue-PVE-Shield-Gank.html
or
http://eve.battleclinic.com/loadout/61530-Dominix-Navy-Issue-Inferno-carebear.html
Upgrading this fit to T2 guns:
If you want to use this cap-booster fit with only faction or lower modules, while also using T2 guns, you can. This is for a net increase of +40/+26dps. To do this, you would need to:
*use a +3 PG implant (or a +5 implant, if you only have AWU IV),
*change the shield hardeners and tracking enhancer to faction ones
Yes, either foregoing cap 'stability' by removing the cap booster or using deadspace/officer modules makes fitting T2 guns easier, but either would result in completely different fits (more like those linked above).
The fit shown here is designed for pilots who:
*do not have or want to use fitting implants,
*do not have/want to use T2 large rails (due to weapon and/or fitting skills),
*want the added cap strength provided by the cap booster, and/or
*do not have/want to buy deadspace/officer modules
Note on the Anti-EM rig:
This is designed to be able to operate in any space and tank against any enemy types just by changing hardeners. The Anti-EM rig is there to provide this capability (for example, against Sansha's Nation or Blood Raiders enemies) with minimal effort. If you only want to use this ship against enemies that don't deal EM damage, simply replace this rig with a third SCMC.
*The fit shown is set-up to fly against Guristas enemies. As always, hardeners and drones should be modified based on the specific mission being run.
Targeting
| | | |
| --- | --- | --- |
| | Maximum targets | 7 |
| | Maximum targeting range | 87.5 km |
| | Scan resolution | 112.5 |
| | Sensor strength | 0 0 27 0 |
Size/Movement
| | | |
| --- | --- | --- |
| | Maximum velocity | 137.5 |
| | Inertia modifier | 0.081 |
| | Signature radius | 477.75 m |
| | Cargo capacity | 675 m3 |
Systems
| | | |
| --- | --- | --- |
| | Capacitor capacity | 9092.19 GJ |
| | Capacitor recharge time | 13 minutes 45 seconds |
| | Powergrid | 12162 / 13750MW |
| | CPU | 790 / 825 tf |
Shields
| | | |
| --- | --- | --- |
| | Shield capacity | 11875 |
| | Shield recharge time | 42 minutes 22 seconds |
| | Shield resistances | 30% 50% 73% 64% |
Armor
| | | |
| --- | --- | --- |
| | Armor hit points | 13750 |
| | Armor resistances | 50% 10% 35% 35% |
Structure
| | | |
| --- | --- | --- |
| | Structure hit points | 13750 |
| | Structure resistances | 0% 0% 0% 0% |
| | Drone bandwidth | 125 Mbit/sec |
| | Drone control range | 0 m |
Drones
| | | |
| --- | --- | --- |
| | Drone capacity | 400 m3 |
Download EVEMon Skill Plan
[Dominix Navy Issue, Dominix Navy Issue PvE Mission (Shield)]
Tracking Enhancer II
Drone Damage Amplifier II
Drone Damage Amplifier II
Drone Damage Amplifier II
Federation Navy Magnetic Field Stabilizer
Federation Navy Magnetic Field Stabilizer
Federation Navy Magnetic Field Stabilizer

Kinetic Deflection Field II
Thermic Dissipation Field II
Heavy Electrochemical Capacitor Booster I
Domination X-Large Shield Booster
Federation Navy Omnidirectional Tracking Link
Federation Navy Omnidirectional Tracking Link

425mm Prototype Gauss Gun
425mm Prototype Gauss Gun
425mm Prototype Gauss Gun
425mm Prototype Gauss Gun
425mm Prototype Gauss Gun
Black Eagle Drone Link Augmentor

Large Semiconductor Memory Cell I
Large Semiconductor Memory Cell I
Large Anti-EM Screen Reinforcer I


Hammerhead II
Hobgoblin II
Warden II
Garde II

Item
Quantity
Value
Dominix Navy Issue
1
415,000,000
Lead Charge L
1
37
Antimatter Charge L
1
185
Tracking Enhancer II
1
640,000
Hammerhead II
1
725,965
Kinetic Deflection Field II
1
1,400,000
Thermic Dissipation Field II
1
1,599,000
Hobgoblin II
1
305,080
Drone Damage Amplifier II
3
965,937
Heavy Electrochemical Capacitor Booster I
1
15,000
425mm Prototype Gauss Gun
5
499,902
Cap Booster 800
1
4,000
Domination X-Large Shield Booster
1
13,205,000
Federation Navy Magnetic Field Stabilizer
3
103,350,000
Large Semiconductor Memory Cell I
2
15,800,000
Large Anti-EM Screen Reinforcer I
1
755,494
Warden II
1
1,306,700
Garde II
1
1,129,990
Federation Navy Omnidirectional Tracking Link
2
37,400,000
Black Eagle Drone Link Augmentor
1
159,180,000
Total
1,017,113,772