Dominix Navy Issue: Shield/Sentry Navy Domi
2
0
106 Views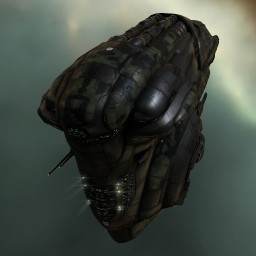 Modulename
FYI First Loadout Alert. I can already fly this with the exception of the high slots (silly doctrine cross training...) and will be trying it out once it gets shipped in from Jita.
AB, Omnis, Drones will be swapped out for whatever utility/extra tank/damage type the mission requires.

Stats (all lvl 5):
DPS: 1065 (441 guns + 624 Garde 2s)with faction Antimatter for <60 km
725 (257 guns + 468 Warden 2s) with faction Iridium for >60 km
Tank: 472 vs kin/therm
Will have to add a little more tank vs em/therm or omni damage. Should be fine with mission specific hardeners for everything else.
Cap stable @ 34% without AB, lasts 3m 37s with everything running.

Any constructive criticism (besides fly a different ship) welcome!
Targeting
| | | |
| --- | --- | --- |
| | Maximum targets | 7 |
| | Maximum targeting range | 87.5 km |
| | Scan resolution | 112.5 |
| | Sensor strength | 0 0 27 0 |
Size/Movement
| | | |
| --- | --- | --- |
| | Maximum velocity | 374.11 |
| | Inertia modifier | 0.081 |
| | Signature radius | 455 m |
| | Cargo capacity | 675 m3 |
Systems
| | | |
| --- | --- | --- |
| | Capacitor capacity | 3520 GJ |
| | Capacitor recharge time | 1 minutes 58 seconds |
| | Powergrid | 11592 / 13750MW |
| | CPU | 823.5 / 825 tf |
Shields
| | | |
| --- | --- | --- |
| | Shield capacity | 11875 |
| | Shield recharge time | 42 minutes 22 seconds |
| | Shield resistances | 0% 50% 74.35% 65.8% |
Armor
| | | |
| --- | --- | --- |
| | Armor hit points | 13750 |
| | Armor resistances | 50% 10% 35% 35% |
Structure
| | | |
| --- | --- | --- |
| | Structure hit points | 13750 |
| | Structure resistances | 0% 0% 0% 0% |
| | Drone bandwidth | 125 Mbit/sec |
| | Drone control range | 0 m |
Drones
| | | |
| --- | --- | --- |
| | Drone capacity | 400 m3 |
Download EVEMon Skill Plan
[Dominix Navy Issue, Dominix Navy Issue: Shield/Sentry Navy Domi]
Capacitor Flux Coil II
Capacitor Flux Coil II
Drone Damage Amplifier II
Drone Damage Amplifier II
Mark I Compact Capacitor Flux Coil
Federation Navy Magnetic Field Stabilizer
Federation Navy Magnetic Field Stabilizer

100MN Afterburner II
Gist C-Type X-Large Shield Booster
Pith C-Type Kinetic Deflection Field
Pith C-Type Thermic Dissipation Field
Omnidirectional Tracking Link II
Omnidirectional Tracking Link II

425mm Railgun II
425mm Railgun II
425mm Railgun II
425mm Railgun II
425mm Railgun II
Drone Link Augmentor II

Large Capacitor Control Circuit I
Large Capacitor Control Circuit I
Large Capacitor Control Circuit I


Hammerhead II
Hobgoblin II
Warden II
Garde II

Item
Quantity
Value
Dominix Navy Issue
1
415,000,000
Capacitor Flux Coil II
2
537,000
Hammerhead II
1
725,965
Hobgoblin II
1
305,080
425mm Railgun II
5
3,849,810
Drone Damage Amplifier II
2
965,937
Mark I Compact Capacitor Flux Coil
1
9
100MN Afterburner II
1
2,350,000
Federation Navy Magnetic Field Stabilizer
2
103,350,000
Gist C-Type X-Large Shield Booster
1
319,613,000
Pith C-Type Kinetic Deflection Field
1
14,203,200
Pith C-Type Thermic Dissipation Field
1
3,954,140
Caldari Navy Antimatter Charge L
1
1,000
Caldari Navy Iridium Charge L
1
1,300
Drone Link Augmentor II
1
1,099,990
Omnidirectional Tracking Link II
2
849,992
Large Capacitor Control Circuit I
3
8,648,990
Warden II
1
1,306,700
Garde II
1
1,129,990
Total
1,016,292,252