Skiff, The 1.2 bait ship!
0
0
3,626 Views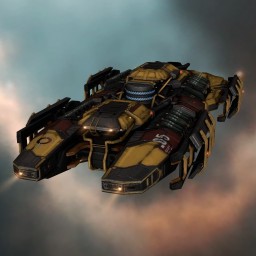 Modulename
First off, BC isn't up to date, so this fit actually have 2 MSE II.
Want to mine? no problem! this fit will bring in about 1k m3 of ore per minute without boosts.
Acting as bait? no problem! this fit has aprox. 86.6k EHP and an 82 dps passive tank!
On top of that it comes equipped with a warp disruptor and webifier drones to keep the unfortunate target in place long enough for your buddies to get him!
There are cheaper baitships with more survival you say? well,
Name one more tempting than a noob who went mining in lowsec?
-----Stats------
Shield: 12980 (71,9/72,8/79,6/83) (56k ehp in shields alone)
Cap: 12 cap/sec in excess with all modules on
dps: 99 with hobs, obviously none with webber
drones.
Go blow some stuff up
Targeting
| | | |
| --- | --- | --- |
| | Maximum targets | 6 |
| | Maximum targeting range | 37.5 km |
| | Scan resolution | 550 |
| | Sensor strength | 0 0 14 0 |
Size/Movement
| | | |
| --- | --- | --- |
| | Maximum velocity | 250 |
| | Inertia modifier | 0.675 |
| | Signature radius | 172.01 m |
| | Cargo capacity | 350 m3 |
Systems
| | | |
| --- | --- | --- |
| | Capacitor capacity | 1181.25 GJ |
| | Capacitor recharge time | 2 minutes 8 seconds |
| | Powergrid | 38.5 / 66.25MW |
| | CPU | 273.5 / 375 tf |
Shields
| | | |
| --- | --- | --- |
| | Shield capacity | 11471.25 |
| | Shield recharge time | 28 minutes 35 seconds |
| | Shield resistances | 62.47% 77.36% 72.83% 63.78% |
Armor
| | | |
| --- | --- | --- |
| | Armor hit points | 6875 |
| | Armor resistances | 66% 23.5% 36.25% 44.75% |
Structure
| | | |
| --- | --- | --- |
| | Structure hit points | 7500 |
| | Structure resistances | 60% 60% 60% 60% |
| | Drone bandwidth | 50 Mbit/sec |
| | Drone control range | 0 m |
Drones
| | | |
| --- | --- | --- |
| | Drone capacity | 100 m3 |
Download EVEMon Skill Plan
[Skiff, Skiff The 1.2 bait ship!]
Power Diagnostic System II
Damage Control II
Empty

Adaptive Invulnerability Field II
Adaptive Invulnerability Field II
Warp Disruptor II
Medium Shield Extender II
Empty

Modulated Strip Miner II

Medium Anti-EM Screen Reinforcer I
Medium Core Defense Field Extender I


Hobgoblin II
Warrior SW-300

Item
Quantity
Value
Skiff
1
165
Power Diagnostic System II
1
537,986
Damage Control II
1
501,090
Adaptive Invulnerability Field II
2
1,728,000
Hobgoblin II
1
305,080
Warp Disruptor II
1
1,160,000
Medium Shield Extender II
1
534,000
Modulated Strip Miner II
1
4,100,000
Pyroxeres Mining Crystal II
1
103
Warrior SW-300
1
1,000
Medium Anti-EM Screen Reinforcer I
1
173,891
Medium Core Defense Field Extender I
1
1
Total
10,769,316