Vagabond - Gank over Tank (702 DPS - 26.8k EHP)
10
1
151 Views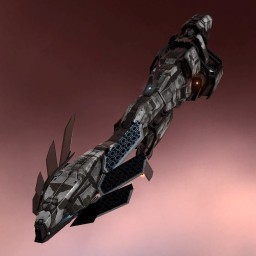 Modulename
My trusty "i'm going to molest your face before you can blink" Vagabond.
Its also pretty cheap (relatively).
DPS - Cold/Hot - Opti/FallOff
EMP: 623/702 - 1.8/27
Bar: 524/589 - 3.5/41 (lol)
With 5x HobGobs
Thats with 220s and 2x tracking enhancers, so alot of that will stick.
EHP: 26.8k
Cap: 1m 57s with everything on, stable at 83% without the MWD.
Align in 4.6 (6.6 with MWD)
2,7k M/S (3.8 with the MWD hot)
Orbit right up close, or at 30km depending on what you're fighting. (Swap the point accordingly)
If you know what you can/can't engage, you can't really make an error. Orbit, and watch your guns absolutely shred the poor bastard.
HAML vs Neut: Discussion in the comments, but i'll TL;DR my opinion - Quite alot of the time you have to sit outside medium neut range to be safe. You can do that and do decent DPS with this fit. Neut becomes a wasted slot, i'd rather take the DPS of the HAML for versatility.
Thoughts and comments very welcome.
EDIT: Mistake.
EDIT: Updated with suggestions.
Targeting
| | | |
| --- | --- | --- |
| | Maximum targets | 6 |
| | Maximum targeting range | 87.5 km |
| | Scan resolution | 412.5 |
| | Sensor strength | 0 21 0 0 |
Size/Movement
| | | |
| --- | --- | --- |
| | Maximum velocity | 2708.36 |
| | Inertia modifier | 0.28662 |
| | Signature radius | 1033.02 m |
| | Cargo capacity | 460 m3 |
Systems
| | | |
| --- | --- | --- |
| | Capacitor capacity | 1125 GJ |
| | Capacitor recharge time | 3 minutes 3 seconds |
| | Powergrid | 991.7 / 1125MW |
| | CPU | 394 / 500 tf |
Shields
| | | |
| --- | --- | --- |
| | Shield capacity | 10062.5 |
| | Shield recharge time | 15 minutes 37 seconds |
| | Shield resistances | 75% 50% 40% 60% |
Armor
| | | |
| --- | --- | --- |
| | Armor hit points | 1750 |
| | Armor resistances | 90% 10% 25% 67.5% |
Structure
| | | |
| --- | --- | --- |
| | Structure hit points | 980 |
| | Structure resistances | 0% 0% 0% 0% |
| | Drone bandwidth | 25 Mbit/sec |
| | Drone control range | 0 m |
Drones
| | | |
| --- | --- | --- |
| | Drone capacity | 25 m3 |
Download EVEMon Skill Plan
[Vagabond, Vagabond - Gank over Tank (702 DPS - 26.8k EHP)]
Gyrostabilizer II
Gyrostabilizer II
Tracking Enhancer II
Tracking Enhancer II
Nanofiber Internal Structure II

Warp Disruptor II
Large Shield Extender II
Large Shield Extender II
50MN Cold-Gas Enduring Microwarpdrive

220mm Vulcan AutoCannon II
220mm Vulcan AutoCannon II
220mm Vulcan AutoCannon II
220mm Vulcan AutoCannon II
220mm Vulcan AutoCannon II
Heavy Assault Missile Launcher II

Medium Projectile Burst Aerator II
Medium Core Defense Field Extender I


Hammerhead II
Hobgoblin II

Item
Quantity
Value
Vagabond
1
150,701,000
Gyrostabilizer II
2
794,998
Tracking Enhancer II
2
640,000
Hammerhead II
1
725,965
Hobgoblin II
1
305,080
Nanofiber Internal Structure II
1
290,000
220mm Vulcan AutoCannon II
5
1,502,990
Warp Disruptor II
1
1,160,000
Large Shield Extender II
2
880,000
50MN Cold-Gas Enduring Microwarpdrive
1
1
Barrage M
1
150
Republic Fleet EMP M
1
778
Heavy Assault Missile Launcher II
1
1,033,500
Medium Projectile Burst Aerator II
1
13,997,500
Medium Core Defense Field Extender I
1
1
Total
180,358,921