L4 Active Tank Cap Stable Sentry DPS Rattlesnake
0
0
2,752 Views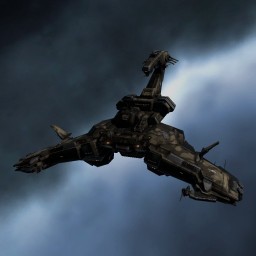 Modulename
I wanted a setup that would allow me to AFK most missions by just sitting my Gardes out and letting them do most of the damage. Most of the AFK fits I saw out their were passive tanked shat DPS fits because they can't fit damage mods on top of the shield power relays and all that jazz. Most active tanked fits had X-L boosters on there that you would have to pulse. I'm using drones because I'm lazy as hell. Don't tell me I have to watch my cap and my shield while I'm grinding the same mission for the 50th time.

EFF THAT NOISE.

I wanted something that could put out maximum DPS with sentries, hit almost anything, tank anything and on top of all that be 100% cap stable.

To make this fit work, you will probably want a Crystal Set (I don't currently have a Crystal Omega in, but if you did have one you'd probably be well over tanked.)

With Level 5 skills you will also need a 2% capacitor 'Squire' Energy Management EM-802 implant. I use a 3% implant in that slot as I'm not quite level 5 on all the energy skills I believe, and I am completley cap stable.

You can also include these implants for about 25+ DPS and better hitting power with your cruise missiles (:
Cruise Missiles CM-605
Missile Projection MP-705
Target Navigation Prediction TN-905
Rapid Launch RL-1005

With no damage profile selected, I'm showing 857 defense. With my skills and implants I get about 600 shield repped every 3.2 seconds. Use faction/deadspace shield boost amps to push this further. If you find you are overtanking, you can replace one shield boost amp with a target painter, another omni-directional, or a shield hardener for more specific tank. (anything active here and you probably lose cap stability. Get a better + capacitor implant if needed. They come in use for every situation anyways)

For better tank, you can switch up the hardeners based off the mission specific rats, OR remove one of the omni-directionals for another hardener. Stick in a passive shield hardener and you won't have any capacitor issues. An active hardener might make you non-cap stable, but not by much. (Another Pith X hardener gives you 19m+ until your cap dries out). You lose a little optimal on your drones with the loss of one omni, however, so keep that in mind. Switch out to wardens if you can't hit things out too far, and have a flight of hobs for any frigs that get in too close.

Getting 495 DPS with garde IIs, and 265 with faction missiles for a total of 760 DPS. 790 with T2 Fury Missiles (I recommend Faction missiles as they'll hit cruisers and what not better, especially with your lack of any target painters on this fit.) If you're a true lazy mofo, use F.O.F. Missiles.

This setup can tank the Angel Extravaganza bonus room (Set correct hardeners, grab aggro, send out heavy drones and start kiting. Get rid of some of the turrents and BS's right away. Once you are able to tank the room, call back your ogres, send out hobs and start getting rid of frigs, then stop, send our gardes/wardens and kill the rest. Easy with a little active missioning. This is just about the only mission room I can't do 100% AFK.)

Open and willing to take any suggestions that increase DPS without taking away the fact that this is meant to be a mission boat for the lazy/busy player. Needs to stay cap stable with a heavy tank.
Targeting
| | | |
| --- | --- | --- |
| | Maximum targets | 7 |
| | Maximum targeting range | 93.75 km |
| | Scan resolution | 125 |
| | Sensor strength | 30 0 0 0 |
Size/Movement
| | | |
| --- | --- | --- |
| | Maximum velocity | 117.5 |
| | Inertia modifier | 0.0864 |
| | Signature radius | 472.5 m |
| | Cargo capacity | 665 m3 |
Systems
| | | |
| --- | --- | --- |
| | Capacitor capacity | 7021.88 GJ |
| | Capacitor recharge time | 6 minutes 28 seconds |
| | Powergrid | 5607.8 / 13250MW |
| | CPU | 776.5 / 843.13 tf |
Shields
| | | |
| --- | --- | --- |
| | Shield capacity | 16734.38 |
| | Shield recharge time | 28 minutes 35 seconds |
| | Shield resistances | 45.31% 72.66% 67.19% 83.01% |
Armor
| | | |
| --- | --- | --- |
| | Armor hit points | 11175 |
| | Armor resistances | 57.5% 23.5% 36.25% 53.25% |
Structure
| | | |
| --- | --- | --- |
| | Structure hit points | 12450 |
| | Structure resistances | 60% 60% 60% 60% |
| | Drone bandwidth | 50 Mbit/sec |
| | Drone control range | 0 m |
Drones
| | | |
| --- | --- | --- |
| | Drone capacity | 175 m3 |
Download EVEMon Skill Plan
[Rattlesnake, L4 Active Tank Cap Stable Sentry DPS Rattlesnake ]
Capacitor Power Relay II
Capacitor Power Relay II
Power Diagnostic System II
Damage Control II
Caldari Navy Ballistic Control System
Caldari Navy Ballistic Control System

Caldari Navy Adaptive Invulnerability Field
Pith A-Type Large Shield Booster
Pith X-Type Thermic Dissipation Field
Shield Boost Amplifier II
Shield Boost Amplifier II
Federation Navy Omnidirectional Tracking Link
Federation Navy Omnidirectional Tracking Link

Cruise Missile Launcher II
Cruise Missile Launcher II
Cruise Missile Launcher II
Cruise Missile Launcher II
Drone Link Augmentor II
Drone Link Augmentor II

Large Core Defense Capacitor Safeguard I
Large Sentry Damage Augmentor I
Large Capacitor Control Circuit I


Garde II

Item
Quantity
Value
Rattlesnake
1
3,299,780
Capacitor Power Relay II
2
424,499
Power Diagnostic System II
1
537,986
Damage Control II
1
501,090
Caldari Navy Ballistic Control System
2
91,297,700
Caldari Navy Adaptive Invulnerability Field
1
275,000,000
Pith A-Type Large Shield Booster
1
75,307,500
Pith X-Type Thermic Dissipation Field
1
33,900,000
Cruise Missile Launcher II
4
2,284,960
Drone Link Augmentor II
2
1,099,990
Shield Boost Amplifier II
2
868,990
Large Core Defense Capacitor Safeguard I
1
539,987
Large Sentry Damage Augmentor I
1
11,500,000
Large Capacitor Control Circuit I
1
8,648,990
Garde II
1
1,129,990
Federation Navy Omnidirectional Tracking Link
2
37,400,000
Total
681,687,521