ECM Myrmidon PvP Fitting
3
22
214 Views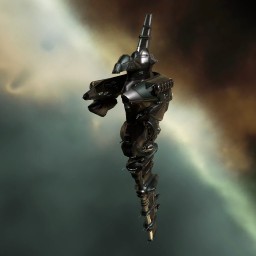 Modulename
This fitting is designed to jam the enemy while you and your gang deal the dmg and tackle.
Tactics:
Get a gang/fleet with ANY ship with 1 or 2 webs and a warp disruptor II. This is a multi-use setup because it has great dps, nice tank and ECM to support your gang.
Just approach your enemy with EVERYTHING on except the booster because I only use it when I need to rep. Try to stay at 0m till the enemy dies ( you will mostly always win if you have a tackler in gang because you both can't get damaged, nossed ect ). If the enemy has drones on you just shoot them first, that won't take to long.
Normally you can take on all ships nomather what class without taking damage, as long as its not another jammer with faster targeting speed.
You can swap your drones for ECM drones to upper the effect, but then its better to train for a blackbird.... You own choice tough.
You can also swap the co-processor and a magnetic field stab for an overdrive and nano to get more speed.
Positive:
* Jamming ( about 50% chance, 70% with drones )
* High DPS ( around 500 dps )
* Good tank ( around 30k effective hp )
* Permarun
* Nos
* Cheap
* Multifunctional
Negative:
* Tackler Required
* Slow
Targeting
| | | |
| --- | --- | --- |
| | Maximum targets | 7 |
| | Maximum targeting range | 68.75 km |
| | Scan resolution | 250 |
| | Sensor strength | 0 0 18 0 |
Size/Movement
| | | |
| --- | --- | --- |
| | Maximum velocity | 1138.82 |
| | Inertia modifier | 0.4752 |
| | Signature radius | 1830 m |
| | Cargo capacity | 400 m3 |
Systems
| | | |
| --- | --- | --- |
| | Capacitor capacity | 2850 GJ |
| | Capacitor recharge time | 9 minutes 22 seconds |
| | Powergrid | 1196.9 / 1312.5MW |
| | CPU | 501.25 / 550 tf |
Shields
| | | |
| --- | --- | --- |
| | Shield capacity | 4375 |
| | Shield recharge time | 17 minutes 30 seconds |
| | Shield resistances | 12.5% 56.25% 47.5% 30% |
Armor
| | | |
| --- | --- | --- |
| | Armor hit points | 5625 |
| | Armor resistances | 57.5% 23.5% 44.75% 44.75% |
Structure
| | | |
| --- | --- | --- |
| | Structure hit points | 5937.5 |
| | Structure resistances | 60% 60% 60% 60% |
| | Drone bandwidth | 100 Mbit/sec |
| | Drone control range | 0 m |
Drones
| | | |
| --- | --- | --- |
| | Drone capacity | 200 m3 |
Download EVEMon Skill Plan
[Myrmidon, ECM Myrmidon PvP Fitting]
Damage Control II
Medium Armor Repairer II
Co-Processor II
Magnetic Field Stabilizer II
Magnetic Field Stabilizer II
Magnetic Field Stabilizer II

Medium Capacitor Booster II
ECM - Ion Field Projector II
ECM - Spatial Destabilizer II
ECM - White Noise Generator II
50MN Microwarpdrive II

Heavy Ion Blaster II
Heavy Ion Blaster II
Heavy Ion Blaster II
Heavy Neutron Blaster II
Heavy Neutron Blaster II
Small Diminishing Power System Drain I

Empty
Empty
Empty


Hammerhead II
Ogre II
Hobgoblin II

Item
Quantity
Value
Myrmidon
1
56,002,000
Medium Capacitor Booster II
1
900,000
Damage Control II
1
501,090
Hammerhead II
1
725,965
Ogre II
1
1,309,990
Hobgoblin II
1
305,080
ECM - Ion Field Projector II
1
1,009,890
ECM - Spatial Destabilizer II
1
799,874
ECM - White Noise Generator II
1
819,911
Heavy Ion Blaster II
3
1
Heavy Neutron Blaster II
2
1,629,940
Medium Armor Repairer II
1
1,038,960
Co-Processor II
1
837,000
Small Diminishing Power System Drain I
1
10,000
Magnetic Field Stabilizer II
3
899,995
Cap Booster 400
1
1,200
50MN Microwarpdrive II
1
4,119,030
Void M
1
83
Total
74,339,941