Heretic: Deep Space Whore
1
3
194 Views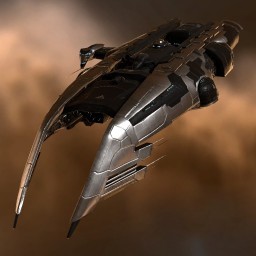 Modulename
This heretic is designed to cover surprise/gank combat situations in wormholes and let you km whore as best as possible.

It is a fleet heretic for wormholes. AKA You have backup in warp once you land and deploy your bubble. Cloak/Dual Prop should increase survivability.

Stats:
Cap Stable With MWD On and everything running.

EHP 4733 / Shield HP 1815 / Armor 829 / Hull 875

Shield Resist 0/20/40/60
Armor Resist 50/35/25/30

Signature Radius: 540(MWD On) 90 (MWD Off) [470+/- w/ deadspace mwd]

**If in a pulsar you may want to switch warp speed rig for a core def field extender.

Utility Features:
+Cloak
+Double Bubble
+Dual Prop
+Auto Targeter (more locked targets to km whore on quicker)
-Requires Core CA-1 CA-2 Implants.

Update: Dropped Civi AB for Real AB since removing rockets provided more cpu/pg to fit AB. (one day Defender missiles will matter again ... one day...)

Note: I personally dont like rockets because they dont hit anything or deal any dmg once outside close range.
Targeting
| | | |
| --- | --- | --- |
| | Maximum targets | 7 |
| | Maximum targeting range | 62.5 km |
| | Scan resolution | 328.13 |
| | Sensor strength | 0 0 0 12 |
Size/Movement
| | | |
| --- | --- | --- |
| | Maximum velocity | 1495.41 |
| | Inertia modifier | 2.1627 |
| | Signature radius | 492 m |
| | Cargo capacity | 243.2 m3 |
Systems
| | | |
| --- | --- | --- |
| | Capacitor capacity | 750 GJ |
| | Capacitor recharge time | 4 minutes 41 seconds |
| | Powergrid | 67.4 / 75MW |
| | CPU | 312.5 / 330 tf |
Shields
| | | |
| --- | --- | --- |
| | Shield capacity | 2281.25 |
| | Shield recharge time | 7 minutes 48 seconds |
| | Shield resistances | 0% 75% 55% 20% |
Armor
| | | |
| --- | --- | --- |
| | Armor hit points | 935.16 |
| | Armor resistances | 50% 60% 43.75% 35% |
Structure
| | | |
| --- | --- | --- |
| | Structure hit points | 937.5 |
| | Structure resistances | 0% 0% 0% 0% |
| | Drone bandwidth | 0 Mbit/sec |
| | Drone control range | 0 m |
Drones
| | | |
| --- | --- | --- |
| | Drone capacity | 0 m3 |
Download EVEMon Skill Plan
[Heretic, Heretic: Deep Space Whore]
Overdrive Injector System II
Overdrive Injector System II
Co-Processor II

1MN Afterburner II
5MN Microwarpdrive II
Caldari Navy Medium Shield Extender

Dual Light Beam Laser II
Dual Light Beam Laser II
Prototype Cloaking Device I
Interdiction Sphere Launcher I
Interdiction Sphere Launcher I
Empty
Empty
Empty

Small Hyperspatial Velocity Optimizer II
Small Polycarbon Engine Housing II



Item
Quantity
Value
Heretic
1
45,000,000
1MN Afterburner II
1
1,724,990
5MN Microwarpdrive II
1
2,804,910
Overdrive Injector System II
2
451,938
Dual Light Beam Laser II
2
500,000
Co-Processor II
1
837,000
Prototype Cloaking Device I
1
1,393,530
Aurora S
1
68,993
Warp Disrupt Probe
1
20,000
Interdiction Sphere Launcher I
2
1,329
Caldari Navy Mjolnir Rocket
1
512
Small Hyperspatial Velocity Optimizer II
1
3,300,000
Small Polycarbon Engine Housing II
1
4,000,000
Caldari Navy Medium Shield Extender
1
10,256,700
Total
71,313,168