Solo PvP Buffer Tengu
3
1
408 Views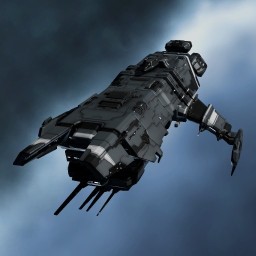 Modulename
Hello. This is my first PvP fit on Battleclinic. I wanted to get some imput before throwing it into the fray.
I tried to make this fit as cost-effective as possible. It's roughly 600mill, which is pretty damn cheap for a Tengu fit. Of course, faction mods and full T2 rigs are an option if you want to go all out.

Also using relatively cheap implants:
3% MWD/AB boost
3% damage
Zor's Hyperlink
3% explosion velocity
3% RoF

Stats are according to EVEHQ, with mostly Level 4s:

671 DPS with Rage @ 23.7km
471 DPS with Javelin @ 39.7km
603 DPS with faction @ 26.5km

Tanks 114 DPS omni. 96k EHP. 58 EM/81 Kin/69 Exp/88 Therm resists.

Cap stable at 32.5% with everything on.
Stable at 80.55 without MWD on.

Goes 1425m/s with MWD, with a 5.55sec align time.
Goes 239m/s without MWD, with a 4.11sec align time.

It has enough EHP to sustain itself, and a full web/warp jam tackle for the little frigs. I'm still undecided on fitting a faction web as a necessity. It would allow you to kite other ships outside their optimal range while still doing maximum damage, but as I said, trying to keep the costs down. The faction MWD was necessary in order to keep it cap stable. I'm uncertain on whether it can be classified as a speedtank, since the MWD knocks its sig radius up by a mile.

I'm not a huge expert on PvP or anything, so any suggestions would be greatly appreciated.

Edit: Followed Izzy's wonderful suggestion. Lost some mobility but gained 19k EHP. Still cap stable. Put in the faction web and replaced the T2 warp disruptor for a Meta 4 one, due to fitting issues.
Targeting
| | | |
| --- | --- | --- |
| | Maximum targets | 5 |
| | Maximum targeting range | 81.25 km |
| | Scan resolution | 312.5 |
| | Sensor strength | 20 0 0 0 |
Size/Movement
| | | |
| --- | --- | --- |
| | Maximum velocity | 1809.54 |
| | Inertia modifier | 0.21769 |
| | Signature radius | 1345.55 m |
| | Cargo capacity | 0 m3 |
Systems
| | | |
| --- | --- | --- |
| | Capacitor capacity | 2475 GJ |
| | Capacitor recharge time | 3 minutes 59 seconds |
| | Powergrid | 906.5 / 1031.25MW |
| | CPU | 627.5 / 635 tf |
Shields
| | | |
| --- | --- | --- |
| | Shield capacity | 21945.23 |
| | Shield recharge time | 30 minutes 30 seconds |
| | Shield resistances | 77.29% 69.38% 81.63% 87.75% |
Armor
| | | |
| --- | --- | --- |
| | Armor hit points | 3250 |
| | Armor resistances | 57.5% 23.5% 68.13% 88.31% |
Structure
| | | |
| --- | --- | --- |
| | Structure hit points | 2076.25 |
| | Structure resistances | 60% 60% 60% 60% |
| | Drone bandwidth | 0 Mbit/sec |
| | Drone control range | 0 m |
Drones
| | | |
| --- | --- | --- |
| | Drone capacity | 0 m3 |
Download EVEMon Skill Plan
[Tengu, Solo PvP Buffer Tengu]
Damage Control II
Ballistic Control System II
Ballistic Control System II
Ballistic Control System II

Adaptive Invulnerability Field II
EM Ward Field II
Large Shield Extender II
Large Shield Extender II
Faint Warp Disruptor I
Shadow Serpentis 50MN Microwarpdrive
Federation Navy Stasis Webifier

Heavy Assault Missile Launcher II
Heavy Assault Missile Launcher II
Heavy Assault Missile Launcher II
Heavy Assault Missile Launcher II
Heavy Assault Missile Launcher II

Medium Anti-EM Screen Reinforcer II
Medium Core Defense Field Extender I
Medium Core Defense Field Extender I

Tengu Defensive - Supplemental Screening
Tengu Electronics - Emergent Locus Analyzer
Tengu Propulsion - Intercalated Nanofibers
Tengu Offensive - Accelerated Ejection Bay
Tengu Engineering - Capacitor Regeneration Matrix


Item
Quantity
Value
Tengu
1
193,248,000
Damage Control II
1
501,090
Adaptive Invulnerability Field II
1
1,728,000
EM Ward Field II
1
1,417,000
Scourge Rage Heavy Assault Missile
1
110
Large Shield Extender II
2
880,000
Faint Warp Disruptor I
1
160,000
Shadow Serpentis 50MN Microwarpdrive
1
60,703,900
Federation Navy Stasis Webifier
1
72,809,100
Ballistic Control System II
3
850,012
Scourge Javelin Heavy Assault Missile
1
95
Heavy Assault Missile Launcher II
5
1,033,500
Caldari Navy Scourge Heavy Assault Missile
1
1,055
Tengu Defensive - Supplemental Screening
1
53,999,000
Tengu Electronics - Emergent Locus Analyzer
1
55,000,000
Tengu Propulsion - Intercalated Nanofibers
1
55,000,000
Tengu Offensive - Accelerated Ejection Bay
1
57,698,900
Tengu Engineering - Capacitor Regeneration Matrix
1
56,080,000
Medium Anti-EM Screen Reinforcer II
1
5,371,250
Medium Core Defense Field Extender I
2
1
Total
623,195,038