Typhoon Fleet Issue: *poor* mans Marauder - Solo L4
0
0
2,014 Views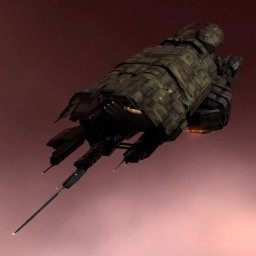 Modulename
This is not the best ship for the job. I just really love this boat, and wanted to fly it.
The faction repper is just for fitting purposes. Any will work.
Blood Raider/Sansha
534.6-599.6 defense
67.7k-75.9k Armor EHP (110k-118k total EHP)
Cruisers (Javelin)
619 dps @ 30k w/out drones (936 w/)
351 m/s
BS (Rage)
880 dps @ 18k w/out drones (1197 w/)
431 m/s
Capacitor Booster is just for when you need to touch up your cap (a couple of times per pocket).
By request -- Mining Misappropriation:
http://www.youtube.com/watch?v=FvAv707B75M
Will post Worlds Collide when it comes up.
Targeting
| | | |
| --- | --- | --- |
| | Maximum targets | 9 |
| | Maximum targeting range | 81.25 km |
| | Scan resolution | 143.75 |
| | Sensor strength | 0 23 0 0 |
Size/Movement
| | | |
| --- | --- | --- |
| | Maximum velocity | 459.31 |
| | Inertia modifier | 0.07425 |
| | Signature radius | 320 m |
| | Cargo capacity | 600 m3 |
Systems
| | | |
| --- | --- | --- |
| | Capacitor capacity | 7250 GJ |
| | Capacitor recharge time | 11 minutes 41 seconds |
| | Powergrid | 12639 / 16250MW |
| | CPU | 801 / 825 tf |
Shields
| | | |
| --- | --- | --- |
| | Shield capacity | 11875 |
| | Shield recharge time | 42 minutes 22 seconds |
| | Shield resistances | 12.5% 56.25% 47.5% 30% |
Armor
| | | |
| --- | --- | --- |
| | Armor hit points | 11250 |
| | Armor resistances | 88.02% 42.63% 52.19% 80.54% |
Structure
| | | |
| --- | --- | --- |
| | Structure hit points | 11250 |
| | Structure resistances | 60% 60% 60% 60% |
| | Drone bandwidth | 125 Mbit/sec |
| | Drone control range | 0 m |
Drones
| | | |
| --- | --- | --- |
| | Drone capacity | 200 m3 |
Download EVEMon Skill Plan
[Typhoon Fleet Issue, Typhoon Fleet Issue: *poor* mans Marauder - Solo L4]
Damage Control II
Energized Adaptive Nano Membrane II
Armor EM Hardener II
Armor Thermic Hardener II
True Sansha Large Armor Repairer
Ballistic Control System II
Ballistic Control System II
Ballistic Control System II

Heavy Capacitor Booster II
100MN Monopropellant Enduring Afterburner
Phased Weapon Navigation Array Generation Extron
Phased Weapon Navigation Array Generation Extron
Empty

Torpedo Launcher II
Torpedo Launcher II
Torpedo Launcher II
Torpedo Launcher II
Torpedo Launcher II
Automated Targeting Unit I
Small Tractor Beam I
Salvager II

Large Auxiliary Nano Pump I
Large Capacitor Control Circuit I
Large Rocket Fuel Cache Partition I


Ogre II
Hobgoblin II

Item
Quantity
Value
Typhoon Fleet Issue
1
337,121,000
EMP L
1
213
Damage Control II
1
501,090
Torpedo Launcher II
5
3,934,870
Ogre II
1
1,309,990
Hobgoblin II
1
305,080
Heavy Capacitor Booster II
1
501
100MN Monopropellant Enduring Afterburner
1
1,000
Automated Targeting Unit I
1
168
Energized Adaptive Nano Membrane II
1
665,000
Armor EM Hardener II
1
1,598,920
Armor Thermic Hardener II
1
1,576,500
True Sansha Large Armor Repairer
1
30,020,500
Phased Weapon Navigation Array Generation Extron
2
450,000
Ballistic Control System II
3
850,012
Small Tractor Beam I
1
1,700,000
Mjolnir Rage Torpedo
1
326
Mjolnir Javelin Torpedo
1
1
Large Auxiliary Nano Pump I
1
10,019,500
Large Capacitor Control Circuit I
1
8,648,990
Large Rocket Fuel Cache Partition I
1
10,150,000
Salvager II
1
701,350
Total
427,444,514