Vargur: Level 4 - Minmatar Space - Max Gank, Min Tank
13
0
115 Views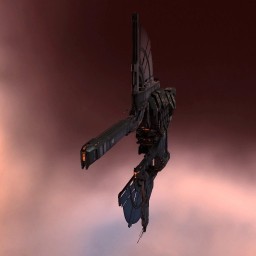 Modulename
Here's a Vargur fitting that has served me well in Minmatar space (aka against Angels, Mercs, Serps, and Drones in missions.)

Max Gank: 4xGyrostabs, TE, 2xTCs, RoF II rig, Falloff rig. (The fourth gyrostab is a T2 instead of RF, because the RF only provides an additional seven DPS, and seven DPS isn't worth ~70M isk.)

Between the raw firepower and the base shield resists of the Vargur, you don't need a huge tank. The Pithum C-Type Medium SB also has the advantage of being effectively permatanked, which is one less thing to micromanage. (Micromanagement was the main reason I went with the perma-run Pithum C due to the constant locking and shooting from how fast things died to the Vargur's guns.)

Raw DPS:
* RF - 1,019 (1,047 w/o reload)
* Barrage - 812
With 120 volleys in the guns, it's pretty rare that you need to reload in a pocket, so a DPS of 1,047 is justifiable.

Range:
* RF 4.2km + 72km
* Barrage: 8.5km + 108km
Barrage > RF around 60km in terms of DPS, generally speaking.

Tank:
* Angel: 463 (1xExpl, 1x Invul, SBA)
* Serp: 392 (1xKin, 1xTherm, SBA)
* Merc: 353 (1xTherm, 1xInvul, SBA)
* Drones: 446 (1xExpl, 1x Invul, SBA)

Propulsion: For the few missions that require travel, those missions are easy enough that you can fit an AB in place of the SBA.

Drones: I recommend light Hobgoblins. NPC frigates die at range easily, so lights are needed for the few frigates that manage to close. Also, the elite Angel frigates are more vulnerable to thermal damage than explosive damage.


Ammo Swapping: I don't use barrage ammo often due to how quickly NPCs close, and because you can kill frigates and cruisers effectively at long range with RF ammo.


Tank: I wouldn't take this into the AE Bonus room, and you need to watch your triggers on a few missions, but it runs Minmatar space missions quite well.



Targeting
| | | |
| --- | --- | --- |
| | Maximum targets | 10 |
| | Maximum targeting range | 101.25 km |
| | Scan resolution | 181.25 |
| | Sensor strength | 0 11 0 0 |
Size/Movement
| | | |
| --- | --- | --- |
| | Maximum velocity | 137.5 |
| | Inertia modifier | 0.07425 |
| | Signature radius | 360 m |
| | Cargo capacity | 1150 m3 |
Systems
| | | |
| --- | --- | --- |
| | Capacitor capacity | 7750 GJ |
| | Capacitor recharge time | 13 minutes 45 seconds |
| | Powergrid | 7951 / 16125MW |
| | CPU | 563 / 781.25 tf |
Shields
| | | |
| --- | --- | --- |
| | Shield capacity | 10375 |
| | Shield recharge time | 28 minutes 24 seconds |
| | Shield resistances | 47.5% 83.37% 58% 51% |
Armor
| | | |
| --- | --- | --- |
| | Armor hit points | 9125 |
| | Armor resistances | 70% 10% 25% 43.13% |
Structure
| | | |
| --- | --- | --- |
| | Structure hit points | 8625 |
| | Structure resistances | 0% 0% 0% 0% |
| | Drone bandwidth | 50 Mbit/sec |
| | Drone control range | 0 m |
Drones
| | | |
| --- | --- | --- |
| | Drone capacity | 75 m3 |
Download EVEMon Skill Plan
[Vargur, Vargur: Level 4 - Minmatar Space - Max Gank Min Tank]
Gyrostabilizer II
Tracking Enhancer II
Republic Fleet Gyrostabilizer
Republic Fleet Gyrostabilizer
Republic Fleet Gyrostabilizer

Tracking Computer II
Tracking Computer II
Adaptive Invulnerability Field II
Explosive Deflection Field II
Pithum C-Type Medium Shield Booster
Shield Boost Amplifier II

800mm Repeating Cannon II
800mm Repeating Cannon II
800mm Repeating Cannon II
800mm Repeating Cannon II
Small Tractor Beam II
Salvager II
Salvager II
Empty

Large Projectile Ambit Extension I
Large Projectile Burst Aerator II


Hobgoblin II

Item
Quantity
Value
Vargur
1
5,623,560
Gyrostabilizer II
1
794,998
Tracking Computer II
2
939,998
Tracking Enhancer II
1
640,000
Adaptive Invulnerability Field II
1
1,728,000
Explosive Deflection Field II
1
1,305,100
Hobgoblin II
1
305,080
800mm Repeating Cannon II
4
3,499,920
Small Tractor Beam II
1
1,922,940
Barrage L
1
317
Republic Fleet Gyrostabilizer
3
74,240,900
Pithum C-Type Medium Shield Booster
1
47,562,000
Republic Fleet Fusion L
1
1,200
Shield Boost Amplifier II
1
868,990
Large Projectile Ambit Extension I
1
292,122
Large Projectile Burst Aerator II
1
18,649,400
Optimal Range Script
1
9,000
Salvager II
2
701,350
Total
319,707,782