Machariel: Arty Solo L4 Kite
1
13
1,593 Views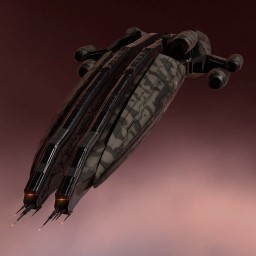 Modulename
Here is the T2 version of the ship I fly (works great for all L4 missions)

MWD to 60k-80k and stop or coast. Pick off the frigs, cruisers, then the BS (Basically whatever is fastest goes first since your not really taking damage).

All skills @ 5:
Range : 39km+108km
Volley: 13069
Speed : 1505 m/s
Targeting range: 101
(I typically stay at 70k - 80k to avoid damage)

Against worst (Blood Raiders):
581 defense
39.5k shield EHP (71.6k total)

Against best (Angels):
770 defense
52.3k shield EHP (89k total)

Drones are just for tacklers since you'll be 65k+ away from everyone.
Targeting
| | | |
| --- | --- | --- |
| | Maximum targets | 10 |
| | Maximum targeting range | 121.875 km |
| | Scan resolution | 175 |
| | Sensor strength | 0 26 0 0 |
Size/Movement
| | | |
| --- | --- | --- |
| | Maximum velocity | 1547.04 |
| | Inertia modifier | 0.0648 |
| | Signature radius | 1785 m |
| | Cargo capacity | 665 m3 |
Systems
| | | |
| --- | --- | --- |
| | Capacitor capacity | 7231.88 GJ |
| | Capacitor recharge time | 8 minutes 6 seconds |
| | Powergrid | 24532.5 / 23783.75MW |
| | CPU | 749.5 / 750 tf |
Shields
| | | |
| --- | --- | --- |
| | Shield capacity | 12232.5 |
| | Shield recharge time | 28 minutes 35 seconds |
| | Shield resistances | 66.54% 62.5% 55% 73.23% |
Armor
| | | |
| --- | --- | --- |
| | Armor hit points | 11562.5 |
| | Armor resistances | 60% 10% 25% 35% |
Structure
| | | |
| --- | --- | --- |
| | Structure hit points | 10325 |
| | Structure resistances | 0% 0% 0% 0% |
| | Drone bandwidth | 100 Mbit/sec |
| | Drone control range | 0 m |
Drones
| | | |
| --- | --- | --- |
| | Drone capacity | 125 m3 |
Download EVEMon Skill Plan
[Machariel, Machariel: Arty Solo L4 Kite]
Power Diagnostic System II
Tracking Enhancer II
Tracking Enhancer II
Type-D Attenuation Signal Augmentation
Republic Fleet Gyrostabilizer
Republic Fleet Gyrostabilizer
Republic Fleet Gyrostabilizer

Limited Adaptive Invulnerability Field I
Pith B-Type X-Large Shield Booster
Gist B-Type EM Ward Field
Gist B-Type Thermic Dissipation Field
Gist B-Type 500MN Microwarpdrive

Auto Targeting System I
1400mm Howitzer Artillery II
1400mm Howitzer Artillery II
1400mm Howitzer Artillery II
1400mm Howitzer Artillery II
1400mm Howitzer Artillery II
1400mm Howitzer Artillery II
1400mm Howitzer Artillery II

Large Capacitor Control Circuit I
Large Capacitor Control Circuit I
Large Capacitor Control Circuit I


Hobgoblin II

Item
Quantity
Value
Machariel
1
430,018,000
Auto Targeting System I
1
7,001
Power Diagnostic System II
1
537,986
Tracking Enhancer II
2
640,000
Hobgoblin II
1
305,080
1400mm Howitzer Artillery II
7
5,000,000
Type-D Attenuation Signal Augmentation
1
6
Limited Adaptive Invulnerability Field I
1
100,003
Republic Fleet Gyrostabilizer
3
74,240,900
Pith B-Type X-Large Shield Booster
1
24,100,000
Gist B-Type EM Ward Field
1
25,901,200
Gist B-Type Thermic Dissipation Field
1
5,550,090
Gist B-Type 500MN Microwarpdrive
1
120,920,000
Republic Fleet EMP L
1
1,034
Large Capacitor Control Circuit I
3
8,648,990
Total
892,390,070