Tengu: Ultimate Level 4 Mission Fit
7
3
520 Views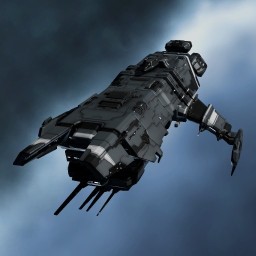 Modulename
Tried using Heavy Missiles for missions, found it takes too long and the damage is not the best so I have been toying around with using HAM's for missions and it works fantastically...
This is the fit I am currently using, yes I know it has a Invul rather than a specific hardner but;
a: I'm lazy and cba changing modules between missions
b: I dont do Amarr, Sansha or Blood Raiders missions so I dont need the EM Resist hole plugging.
On top of the modules on the ship I also use the following implants (needed to make it work as intended but you can use lower level implants if desired).
Crystal 1-5
CR8
ZMC1000
CC8
ZMS1000
ZMM1000
Stats:
882 DPS @ 46.3KM (Rage) - 180 EXP Radius - 146 EXP Velocity
620 DPS @ 77.5KM (Javelin) - 125 EXP Radius - 159 EXP Velocity
792 DPS @ 51.7KM (CN Terror) - 125 EXP Radius - 159 EXP Velocity
I would suggest using Caldari Navy missile due to a good amount of DPS but also the better explosion radius for killing frigates.
Tank:
Angel: 502 DPS
Guristas: 807 DPS
Serpentis: 857 DPS
Amarr/BR/Sansha with EM A-Type: 428 DPS
Cap Stable: 37%
TP & Web for obvious reasons as this ship has no other way of killing frigates...
Comments? I would ask for suggestions but there is no point, I know how perfect this ship is for missions as I use it almost everyday (when I am not in 0.0 blowing stuff up
).
Targeting
| | | |
| --- | --- | --- |
| | Maximum targets | 5 |
| | Maximum targeting range | 117.1875 km |
| | Scan resolution | 293.75 |
| | Sensor strength | 35 0 0 0 |
Size/Movement
| | | |
| --- | --- | --- |
| | Maximum velocity | 650.14 |
| | Inertia modifier | 0.26123 |
| | Signature radius | 150 m |
| | Cargo capacity | 0 m3 |
Systems
| | | |
| --- | --- | --- |
| | Capacitor capacity | 2070.31 GJ |
| | Capacitor recharge time | 5 minutes 18 seconds |
| | Powergrid | 670.2 / 750MW |
| | CPU | 532 / 635 tf |
Shields
| | | |
| --- | --- | --- |
| | Shield capacity | 4562.5 |
| | Shield recharge time | 20 minutes 22 seconds |
| | Shield resistances | 45.31% 72.66% 83.59% 89.06% |
Armor
| | | |
| --- | --- | --- |
| | Armor hit points | 3062.5 |
| | Armor resistances | 57.5% 23.5% 68.13% 88.31% |
Structure
| | | |
| --- | --- | --- |
| | Structure hit points | 2076.25 |
| | Structure resistances | 60% 60% 60% 60% |
| | Drone bandwidth | 0 Mbit/sec |
| | Drone control range | 0 m |
Drones
| | | |
| --- | --- | --- |
| | Drone capacity | 0 m3 |
Download EVEMon Skill Plan
[Tengu, Tengu: Ultimate Level 4 Mission Fit]
Damage Control II
Caldari Navy Ballistic Control System
Caldari Navy Ballistic Control System
Caldari Navy Ballistic Control System

True Sansha Stasis Webifier
Federation Navy 10MN Afterburner
Caldari Navy Adaptive Invulnerability Field
Pithi A-Type Small Shield Booster
Pith A-Type Shield Boost Amplifier
Republic Fleet Target Painter

Heavy Assault Missile Launcher II
Heavy Assault Missile Launcher II
Heavy Assault Missile Launcher II
Heavy Assault Missile Launcher II
Heavy Assault Missile Launcher II
Heavy Assault Missile Launcher II

Medium Hydraulic Bay Thrusters II
Medium Hydraulic Bay Thrusters II
Medium Rocket Fuel Cache Partition I

Tengu Defensive - Amplification Node
Tengu Electronics - Dissolution Sequencer
Tengu Propulsion - Fuel Catalyst
Tengu Offensive - Accelerated Ejection Bay
Tengu Engineering - Augmented Capacitor Reservoir


Item
Quantity
Value
Tengu
1
193,248,000
Damage Control II
1
501,090
Scourge Rage Heavy Assault Missile
1
110
True Sansha Stasis Webifier
1
100,432,000
Caldari Navy Ballistic Control System
3
91,297,700
Federation Navy 10MN Afterburner
1
31,000,000
Caldari Navy Adaptive Invulnerability Field
1
275,000,000
Pithi A-Type Small Shield Booster
1
60,090,000
Pith A-Type Shield Boost Amplifier
1
98,060,000
Heavy Assault Missile Launcher II
6
1,033,500
Tengu Defensive - Amplification Node
1
60,000,000
Tengu Electronics - Dissolution Sequencer
1
57,355,000
Tengu Propulsion - Fuel Catalyst
1
57,650,000
Tengu Offensive - Accelerated Ejection Bay
1
57,698,900
Tengu Engineering - Augmented Capacitor Reservoir
1
59,595,000
Medium Hydraulic Bay Thrusters II
2
23,362,800
Medium Rocket Fuel Cache Partition I
1
1,647,760
Republic Fleet Target Painter
1
14,500,200
Total
1,393,597,760