Machariel RR Gang fit
1
0
146 Views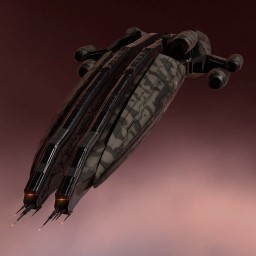 Modulename
Corp Im in we have a C4-Pulsar and we have been living there for some time now and I made my isk to be able to buy the ship I have aimed to get for some time now. Machariel with Faction/T2 Fitting.
Just want to check here with BC what you guys think of it. We run sleeper sites with a Chim as support so we have a rather good Logistic.

Todays value this is 2.6bil isk. I already have the 2 most expancive modules already so it will actually only cost me around 1.5-1.6bil isk this fitting with todays price.
Targeting
| | | |
| --- | --- | --- |
| | Maximum targets | 7 |
| | Maximum targeting range | 93.75 km |
| | Scan resolution | 156.25 |
| | Sensor strength | 0 26 0 0 |
Size/Movement
| | | |
| --- | --- | --- |
| | Maximum velocity | 201.25 |
| | Inertia modifier | 0.0648 |
| | Signature radius | 350 m |
| | Cargo capacity | 665 m3 |
Systems
| | | |
| --- | --- | --- |
| | Capacitor capacity | 7250 GJ |
| | Capacitor recharge time | 6 minutes 43 seconds |
| | Powergrid | 22725.5 / 22437.5MW |
| | CPU | 673.75 / 750 tf |
Shields
| | | |
| --- | --- | --- |
| | Shield capacity | 11650 |
| | Shield recharge time | 31 minutes 15 seconds |
| | Shield resistances | 81.22% 81.57% 77.88% 84.98% |
Armor
| | | |
| --- | --- | --- |
| | Armor hit points | 11562.5 |
| | Armor resistances | 66% 23.5% 36.25% 44.75% |
Structure
| | | |
| --- | --- | --- |
| | Structure hit points | 10325 |
| | Structure resistances | 60% 60% 60% 60% |
| | Drone bandwidth | 100 Mbit/sec |
| | Drone control range | 0 m |
Drones
| | | |
| --- | --- | --- |
| | Drone capacity | 125 m3 |
Download EVEMon Skill Plan
[Machariel, Machariel RR Gang fit]
Capacitor Power Relay II
Damage Control II
Republic Fleet Gyrostabilizer
Republic Fleet Gyrostabilizer
Republic Fleet Gyrostabilizer
Republic Fleet Tracking Enhancer
Republic Fleet Tracking Enhancer

Tracking Computer II
Caldari Navy Adaptive Invulnerability Field
Caldari Navy Adaptive Invulnerability Field
Pith B-Type EM Ward Field
Pith B-Type Thermic Dissipation Field

1400mm Howitzer Artillery II
1400mm Howitzer Artillery II
1400mm Howitzer Artillery II
1400mm Howitzer Artillery II
1400mm Howitzer Artillery II
1400mm Howitzer Artillery II
1400mm Howitzer Artillery II
Large Remote Shield Booster II

Large Capacitor Control Circuit I
Large Capacitor Control Circuit I
Large Capacitor Control Circuit I


Ogre II

Item
Quantity
Value
Machariel
1
430,018,000
Capacitor Power Relay II
1
424,499
Tracking Computer II
1
939,998
Damage Control II
1
501,090
Ogre II
1
1,309,990
1400mm Howitzer Artillery II
7
5,000,000
Large Remote Shield Booster II
1
789,004
Republic Fleet Gyrostabilizer
3
74,240,900
Republic Fleet Tracking Enhancer
2
83,011,500
Caldari Navy Adaptive Invulnerability Field
2
275,000,000
Pith B-Type EM Ward Field
1
40,401,100
Pith B-Type Thermic Dissipation Field
1
5,901,000
Republic Fleet EMP L
1
1,034
Large Capacitor Control Circuit I
3
8,648,990
Optimal Range Script
1
9,000
Total
1,479,987,384