Gal Faction War Missions (FDU) LVL4 Drake. READ DESCRIPTION

6
2
9,426 Views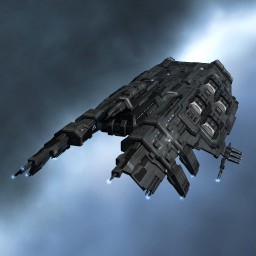 Modulename
Premise:
This is fit is specifically designed to run LVL4s for Fed Def Union. For those who are unfamiliar with Faction warfare, all FW missions are in lowsec and are VERY profitable. The average lvl4 mission, with security connections trained to lvl5 (everyone should have it lvl5), will pay off 25,000 - 30,000 LP and 2 - 3 million ISK - takes usually less than 10 minutes to complete.
A navy domi costs 150,000LP and sells fro aboout 310million ISK these days (shitty, i know they used to sell for close to 500mil). So clearly, after running just a few missions, this fit has more than paid for itself.
Some people use the Ishtar, or some other HAC to run these, or even T3s, but I feel it's not worth risking a 150million HAC or a potentially billion ISK faction fit t3 just to run lvl4s. This is cheap (50million ISK) and effective and minimalizes the chance of ship loss.
read on
The Fit:
It's a tight one and IMO optimal for the purpose.
HMLs + Drones give about 400dps, which isn't a lot but for most missions you're only killing a single commander NPC or a few industrials - average 5-10 minutes
Cloak because you're in lowsec and will run into Pie or FW gate camps. Use the MWD cloak trick (youtube it for a tutorial) and you will skate past 99% of gate camps. The only thing you need to watch out for are ceptors such as a Taranis which may burn towards you and decloak you before you are fully aligned... I've personally run into gate camps with ceptors and they've NEVER caught me. Cloaky drakes usually catch them off guard haha and by the time they try to burn for you, you're already aligned and ready to warp off.
ECCM. Well this one is obvious. Gallente FDU lvl4 missions face a TON of ECM from the NPC. without two ECCM you will be PERMA JAMMED. you will still occasionally get jammed with 2 eccm running but it's much less likely. I will usually get jammed once maybe twice during a mission with 2 ECCM.
Tank. kin resist (duh, caldari shoot kin dmg type) This will tank most lvl4s quite well but DO NOT accept the mission where you need to blow up a gate. incoming DPS is too heavy and takes too long. The missions where you have to kill a single commander or a few industrials are ideal.
The rigs are pretty self explanatory , PDSII and co processor are needed to make this fit work.
No damage control, you can drop a ballistic control for a DCUII if you really want but you will lose dps and not gain that much extra resist. It tanks fine without the DCU.
Flying. Pretty easy, I orbit at around 50km with MWD ON, you will still get hit by missles but not railguns. Do not get close to the BS rats, some will neut you, and some frigs will scram you. Start throwing missiles at the target.
Keep your 360 degree directional scan going, if you spot incoming ships, align to a celestial with MWD OFF. warp out, safe up and cloak if someone comes into your mission (they're obviously going to be hostile). Wait for them to get bored and leave system. then go back in and finish it. (this rarely happens)
Well thats pretty much it. If you're not familiar with the MWD cloak trick, i suggest you practice it.
I've been using this fit with huge success and have only lost it once (pie camped a rapier IN THE MISSION) lol but by then i had used this fit to sell a billion in navy domis already so it paid for itsself many times already.
Suggestions are welcome but like i said, this is pretty much optimised already.
Rate and thumbs up
EDIT:
REplaced T2 ECCM with best named. They are cheaper, use less CPU, less cap, and still same ECCM....
Replaced one LSEII with best named so that CPU would fit,
Added NanofiberII for more speed, faster align
Targeting
| | | |
| --- | --- | --- |
| | Maximum targets | 8 |
| | Maximum targeting range | 75 km |
| | Scan resolution | 146.25 |
| | Sensor strength | 68.31 0 0 0 |
Size/Movement
| | | |
| --- | --- | --- |
| | Maximum velocity | 276.89 |
| | Inertia modifier | 0.36396 |
| | Signature radius | 2253.01 m |
| | Cargo capacity | 450 m3 |
Systems
| | | |
| --- | --- | --- |
| | Capacitor capacity | 2460.94 GJ |
| | Capacitor recharge time | 7 minutes 31 seconds |
| | Powergrid | 1042.5 / 1060MW |
| | CPU | 651.25 / 625 tf |
Shields
| | | |
| --- | --- | --- |
| | Shield capacity | 13190.63 |
| | Shield recharge time | 8 minutes 11 seconds |
| | Shield resistances | 0% 50% 73% 20% |
Armor
| | | |
| --- | --- | --- |
| | Armor hit points | 4062.5 |
| | Armor resistances | 50% 10% 25% 45% |
Structure
| | | |
| --- | --- | --- |
| | Structure hit points | 3750 |
| | Structure resistances | 0% 0% 0% 0% |
| | Drone bandwidth | 25 Mbit/sec |
| | Drone control range | 0 m |
Drones
| | | |
| --- | --- | --- |
| | Drone capacity | 25 m3 |
Download EVEMon Skill Plan
[Drake, Gal Faction War Missions (FDU) LVL4 Drake. READ DESCRIPTION]
Power Diagnostic System II
Nanofiber Internal Structure II
Ballistic Control System II
Ballistic Control System II

Kinetic Deflection Field II
Large Shield Extender II
50MN Cold-Gas Enduring Microwarpdrive
Large F-S9 Regolith Compact Shield Extender
Conjunctive Gravimetric ECCM Scanning Array I
Conjunctive Gravimetric ECCM Scanning Array I

Heavy Missile Launcher II
Heavy Missile Launcher II
Heavy Missile Launcher II
Heavy Missile Launcher II
Heavy Missile Launcher II
Heavy Missile Launcher II
Heavy Missile Launcher II
Improved Cloaking Device II

Medium Core Defense Field Purger I
Medium Core Defense Field Purger I
Medium Core Defense Field Purger I


Hobgoblin II

Item
Quantity
Value
Drake
1
56,755,000
Scourge Heavy Missile
1
59
Power Diagnostic System II
1
537,986
Kinetic Deflection Field II
1
1,400,000
Heavy Missile Launcher II
7
1,100,000
Hobgoblin II
1
305,080
Nanofiber Internal Structure II
1
290,000
Large Shield Extender II
1
880,000
50MN Cold-Gas Enduring Microwarpdrive
1
1
Large F-S9 Regolith Compact Shield Extender
1
60,010
Improved Cloaking Device II
1
2,906,880
Conjunctive Gravimetric ECCM Scanning Array I
2
8
Ballistic Control System II
2
850,012
Medium Core Defense Field Purger I
3
1
Total
72,535,060