Locus Legion for Vanguards
28
0
31,266 Views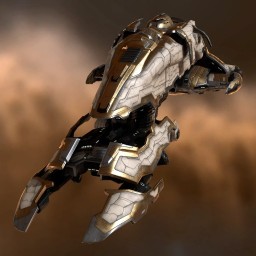 Modulename
The Legion is a great ship for blitzing Vanguard sites. It has a great locktime, excellent damage application, good projection, and plenty of utility midslots. While the raw damage output is relatively low by the standards of faction battleships, the Legion can consistently apply almost all of it, even when it doesn't have time to wait for webs to take full effect. The problem? Everyone overtanks the things like they're made of glass, and they never realize the ship's true potential.

We all know Scorch is amazing. It does X-ray damage beyond Radio range. Better yet, the ability to switch between short and long range in a single second is an incredible advantage for the Legion. But it's easy to forget that it comes at a price.

Scorch has 3x the optimal of Multi or Conflag, but you shouldn't use it exclusively. Why?
Multi: 25% more damage and 33% more tracking.
Confl: 40% more damage (-6.67% tracking).

In a game where people spend weeks training for 2% more damage, that is an incredible improvement. The only problem is making it work -- needless to say, losing 67% of your optimal is quite the handicap. Two things make it possible.
1.) The Legion's 50% optimal bonus.
2.) Locus Coordinator II's.

The first is self-evident. The second is a somewhat obscure energy weapon rig that increases laser optimal range by 20%. By comparison, T2 Tracking Enhancers and scripted Tracking Computers give only 15%. This is larger than even the highest quality officer gear -- and it is essential for minimizing the impact of stacking penalties.

With these two rigs, Multi/Conflag get 15.8+5km. This is just enough to reliably reach the the orbit ranges of Vanguard NPCs -- and right at the edge of your gang-link enhanced webs. As an additional bonus, Scorch now has enough range to snipe at targets from their spawn points, and your superior scan resolution lets you hit them before they've even started moving.

Since the issue of range is now addressed, the only remaining factor is application -- and with two tracking-scripted TCs and a long-range web, you have more than enough accuracy to hit frigates. With a bit of energy transfer, conflagration becomes an option.

The Legion is a T3, and as such it gets a very impressive tank before you even fit modules to it, but in the interests of retaining our DPS advantage, we still need to be efficient. We have two primary damage holes -- a moderate EM weakness and an extreme thermal weakness.

Because the Legion has such a small signature radius and such extreme kinetic and explosive resists, we can afford to neglect (hah) our missile resistances and focus on lasers. A single active hardener and resistance rig address the issue, while leaving room for an EANM to bring everything up overall. Most importantly, this leaves room for a significant advantage from gang link resistances, as they won't be very heavily stacking penalized. No matter the hardener configuration, a damage control is a terrible choice, owing to the ratio of armor and structure hit points.

Finally, a 5% powergrid implant allows us to fit a 1600mm plate -- a massive improvement that nearly doubles our raw armor amount. The fitting requires AWU5, but can be fit with only energy weapon rigging 4. Various compromises (storyline plates, faction afterburners) can be made to accommodate lower skilled pilots. Remember: there is virtually no other compelling slot-6 implant for the Legion, and additional powergrid complements other ships you may be forced to fly, such as the Guardian.

In total, this gives us a 4-slot tank that lets us fit our requisite 3 heat sinks and get enough range and tracking to make use of conflagration (with a bit of capacitor support).

EDIT: Removed the afterburner. The extra web is just more useful, and you don't really need the speed tank with resists this good.
Targeting
| | | |
| --- | --- | --- |
| | Maximum targets | 5 |
| | Maximum targeting range | 75 km |
| | Scan resolution | 557.81 |
| | Sensor strength | 0 0 0 15 |
Size/Movement
| | | |
| --- | --- | --- |
| | Maximum velocity | 213.75 |
| | Inertia modifier | 0.34223 |
| | Signature radius | 154 m |
| | Cargo capacity | 0 m3 |
Systems
| | | |
| --- | --- | --- |
| | Capacitor capacity | 2093.75 GJ |
| | Capacitor recharge time | 5 minutes 18 seconds |
| | Powergrid | 1612.2 / 1875MW |
| | CPU | 430.5 / 500 tf |
Shields
| | | |
| --- | --- | --- |
| | Shield capacity | 3250 |
| | Shield recharge time | 20 minutes 22 seconds |
| | Shield resistances | 0% 87.5% 70% 20% |
Armor
| | | |
| --- | --- | --- |
| | Armor hit points | 14718.75 |
| | Armor resistances | 73.56% 85.63% 73.05% 77.9% |
Structure
| | | |
| --- | --- | --- |
| | Structure hit points | 2442.5 |
| | Structure resistances | 0% 0% 0% 0% |
| | Drone bandwidth | 0 Mbit/sec |
| | Drone control range | 0 m |
Drones
| | | |
| --- | --- | --- |
| | Drone capacity | 0 m3 |
Download EVEMon Skill Plan
[Legion, Locus Legion for Vanguards]
1600mm Rolled Tungsten Compact Plates
Armor Thermic Hardener II
Imperial Navy Energized Adaptive Nano Membrane
Imperial Navy Heat Sink
Imperial Navy Heat Sink
Imperial Navy Heat Sink

Tracking Computer II
Tracking Computer II
Federation Navy Stasis Webifier
Federation Navy Stasis Webifier

Heavy Pulse Laser II
Heavy Pulse Laser II
Heavy Pulse Laser II
Heavy Pulse Laser II
Heavy Pulse Laser II
Heavy Pulse Laser II

Medium Anti-EM Pump I
Medium Energy Locus Coordinator II
Medium Energy Locus Coordinator II

Legion Defensive - Augmented Plating
Legion Electronics - Tactical Targeting Network
Legion Propulsion - Fuel Catalyst
Legion Offensive - Liquid Crystal Magnifiers
Legion Engineering - Power Core Multiplier


Item
Quantity
Value
Legion
1
182,139,000
Tracking Computer II
2
939,998
Heavy Pulse Laser II
6
1,700,000
1600mm Rolled Tungsten Compact Plates
1
590,000
Armor Thermic Hardener II
1
1,576,500
Conflagration M
1
122,494
Scorch M
1
156,175
Imperial Navy Energized Adaptive Nano Membrane
1
33,991,500
Imperial Navy Heat Sink
3
88,369,000
Federation Navy Stasis Webifier
2
72,809,100
Imperial Navy Multifrequency M
1
469,000
Tracking Speed Script
1
4,001
Legion Defensive - Augmented Plating
1
46,222,100
Legion Electronics - Tactical Targeting Network
1
36,883,100
Legion Propulsion - Fuel Catalyst
1
49,940,800
Legion Offensive - Liquid Crystal Magnifiers
1
49,850,000
Legion Engineering - Power Core Multiplier
1
47,012,000
Medium Anti-EM Pump I
1
1
Medium Energy Locus Coordinator II
2
6,999,940
Total
885,761,747