C5/C6 Buffer Nightmare
3
2
225 Views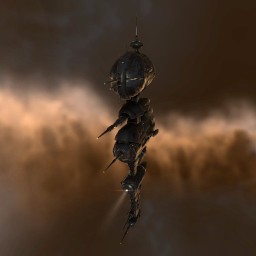 Modulename
Tachyons: a hypothetical subatomic particle that conjectured to move faster than light and backward through time. Truly, the only weapon that hits so hard you felt it yesterday.

This is a ganky buffer fit intended to run C5 and C6 wormholes. It deals an impressive 970 DPS with faction multifrequency, with a 46+25km range. Tracking is a superb 0.0392 rad/second.

While the damage output is impressive, the tank is equally so. It gets 115k EHP, with a 76/81/78/77 resist profile. While it has a larger signature radius than the Tengu I just proposed, it matches the damage output even when using IN ultraviolet ammunition, with an optimal range of 81km.

Even more impressive, the fitting can pair with an identical fit, trade capacitor transfer, and run stably. While it will still need capacitor support under neut pressure, it's no more vulnerable than any other ship in the fleet. You can even pair it with a 4/2 basilisk and treat it like a pilot with logistics 4 (freeing up a high slot for an expanded probe launcher in the process).

Great damage, great range, great tracking.
Great EHP, great resists, runs stable.

And as Nightmares go, this one is reasonably priced (though I don't suppose you can really call any Nightmare "cheap").
Targeting
| | | |
| --- | --- | --- |
| | Maximum targets | 7 |
| | Maximum targeting range | 100 km |
| | Scan resolution | 137.5 |
| | Sensor strength | 0 0 0 28 |
Size/Movement
| | | |
| --- | --- | --- |
| | Maximum velocity | 142.5 |
| | Inertia modifier | 0.08235 |
| | Signature radius | 414.75 m |
| | Cargo capacity | 665 m3 |
Systems
| | | |
| --- | --- | --- |
| | Capacitor capacity | 8687.5 GJ |
| | Capacitor recharge time | 14 minutes 25 seconds |
| | Powergrid | 14198.2 / 18125MW |
| | CPU | 706 / 887.5 tf |
Shields
| | | |
| --- | --- | --- |
| | Shield capacity | 16437.5 |
| | Shield recharge time | 33 minutes 24 seconds |
| | Shield resistances | 75.87% 77.36% 77.48% 80.7% |
Armor
| | | |
| --- | --- | --- |
| | Armor hit points | 10812.5 |
| | Armor resistances | 57.5% 32% 36.25% 44.75% |
Structure
| | | |
| --- | --- | --- |
| | Structure hit points | 10250 |
| | Structure resistances | 60% 60% 60% 60% |
| | Drone bandwidth | 75 Mbit/sec |
| | Drone control range | 0 m |
Drones
| | | |
| --- | --- | --- |
| | Drone capacity | 75 m3 |
Download EVEMon Skill Plan
[Nightmare, C5/C6 Buffer Nightmare]
Damage Control II
Heat Sink II
Imperial Navy Heat Sink
Imperial Navy Heat Sink
Imperial Navy Heat Sink
Empty

Tracking Computer II
Tracking Computer II
Adaptive Invulnerability Field II
Adaptive Invulnerability Field II
EM Ward Field II
Thermic Dissipation Field II
Large Shield Extender II

Tachyon Beam Laser II
Tachyon Beam Laser II
Tachyon Beam Laser II
Tachyon Beam Laser II
Large Remote Capacitor Transmitter II
Large Remote Capacitor Transmitter II

Large Anti-Kinetic Screen Reinforcer I
Large Energy Locus Coordinator II
Large Energy Locus Coordinator II



Item
Quantity
Value
Nightmare
1
360,206,000
Tracking Computer II
2
870,000
Damage Control II
1
448,449
Adaptive Invulnerability Field II
2
1,749,000
EM Ward Field II
1
1,449,700
Thermic Dissipation Field II
1
1,748,620
Heat Sink II
1
749,927
Tachyon Beam Laser II
4
4,477,000
Large Shield Extender II
1
879,970
Large Remote Capacitor Transmitter II
2
1,704,030
Imperial Navy Heat Sink
3
85,995,000
Imperial Navy Multifrequency L
1
844,942
Large Anti-Kinetic Screen Reinforcer I
1
656,500
Large Energy Locus Coordinator II
2
15,795,500
Tracking Speed Script
1
10,000
Total
683,124,168