Raven Navy Issue: My CNR
34
2
884 Views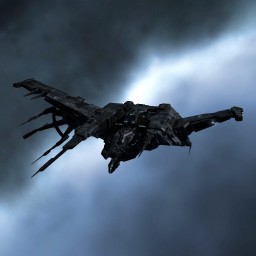 Modulename
My CNR has been through several itterations but this is how it's currently fitted. My main aim was to eek every ounce of performance from the ship, while keeping the cost as low as feasibly possible.

The most recent changes include a flare rig to improve performance when using fury T2 missiles and 3 sentry drones.

This ship actually trumps the golem in most completion times and is vastly superior vs guristas due to it's high base sensor strength meaning it rarely ever gets jammed.

Stats:

822 DPS with ZMU1000 and Whelan Machorin's Ballistic Smartlink.

957 DPS with wardens @60km

With low grade crystal epsilon it tanks:

593 DPS vs Guristas

525 DPS vs Serpentis

650 DPS vs Angels

With CC8 it gets 18 mins of cap with the target painter running and over an hour with it off it's essentially cap stable.

I'm sorry all you mach lovers out there, but this is bar none, the best all round level 4 battleship there is without using officer mods(and I've tested most of them).




Targeting
| | | |
| --- | --- | --- |
| | Maximum targets | 7 |
| | Maximum targeting range | 93.75 km |
| | Scan resolution | 131.25 |
| | Sensor strength | 28 0 0 0 |
Size/Movement
| | | |
| --- | --- | --- |
| | Maximum velocity | 153.75 |
| | Inertia modifier | 0.081 |
| | Signature radius | 410 m |
| | Cargo capacity | 625 m3 |
Systems
| | | |
| --- | --- | --- |
| | Capacitor capacity | 5900 GJ |
| | Capacitor recharge time | 8 minutes 46 seconds |
| | Powergrid | 9559.9 / 15000MW |
| | CPU | 709 / 975 tf |
Shields
| | | |
| --- | --- | --- |
| | Shield capacity | 13125 |
| | Shield recharge time | 42 minutes 22 seconds |
| | Shield resistances | 57.87% 78.93% 74.72% 66.3% |
Armor
| | | |
| --- | --- | --- |
| | Armor hit points | 10000 |
| | Armor resistances | 50% 10% 25% 45% |
Structure
| | | |
| --- | --- | --- |
| | Structure hit points | 11875 |
| | Structure resistances | 0% 0% 0% 0% |
| | Drone bandwidth | 75 Mbit/sec |
| | Drone control range | 0 m |
Drones
| | | |
| --- | --- | --- |
| | Drone capacity | 100 m3 |
Download EVEMon Skill Plan
[Raven Navy Issue, Raven Navy Issue: My CNR]
Capacitor Flux Coil II
Caldari Navy Ballistic Control System
Caldari Navy Ballistic Control System
Caldari Navy Ballistic Control System
Caldari Navy Ballistic Control System

Caldari Navy Adaptive Invulnerability Field
Caldari Navy Adaptive Invulnerability Field
Pithum A-Type Medium Shield Booster
Phased Weapon Navigation Array Generation Extron
Shield Boost Amplifier II
Shield Boost Amplifier II
Empty

Cruise Missile Launcher II
Cruise Missile Launcher II
Cruise Missile Launcher II
Cruise Missile Launcher II
Cruise Missile Launcher II
Cruise Missile Launcher II
Cruise Missile Launcher II
Small Tractor Beam I

Large Warhead Flare Catalyst I
Large Warhead Rigor Catalyst II
Large Warhead Rigor Catalyst II


Hobgoblin II
Warden II

Item
Quantity
Value
Raven Navy Issue
1
471,335,000
Capacitor Flux Coil II
1
537,000
Hobgoblin II
1
305,080
Caldari Navy Ballistic Control System
4
91,297,700
Caldari Navy Adaptive Invulnerability Field
2
275,000,000
Pithum A-Type Medium Shield Booster
1
267,000,000
Cruise Missile Launcher II
7
2,284,960
Phased Weapon Navigation Array Generation Extron
1
450,000
Small Tractor Beam I
1
1,700,000
Shield Boost Amplifier II
2
868,990
Scourge Fury Cruise Missile
1
428
Large Warhead Flare Catalyst I
1
10,000,000
Large Warhead Rigor Catalyst II
2
70,000,000
Warden II
1
1,306,700
Total
1,825,557,708