Tengu - lvl4 Flyer
0
5
1,824 Views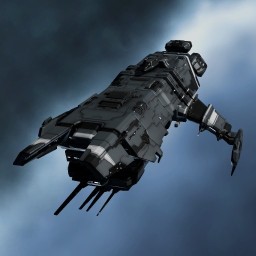 Modulename
An updated lvl4 mission Tengu
As good as it gets
Ship itself has a 585 omnitank defence, it might be slightly overtanked for a lvl4, however the there isn't much space for improvement what goes on weapons, so what the hell.
Dps is 894 with Rage missiles, imho as good as it gets, as addition of any new damage mod wouldn't improve overall damage almost at all, and is thus insignificant.
Speed of this ship is round 661 m/s and thus the relatively short range of assault missiles of 27km doesn't really matter in the end.
The electronics subsystem should be in fact Dissolution Sequencer, however i use CPU efficiency gate, as honestly i think it looks slightly better
and there is no significant loss of performance.
The hardeners may be exchanged according to specific mission.
Cap is stabile with all mods turned on.
Thanks to Greengimp, as many of my fittings were inspired by his creations
Targeting
| | | |
| --- | --- | --- |
| | Maximum targets | 5 |
| | Maximum targeting range | 81.25 km |
| | Scan resolution | 262.5 |
| | Sensor strength | 18 0 0 0 |
Size/Movement
| | | |
| --- | --- | --- |
| | Maximum velocity | 650.14 |
| | Inertia modifier | 0.26123 |
| | Signature radius | 150 m |
| | Cargo capacity | 0 m3 |
Systems
| | | |
| --- | --- | --- |
| | Capacitor capacity | 2070.31 GJ |
| | Capacitor recharge time | 2 minutes 43 seconds |
| | Powergrid | 685.2 / 750MW |
| | CPU | 483.25 / 707.81 tf |
Shields
| | | |
| --- | --- | --- |
| | Shield capacity | 4562.5 |
| | Shield recharge time | 20 minutes 22 seconds |
| | Shield resistances | 57.87% 78.93% 87.36% 91.57% |
Armor
| | | |
| --- | --- | --- |
| | Armor hit points | 3062.5 |
| | Armor resistances | 50% 10% 62.5% 86.25% |
Structure
| | | |
| --- | --- | --- |
| | Structure hit points | 2076.25 |
| | Structure resistances | 0% 0% 0% 0% |
| | Drone bandwidth | 0 Mbit/sec |
| | Drone control range | 0 m |
Drones
| | | |
| --- | --- | --- |
| | Drone capacity | 0 m3 |
Download EVEMon Skill Plan
[Tengu, Tengu - lvl4 Flyer]
Caldari Navy Ballistic Control System
Caldari Navy Ballistic Control System
Caldari Navy Ballistic Control System
Caldari Navy Ballistic Control System

Cap Recharger II
Republic Fleet 10MN Afterburner
Caldari Navy Adaptive Invulnerability Field
Caldari Navy Adaptive Invulnerability Field
Pithum A-Type Medium Shield Booster
Phased Weapon Navigation Array Generation Extron

Heavy Assault Missile Launcher II
Heavy Assault Missile Launcher II
Heavy Assault Missile Launcher II
Heavy Assault Missile Launcher II
Heavy Assault Missile Launcher II
Heavy Assault Missile Launcher II

Medium Capacitor Control Circuit II
Medium Capacitor Control Circuit II
Medium Hydraulic Bay Thrusters I

Tengu Defensive - Amplification Node
Tengu Electronics - CPU Efficiency Gate
Tengu Propulsion - Fuel Catalyst
Tengu Offensive - Accelerated Ejection Bay
Tengu Engineering - Augmented Capacitor Reservoir


Item
Quantity
Value
Tengu
1
193,248,000
Cap Recharger II
1
473,000
Scourge Rage Heavy Assault Missile
1
110
Caldari Navy Ballistic Control System
4
91,297,700
Republic Fleet 10MN Afterburner
1
32,000,000
Caldari Navy Adaptive Invulnerability Field
2
275,000,000
Pithum A-Type Medium Shield Booster
1
267,000,000
Phased Weapon Navigation Array Generation Extron
1
450,000
Scourge Javelin Heavy Assault Missile
1
95
Heavy Assault Missile Launcher II
6
1,033,500
Caldari Navy Scourge Heavy Assault Missile
1
1,055
Tengu Defensive - Amplification Node
1
60,000,000
Tengu Electronics - CPU Efficiency Gate
1
46,690,000
Tengu Propulsion - Fuel Catalyst
1
57,650,000
Tengu Offensive - Accelerated Ejection Bay
1
57,698,900
Tengu Engineering - Augmented Capacitor Reservoir
1
59,595,000
Medium Capacitor Control Circuit II
2
18,497,500
Medium Hydraulic Bay Thrusters I
1
2,489,750
Total
1,735,682,710