Final vengeance fit
5
2
513 Views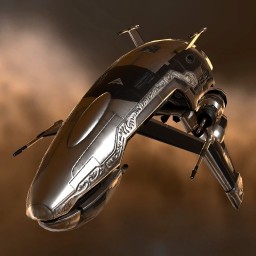 Modulename
This is it, after taking down a Light blaster fitted Thorax last night and grabbing a Coreli A-Type repper for 27.5 Mil I have made this my final loadout for the Vengeance. I am flying this little ship for quite a while now and have to say it excels any other T1/T2 frig I have encountered, even the mighty Ishkur. I tanked a full flight of T2 Hobs last night, don't know the guy's stats, but webbed these buggers die really quick. Don't get Neuted obviously, although I tend to believe that a small Neut is not ruining your day exactly. Just pulse the repper.
I have no EFT before me but will post stats later today or tomorrow. This is what I have roughly made out:
~120ish DPS with Rage, better range with faction but less dmg
930ish speed, but I like flying it with a LG Snake clone, then you are past 1100.
100ish DPS tank if i have not miscalculated (EFT will tell)
Resists are 75 80 81 93, cap lasts 4m15s for me. I will bring AF to 5, then it might be stable and gets another 5% base resist.
All not overloaded and with my skills, Lvl5 will all be slightly higher. Consider fitting a Navy web against kiters (overload to 18km). Thoughts and critics? Thanks and praises are also welcome
Flame away (pls no roflket commets, I know those and will not discuss them)
Targeting
| | | |
| --- | --- | --- |
| | Maximum targets | 5 |
| | Maximum targeting range | 47.5 km |
| | Scan resolution | 818.75 |
| | Sensor strength | 0 0 0 14 |
Size/Movement
| | | |
| --- | --- | --- |
| | Maximum velocity | 937.62 |
| | Inertia modifier | 2.8782 |
| | Signature radius | 37 m |
| | Cargo capacity | 210 m3 |
Systems
| | | |
| --- | --- | --- |
| | Capacitor capacity | 468.75 GJ |
| | Capacitor recharge time | 2 minutes 20 seconds |
| | Powergrid | 38.4 / 53.75MW |
| | CPU | 186 / 212.5 tf |
Shields
| | | |
| --- | --- | --- |
| | Shield capacity | 830 |
| | Shield recharge time | 7 minutes 48 seconds |
| | Shield resistances | 12.5% 89.06% 73.75% 30% |
Armor
| | | |
| --- | --- | --- |
| | Armor hit points | 1020 |
| | Armor resistances | 68.13% 87.25% 76.09% 75.81% |
Structure
| | | |
| --- | --- | --- |
| | Structure hit points | 703.75 |
| | Structure resistances | 60% 60% 60% 60% |
| | Drone bandwidth | 0 Mbit/sec |
| | Drone control range | 0 m |
Drones
| | | |
| --- | --- | --- |
| | Drone capacity | 0 m3 |
Download EVEMon Skill Plan
[Vengeance, Final vengeance fit]
Damage Control II
Energized Adaptive Nano Membrane II
Coreli A-Type Thermic Plating
Coreli A-Type Small Armor Repairer

Fleeting Propulsion Inhibitor I
Faint Epsilon Warp Scrambler I
Gistii B-Type 1MN Afterburner

Rocket Launcher II
Rocket Launcher II
Rocket Launcher II
Rocket Launcher II
Empty

Small Bay Loading Accelerator I
Small Warhead Calefaction Catalyst I



Item
Quantity
Value
Vengeance
1
19,885,000
Damage Control II
1
501,090
Fleeting Propulsion Inhibitor I
1
1,920,010
Faint Epsilon Warp Scrambler I
1
3,500,000
Rocket Launcher II
4
414,808
Energized Adaptive Nano Membrane II
1
665,000
Gistii B-Type 1MN Afterburner
1
26,100,000
Coreli A-Type Thermic Plating
1
830,540
Coreli A-Type Small Armor Repairer
1
30,700,000
Nova Rage Rocket
1
71
Nova Javelin Rocket
1
50
Caldari Navy Nova Rocket
1
633
Small Bay Loading Accelerator I
1
549,497
Small Warhead Calefaction Catalyst I
1
632,900
Total
86,944,023