Loki - Cloaky scan Loki
0
0
144 Views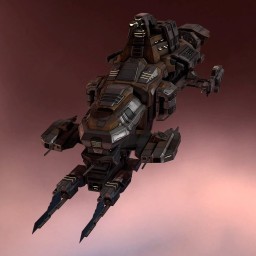 Modulename
Stats (at all V's):
Tank: 307 DPS omni
DPS: 336
Speed: 752 m/s
Sig radius: 143m

This fit was made for safe low-sec exploration, I wanted a fit that had a balanced DPS/tank and that could scan and cloak while not being hideously expensive. It's also designed to be able to easily increase its DPS by simply switching the Covert reconfiguration subsystem for another to increase DPS, which it can, switch to a projectile scoping array and change the cloak to a sixth 425mm for 150 more DPS.

For radar/mag sites, keep a codebreaker/analyser in cargo and switch out a SBA for the duration of the site.

I post it here to get any suggestions that might improve the fit, since I'm not all that experienced with shield tanks, and I don't consider myself an expert on fitting in general.
Targeting
| | | |
| --- | --- | --- |
| | Maximum targets | 5 |
| | Maximum targeting range | 62.5 km |
| | Scan resolution | 375 |
| | Sensor strength | 0 17 0 0 |
Size/Movement
| | | |
| --- | --- | --- |
| | Maximum velocity | 758.45 |
| | Inertia modifier | 0.3375 |
| | Signature radius | 130 m |
| | Cargo capacity | 0 m3 |
Systems
| | | |
| --- | --- | --- |
| | Capacitor capacity | 1656.25 GJ |
| | Capacitor recharge time | 2 minutes 20 seconds |
| | Powergrid | 769 / 1187.5MW |
| | CPU | 751.25 / 481.25 tf |
Shields
| | | |
| --- | --- | --- |
| | Shield capacity | 4000 |
| | Shield recharge time | 20 minutes 22 seconds |
| | Shield resistances | 88.52% 77.03% 72.44% 81.63% |
Armor
| | | |
| --- | --- | --- |
| | Armor hit points | 2687.5 |
| | Armor resistances | 91.5% 23.5% 36.25% 72.38% |
Structure
| | | |
| --- | --- | --- |
| | Structure hit points | 2013.75 |
| | Structure resistances | 60% 60% 60% 60% |
| | Drone bandwidth | 0 Mbit/sec |
| | Drone control range | 0 m |
Drones
| | | |
| --- | --- | --- |
| | Drone capacity | 0 m3 |
Download EVEMon Skill Plan
[Loki, Loki - Cloaky scan Loki]
Gyrostabilizer II
Gyrostabilizer II
Capacitor Flux Coil II
Damage Control II

Adaptive Invulnerability Field II
Medium Shield Booster II
10MN Afterburner II
Shield Boost Amplifier II
Shield Boost Amplifier II

425mm AutoCannon II
425mm AutoCannon II
425mm AutoCannon II
425mm AutoCannon II
425mm AutoCannon II
Covert Ops Cloaking Device II
Expanded Probe Launcher I

Medium Capacitor Control Circuit I
Medium Capacitor Control Circuit I
Medium Projectile Collision Accelerator I

Loki Defensive - Adaptive Shielding
Loki Electronics - Emergent Locus Analyzer
Loki Propulsion - Fuel Catalyst
Loki Offensive - Covert Reconfiguration
Loki Engineering - Augmented Capacitor Reservoir


Item
Quantity
Value
Loki
1
185,759,000
Gyrostabilizer II
2
794,998
Capacitor Flux Coil II
1
537,000
Damage Control II
1
501,090
Adaptive Invulnerability Field II
1
1,728,000
425mm AutoCannon II
5
1,347,500
Medium Shield Booster II
1
540,495
Covert Ops Cloaking Device II
1
4,250,000
10MN Afterburner II
1
1,999,000
Expanded Probe Launcher I
1
3,501
Shield Boost Amplifier II
2
868,990
Loki Defensive - Adaptive Shielding
1
42,800,000
Loki Electronics - Emergent Locus Analyzer
1
49,330,000
Loki Propulsion - Fuel Catalyst
1
50,999,500
Loki Offensive - Covert Reconfiguration
1
46,550,000
Loki Engineering - Augmented Capacitor Reservoir
1
42,000,000
Medium Capacitor Control Circuit I
2
1,677,500
Medium Projectile Collision Accelerator I
1
175,950
Total
440,594,012