Fleet boost Tengu for lazy people like me
0
0
3,485 Views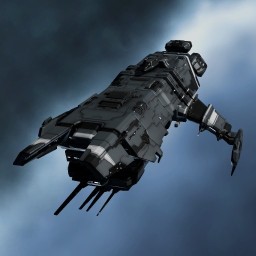 Modulename
I am not good at dual boxing. I like to do 0.0 escalations that are just a little bit too hard for me to do solo.
I do have an alt that i might train up to be able to fly this.
What will this do?
- Scout (covops cloak + interdiction nullifier = never get caught)
- Sit unscannable in a safe
- provode the following bonuses (with lv V skills + mindlink)
- 28.1% extra shield boost without that costing extra cap
- 28.1% resist to all
- 15% extra speed for any ships running an ab/mwd (=15% less damage from battleships)
All in all this gives me around 89% extra tank. And a scout. And some extra cargo space to hold ammo or loot.

Update: Changed rapid deployment for Evasive maneuvers link due to same damage bonus (but then via sig radius which will also work when webbed) so the unscannability actually works. And switched some subsystems so i can fit a nanofiber internal structure and 3x low friction nozzle joints for even greater escapability negotiating gatecamps and speed. Aligns in 3.6 secs now.
Targeting
| | | |
| --- | --- | --- |
| | Maximum targets | 5 |
| | Maximum targeting range | 117.1875 km |
| | Scan resolution | 293.75 |
| | Sensor strength | 160.3 0 0 0 |
Size/Movement
| | | |
| --- | --- | --- |
| | Maximum velocity | 225.84 |
| | Inertia modifier | 0.19326 |
| | Signature radius | 157 m |
| | Cargo capacity | 0 m3 |
Systems
| | | |
| --- | --- | --- |
| | Capacitor capacity | 1656.25 GJ |
| | Capacitor recharge time | 5 minutes 18 seconds |
| | Powergrid | 556 / 1031.25MW |
| | CPU | 811.5 / 718.44 tf |
Shields
| | | |
| --- | --- | --- |
| | Shield capacity | 4187.5 |
| | Shield recharge time | 20 minutes 22 seconds |
| | Shield resistances | 0% 50% 70% 80% |
Armor
| | | |
| --- | --- | --- |
| | Armor hit points | 2411.37 |
| | Armor resistances | 50% 10% 62.5% 86.25% |
Structure
| | | |
| --- | --- | --- |
| | Structure hit points | 1661 |
| | Structure resistances | 0% 0% 0% 0% |
| | Drone bandwidth | 0 Mbit/sec |
| | Drone control range | 0 m |
Drones
| | | |
| --- | --- | --- |
| | Drone capacity | 0 m3 |
Download EVEMon Skill Plan
[Tengu, Fleet boost Tengu for lazy people like me]
Gravimetric Backup Array II
Nanofiber Internal Structure II
Co-Processor II
Co-Processor II

ECCM - Gravimetric II
ECCM - Gravimetric II
Command Processor I
Command Processor I
Command Processor I

Covert Ops Cloaking Device II
Skirmish Warfare Link - Evasive Maneuvers I
Siege Warfare Link - Active Shielding I
Siege Warfare Link - Shield Harmonizing I
Siege Warfare Link - Shield Efficiency I
Empty

Medium Low Friction Nozzle Joints I
Medium Low Friction Nozzle Joints I
Medium Low Friction Nozzle Joints I

Tengu Defensive - Warfare Processor
Tengu Electronics - Dissolution Sequencer
Tengu Propulsion - Interdiction Nullifier
Tengu Offensive - Covert Reconfiguration
Tengu Engineering - Supplemental Coolant Injector


Item
Quantity
Value
Tengu
1
193,248,000
ECCM - Gravimetric II
2
50,000
Gravimetric Backup Array II
1
794,875
Nanofiber Internal Structure II
1
290,000
Co-Processor II
2
837,000
Command Processor I
3
400,000
Covert Ops Cloaking Device II
1
4,250,000
Skirmish Warfare Link - Evasive Maneuvers I
1
469,500
Siege Warfare Link - Active Shielding I
1
244,106
Siege Warfare Link - Shield Harmonizing I
1
235,000
Siege Warfare Link - Shield Efficiency I
1
254,005
Tengu Defensive - Warfare Processor
1
46,650,300
Tengu Electronics - Dissolution Sequencer
1
57,355,000
Tengu Propulsion - Interdiction Nullifier
1
60,000,000
Tengu Offensive - Covert Reconfiguration
1
54,188,600
Tengu Engineering - Supplemental Coolant Injector
1
34,626,000
Medium Low Friction Nozzle Joints I
3
1,580,170
Total
460,319,896