Armor Fleet ECM Tengu
5
2
389 Views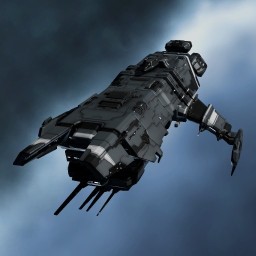 Modulename
As per the title, saw a loss mail from someone who tried this but didnt do it too well in my opinion.

This looks like it might actually work rather well...

8.91 jam strength / 9.91 overheated (2 mins before burnout)
218 DPS (designed to shoot tacklers mainly)
60,341 EHP
80.9%, 88.3%, 77.7%, 74.6% (EM,Therm,Kin,Exp)

Doesnt move terribly fast but the sig radius is only 150 so it shouldnt take too much damage.

Also added a Information Warfare Link to help with the ECM a bit incase there are more ECM ships in fleet.


Comments?
Targeting
| | | |
| --- | --- | --- |
| | Maximum targets | 5 |
| | Maximum targeting range | 117.1875 km |
| | Scan resolution | 293.75 |
| | Sensor strength | 35 0 0 0 |
Size/Movement
| | | |
| --- | --- | --- |
| | Maximum velocity | 485.77 |
| | Inertia modifier | 0.26123 |
| | Signature radius | 157 m |
| | Cargo capacity | 0 m3 |
Systems
| | | |
| --- | --- | --- |
| | Capacitor capacity | 2750 GJ |
| | Capacitor recharge time | 3 minutes 59 seconds |
| | Powergrid | 989.5 / 1031.25MW |
| | CPU | 572.25 / 635 tf |
Shields
| | | |
| --- | --- | --- |
| | Shield capacity | 3978.13 |
| | Shield recharge time | 20 minutes 22 seconds |
| | Shield resistances | 12.5% 56.25% 73.75% 82.5% |
Armor
| | | |
| --- | --- | --- |
| | Armor hit points | 7812.5 |
| | Armor resistances | 80.88% 74.55% 77.69% 88.31% |
Structure
| | | |
| --- | --- | --- |
| | Structure hit points | 2076.25 |
| | Structure resistances | 60% 60% 60% 60% |
| | Drone bandwidth | 25 Mbit/sec |
| | Drone control range | 0 m |
Drones
| | | |
| --- | --- | --- |
| | Drone capacity | 50 m3 |
Download EVEMon Skill Plan
[Tengu, Armor Fleet ECM Tengu]
Damage Control II
1600mm Rolled Tungsten Compact Plates
Armor EM Hardener II
Armor Explosive Hardener II
Signal Distortion Amplifier II

ECM - Phase Inverter II
ECM - Ion Field Projector II
ECM - Spatial Destabilizer II
ECM - White Noise Generator II
10MN Afterburner II

Rapid Light Missile Launcher II
Rapid Light Missile Launcher II
Rapid Light Missile Launcher II
Rapid Light Missile Launcher II
Rapid Light Missile Launcher II
Information Warfare Link - Electronic Superiority I

Medium Anti-Explosive Pump I
Medium Anti-Kinetic Pump I
Medium Particle Dispersion Augmentor I

Tengu Defensive - Warfare Processor
Tengu Electronics - Dissolution Sequencer
Tengu Propulsion - Fuel Catalyst
Tengu Offensive - Rifling Launcher Pattern
Tengu Engineering - Capacitor Regeneration Matrix

Hobgoblin II
Hornet EC-300

Item
Quantity
Value
Tengu
1
193,248,000
Rapid Light Missile Launcher II
5
896,894
Damage Control II
1
501,090
Hobgoblin II
1
305,080
ECM - Phase Inverter II
1
895,076
ECM - Ion Field Projector II
1
1,009,890
ECM - Spatial Destabilizer II
1
799,874
ECM - White Noise Generator II
1
819,911
1600mm Rolled Tungsten Compact Plates
1
590,000
Armor EM Hardener II
1
1,598,920
Armor Explosive Hardener II
1
1,690,780
10MN Afterburner II
1
1,999,000
Information Warfare Link - Electronic Superiority I
1
152,000
Hornet EC-300
1
5,860
Signal Distortion Amplifier II
1
1,010,000
Caldari Navy Scourge Light Missile
1
901
Tengu Defensive - Warfare Processor
1
46,650,300
Tengu Electronics - Dissolution Sequencer
1
57,355,000
Tengu Propulsion - Fuel Catalyst
1
57,650,000
Tengu Offensive - Rifling Launcher Pattern
1
45,277,800
Tengu Engineering - Capacitor Regeneration Matrix
1
56,080,000
Medium Anti-Explosive Pump I
1
1,749,990
Medium Anti-Kinetic Pump I
1
1,274
Medium Particle Dispersion Augmentor I
1
1,200,000
Total
475,075,216