Merlin: Solo PvP
0
4
126 Views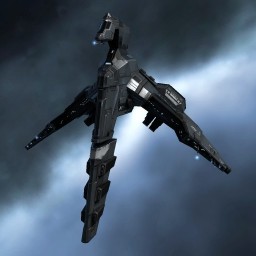 Modulename
I've had some nice kills with this pretty low skillpoint frigate thought i'd post it here to see if any1 has any opinion on changes to be made.
I'm aware T2 weapons will improve (cost) and dps however i'm skilling for them being caldari i'm all missiles
My skills - EHP 2,846 - Resists, EM64, Therm 61, Kin 58, Ex 65
Defence 87 (Cap lasts 56 seconds using 200charges) Cap seems alittle screwed however Medium shield booster almost never gets turned on longer than 2-3 boosts at a time.
DPS 80 322ms (No mobility mods due to merlin being slow anyway i seen more tank being better) Also almost every encounter they orbit at 1k webber takes care of that.
Level 5 skills improve this setup alot and tech 2 guns will raise dps to around 130ish.
Latest kills T2 fitted AC Rifter, Afew Mining ships tho u didnt read that \o/ and suprisingly a 35mil t2 fitted buffer caracal lol took 5mins tho i could feel his rage as it went pop being tanked at 100%. I'd suggest carrying 2000ammo and as many cap charges as u can you WILL use them.
Rant/stats over if you cant afford to lose many of these dont fly it! Also plenty of cheaper buffer merlin fits around
Targeting
| | | |
| --- | --- | --- |
| | Maximum targets | 5 |
| | Maximum targeting range | 62.5 km |
| | Scan resolution | 725 |
| | Sensor strength | 11 0 0 0 |
Size/Movement
| | | |
| --- | --- | --- |
| | Maximum velocity | 387.5 |
| | Inertia modifier | 2.43 |
| | Signature radius | 43.95 m |
| | Cargo capacity | 150 m3 |
Systems
| | | |
| --- | --- | --- |
| | Capacitor capacity | 437.5 GJ |
| | Capacitor recharge time | 2 minutes 11 seconds |
| | Powergrid | 36.4 / 50MW |
| | CPU | 207.5 / 225 tf |
Shields
| | | |
| --- | --- | --- |
| | Shield capacity | 625 |
| | Shield recharge time | 7 minutes 48 seconds |
| | Shield resistances | 52.13% 53.75% 44.5% 48.2% |
Armor
| | | |
| --- | --- | --- |
| | Armor hit points | 437.5 |
| | Armor resistances | 55% 19% 32.5% 50.5% |
Structure
| | | |
| --- | --- | --- |
| | Structure hit points | 500 |
| | Structure resistances | 50% 50% 50% 50% |
| | Drone bandwidth | 0 Mbit/sec |
| | Drone control range | 0 m |
Drones
| | | |
| --- | --- | --- |
| | Drone capacity | 0 m3 |
Download EVEMon Skill Plan
[Merlin, Merlin: Solo PvP]
Damage Control I
Magnetic Field Stabilizer II
Empty

Small Capacitor Booster II
X5 Prototype Engine Enervator
J5b Phased Prototype Warp Scrambler I
Medium Shield Booster II

Anode Light Electron Particle Cannon I
Anode Light Electron Particle Cannon I
OE-5200 Rocket Launcher
OE-5200 Rocket Launcher

Small Anti-EM Screen Reinforcer I
Small Anti-EM Screen Reinforcer I
Small Anti-Thermal Screen Reinforcer I



Item
Quantity
Value
Merlin
1
269,501
Damage Control I
1
13,474
Small Capacitor Booster II
1
610,999
X5 Prototype Engine Enervator
1
315,420
J5b Phased Prototype Warp Scrambler I
1
50
Anode Light Electron Particle Cannon I
2
6,001
Magnetic Field Stabilizer II
1
899,995
Medium Shield Booster II
1
540,495
OE-5200 Rocket Launcher
2
8,203
Caldari Navy Antimatter Charge S
1
484
Caldari Navy Mjolnir Rocket
1
512
Small Anti-EM Screen Reinforcer I
2
5,507
Small Anti-Thermal Screen Reinforcer I
1
50,000
Total
2,740,351