Harbinger: Ungodly DPS, Shield tanked WH Harby.
6
0
337 Views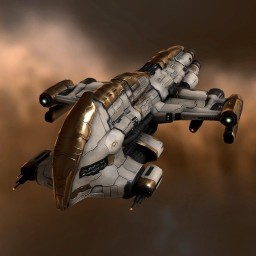 Modulename
Harbinger, Shield, Wormhole for use with basilisk support.

Core Launcher is Offlined in topslot, just in case...

All resists over 60%, sufficient buffer for a basilisks to get you shield if you get shot at in C3/C4 holes (with a command ship around you might be able to live in C5's, not tested however).

Conglag; 690 DPS, 9,7+8,2 (848 DPS with drones)
Scorch; 493 DPS, 29+8,2 (651 DPS with drones)

The discharge rig is optional, I like my basilisks pilots so I think its wise not to make them work to hard.

If you fit an algid rig it can fit a YT-8 mwd, I don't like mwd on shield tanked ships though. A locus rig would be another good pick.

Also it's dirt cheap.

p.s. Yes you'll die horribly without a basilisk, I know that.



Targeting
| | | |
| --- | --- | --- |
| | Maximum targets | 6 |
| | Maximum targeting range | 68.75 km |
| | Scan resolution | 262.5 |
| | Sensor strength | 0 0 0 17 |
Size/Movement
| | | |
| --- | --- | --- |
| | Maximum velocity | 439.95 |
| | Inertia modifier | 0.46575 |
| | Signature radius | 309.75 m |
| | Cargo capacity | 375 m3 |
Systems
| | | |
| --- | --- | --- |
| | Capacitor capacity | 3906.25 GJ |
| | Capacitor recharge time | 10 minutes 16 seconds |
| | Powergrid | 1479.4 / 1781.25MW |
| | CPU | 474.75 / 468.75 tf |
Shields
| | | |
| --- | --- | --- |
| | Shield capacity | 6500 |
| | Shield recharge time | 17 minutes 30 seconds |
| | Shield resistances | 65.76% 67.19% 60.63% 61.65% |
Armor
| | | |
| --- | --- | --- |
| | Armor hit points | 6250 |
| | Armor resistances | 57.5% 32% 36.25% 44.75% |
Structure
| | | |
| --- | --- | --- |
| | Structure hit points | 5625 |
| | Structure resistances | 60% 60% 60% 60% |
| | Drone bandwidth | 50 Mbit/sec |
| | Drone control range | 0 m |
Drones
| | | |
| --- | --- | --- |
| | Drone capacity | 75 m3 |
Download EVEMon Skill Plan
[Harbinger, Harbinger: Ungodly DPS Shield tanked WH Harby.]
Tracking Enhancer II
Tracking Enhancer II
Damage Control II
Heat Sink II
Heat Sink II
Heat Sink II

Large F-S9 Regolith Compact Shield Extender
Limited 'Anointed' EM Ward Field
Limited Adaptive Invulnerability Field I
10MN Afterburner II

Heavy Pulse Laser II
Heavy Pulse Laser II
Heavy Pulse Laser II
Heavy Pulse Laser II
Heavy Pulse Laser II
Heavy Pulse Laser II
Heavy Pulse Laser II
Core Probe Launcher I

Medium Energy Collision Accelerator I
Medium Energy Discharge Elutriation I
Medium Anti-Thermal Screen Reinforcer I


Hammerhead II

Item
Quantity
Value
Harbinger
1
53,200,000
Tracking Enhancer II
2
640,000
Damage Control II
1
501,090
Hammerhead II
1
725,965
Heat Sink II
3
735,000
Heavy Pulse Laser II
7
1,700,000
Large F-S9 Regolith Compact Shield Extender
1
60,010
Limited 'Anointed' EM Ward Field
1
1
Limited Adaptive Invulnerability Field I
1
100,003
10MN Afterburner II
1
1,999,000
Core Probe Launcher I
1
10,000
Medium Energy Collision Accelerator I
1
223,282
Medium Energy Discharge Elutriation I
1
149,996
Medium Anti-Thermal Screen Reinforcer I
1
159,995
Total
72,514,342