Typhoon: 1459 dps Gank Phoon w/ 112,690 EHP
0
0
7 Views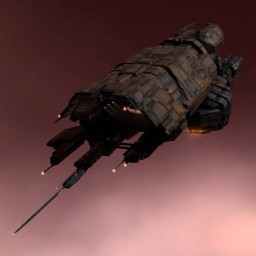 Modulename
This setup provides a tremendous amount of ganking power while maintaining a respectable tank.

* 1459 DPS overloaded
* 1292 DPS non-overloaded
* cap stable with MWD off
* set of medium ECM drones for GTFO
* 112,690 EHP

- Low Sec/High Sec Murderer -

Following stats are with HG Slave and appropriate +5% hardwirings.

* 168,051 EHP
* 242,363 EHP w/ Legion armor bonuses
* 1508 dps if you drop the armor implant in slot 10 and put on +5% missile RoF implant.

Entire fit is all T2/Best named T1 with the exception of the c-type adaptive nano plating which can be easily farmed in high sec or bought for around 25 million give or take. Needed for CPU constraints.

Targeting
| | | |
| --- | --- | --- |
| | Maximum targets | 7 |
| | Maximum targeting range | 81.25 km |
| | Scan resolution | 143.75 |
| | Sensor strength | 0 19 0 0 |
Size/Movement
| | | |
| --- | --- | --- |
| | Maximum velocity | 986.61 |
| | Inertia modifier | 0.07425 |
| | Signature radius | 1980 m |
| | Cargo capacity | 625 m3 |
Systems
| | | |
| --- | --- | --- |
| | Capacitor capacity | 5062.5 GJ |
| | Capacitor recharge time | 13 minutes 45 seconds |
| | Powergrid | 15423 / 15625MW |
| | CPU | 746.5 / 800 tf |
Shields
| | | |
| --- | --- | --- |
| | Shield capacity | 8125 |
| | Shield recharge time | 31 minutes 15 seconds |
| | Shield resistances | 12.5% 56.25% 47.5% 30% |
Armor
| | | |
| --- | --- | --- |
| | Armor hit points | 34219.69 |
| | Armor resistances | 74.31% 42.21% 51.84% 58.26% |
Structure
| | | |
| --- | --- | --- |
| | Structure hit points | 7500 |
| | Structure resistances | 60% 60% 60% 60% |
| | Drone bandwidth | 100 Mbit/sec |
| | Drone control range | 0 m |
Drones
| | | |
| --- | --- | --- |
| | Drone capacity | 125 m3 |
Download EVEMon Skill Plan
[Typhoon, Typhoon: 1459 dps Gank Phoon w/ 112690 EHP]
Damage Control II
1600mm Rolled Tungsten Compact Plates
1600mm Rolled Tungsten Compact Plates
1600mm Rolled Tungsten Compact Plates
Centii C-Type Adaptive Nano Plating
Ballistic Control System II
Ballistic Control System II

Fleeting Propulsion Inhibitor I
J5b Phased Prototype Warp Scrambler I
500MN Cold-Gas Enduring Microwarpdrive
Phased Weapon Navigation Array Generation Extron
Empty

Torpedo Launcher II
Torpedo Launcher II
Torpedo Launcher II
Torpedo Launcher II
Torpedo Launcher II
Dual 650mm Repeating Cannon II
Dual 650mm Repeating Cannon II
Dual 650mm Repeating Cannon II

Large Trimark Armor Pump I
Large Trimark Armor Pump I
Large Trimark Armor Pump I


Ogre II
Vespa EC-600

Item
Quantity
Value
Typhoon
1
184,440,000
Damage Control II
1
501,090
Torpedo Launcher II
5
3,934,870
Ogre II
1
1,309,990
Dual 650mm Repeating Cannon II
3
3,849,000
Fleeting Propulsion Inhibitor I
1
1,920,010
J5b Phased Prototype Warp Scrambler I
1
50
500MN Cold-Gas Enduring Microwarpdrive
1
536,000
1600mm Rolled Tungsten Compact Plates
3
590,000
Hail L
1
325
Centii C-Type Adaptive Nano Plating
1
34,000,700
Phased Weapon Navigation Array Generation Extron
1
450,000
Ballistic Control System II
2
850,012
Vespa EC-600
1
1
Mjolnir Rage Torpedo
1
326
Large Trimark Armor Pump I
3
10,001
Total
257,879,869