Shield RR Incursion Tengu
2
1
87 Views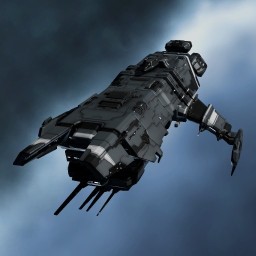 Modulename
Meant for running incursions in a 3-10 man gang. It's supporting counterpart:
http://eve.battleclinic.com/loadout/46815-Shield-RR-Incursion-Loki.html
Stats updated as I dropped the 4th BCS for a DC.
DPS
Please note that the best practical DPS against Incursion rats is achieved with EMP missiles.
423 with Thunderbolt Fury
330 with T1 Thunderbolt
689m/s with AB on.
Two RR: 2188 DPS
Four RR: 4317 DPS
Cap stable at 48%
Latest version, only change was from complex to faction afterburner. Someone pointed out to me that Gistum ABs are rare as hen's teeth (anyone know why?).
Targeting
| | | |
| --- | --- | --- |
| | Maximum targets | 5 |
| | Maximum targeting range | 117.1875 km |
| | Scan resolution | 293.75 |
| | Sensor strength | 35 0 0 0 |
Size/Movement
| | | |
| --- | --- | --- |
| | Maximum velocity | 650.14 |
| | Inertia modifier | 0.26123 |
| | Signature radius | 150 m |
| | Cargo capacity | 0 m3 |
Systems
| | | |
| --- | --- | --- |
| | Capacitor capacity | 2750 GJ |
| | Capacitor recharge time | 1 minutes 51 seconds |
| | Powergrid | 695.5 / 1031.25MW |
| | CPU | 620.25 / 635 tf |
Shields
| | | |
| --- | --- | --- |
| | Shield capacity | 4187.5 |
| | Shield recharge time | 27 minutes 7 seconds |
| | Shield resistances | 84.35% 86.18% 91.71% 94.47% |
Armor
| | | |
| --- | --- | --- |
| | Armor hit points | 2812.5 |
| | Armor resistances | 57.5% 23.5% 68.13% 88.31% |
Structure
| | | |
| --- | --- | --- |
| | Structure hit points | 2076.25 |
| | Structure resistances | 60% 60% 60% 60% |
| | Drone bandwidth | 0 Mbit/sec |
| | Drone control range | 0 m |
Drones
| | | |
| --- | --- | --- |
| | Drone capacity | 0 m3 |
Download EVEMon Skill Plan
[Tengu, Shield RR Incursion Tengu]
Capacitor Power Relay II
Damage Control II
Ballistic Control System II
Ballistic Control System II
Ballistic Control System II

EM Ward Field II
Dread Guristas Adaptive Invulnerability Field
Dread Guristas Adaptive Invulnerability Field
Republic Fleet 10MN Afterburner
Phased Weapon Navigation Array Generation Extron

Heavy Missile Launcher II
Heavy Missile Launcher II
Heavy Missile Launcher II
Heavy Missile Launcher II
Heavy Missile Launcher II
Large S95a Remote Shield Booster

Medium Capacitor Control Circuit I
Medium Capacitor Control Circuit I
Medium Capacitor Control Circuit I

Tengu Defensive - Adaptive Shielding
Tengu Electronics - Dissolution Sequencer
Tengu Propulsion - Fuel Catalyst
Tengu Offensive - Accelerated Ejection Bay
Tengu Engineering - Capacitor Regeneration Matrix


Item
Quantity
Value
Tengu
1
193,248,000
Mjolnir Heavy Missile
1
57
Capacitor Power Relay II
1
424,499
Damage Control II
1
501,090
EM Ward Field II
1
1,417,000
Heavy Missile Launcher II
5
1,100,000
Large S95a Remote Shield Booster
1
313,681
Dread Guristas Adaptive Invulnerability Field
2
170,000,000
Republic Fleet 10MN Afterburner
1
32,000,000
Phased Weapon Navigation Array Generation Extron
1
450,000
Ballistic Control System II
3
850,012
Mjolnir Fury Heavy Missile
1
159
Tengu Defensive - Adaptive Shielding
1
55,000,000
Tengu Electronics - Dissolution Sequencer
1
57,355,000
Tengu Propulsion - Fuel Catalyst
1
57,650,000
Tengu Offensive - Accelerated Ejection Bay
1
57,698,900
Tengu Engineering - Capacitor Regeneration Matrix
1
56,080,000
Medium Capacitor Control Circuit I
3
1,677,500
Total
865,220,922