Loki Cheap Lvl 4 mission runner.
3
0
257 Views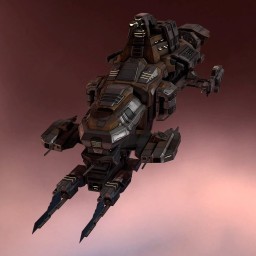 Modulename
Can tank level 4's with ease, battleships can't track you at all even when webbed lol... Just keep on flanking!
730 dps to gank yourself trough missions
Start with barrage, set orbit to 2km of any battleship after flanking and load emp and gank anything on the field.
Overload AB in trouble, can overload for 4 minutes!
You won't need the shield booster for angel extravaganza 4 bonus room, small ship + insane speed with afterburner = win.
Targeting
| | | |
| --- | --- | --- |
| | Maximum targets | 5 |
| | Maximum targeting range | 68.75 km |
| | Scan resolution | 568.75 |
| | Sensor strength | 0 15 0 0 |
Size/Movement
| | | |
| --- | --- | --- |
| | Maximum velocity | 758.45 |
| | Inertia modifier | 0.3375 |
| | Signature radius | 130 m |
| | Cargo capacity | 0 m3 |
Systems
| | | |
| --- | --- | --- |
| | Capacitor capacity | 2070.31 GJ |
| | Capacitor recharge time | 3 minutes 15 seconds |
| | Powergrid | 1007.3 / 1187.5MW |
| | CPU | 470 / 506.25 tf |
Shields
| | | |
| --- | --- | --- |
| | Shield capacity | 4000 |
| | Shield recharge time | 20 minutes 22 seconds |
| | Shield resistances | 91.56% 62.5% 55% 86.5% |
Armor
| | | |
| --- | --- | --- |
| | Armor hit points | 2687.5 |
| | Armor resistances | 90% 10% 25% 67.5% |
Structure
| | | |
| --- | --- | --- |
| | Structure hit points | 2013.75 |
| | Structure resistances | 0% 0% 0% 0% |
| | Drone bandwidth | 25 Mbit/sec |
| | Drone control range | 0 m |
Drones
| | | |
| --- | --- | --- |
| | Drone capacity | 50 m3 |
Download EVEMon Skill Plan
[Loki, Loki Cheap Lvl 4 mission runner.]
Gyrostabilizer II
Gyrostabilizer II
Gyrostabilizer II
Tracking Enhancer II

EM Ward Field II
Thermic Dissipation Field II
10MN Afterburner II
Pithum C-Type Medium Shield Booster
Shield Boost Amplifier II

425mm AutoCannon II
425mm AutoCannon II
425mm AutoCannon II
425mm AutoCannon II
425mm AutoCannon II
425mm AutoCannon II
Heavy Assault Missile Launcher II

Medium Capacitor Control Circuit I
Medium Capacitor Control Circuit I
Medium Capacitor Control Circuit I

Loki Defensive - Adaptive Shielding
Loki Electronics - Tactical Targeting Network
Loki Propulsion - Fuel Catalyst
Loki Offensive - Projectile Scoping Array
Loki Engineering - Augmented Capacitor Reservoir

Hobgoblin II
Warrior II

Item
Quantity
Value
Loki
1
185,759,000
Gyrostabilizer II
3
794,998
Tracking Enhancer II
1
640,000
EM Ward Field II
1
1,417,000
Thermic Dissipation Field II
1
1,599,000
Hobgoblin II
1
305,080
Warrior II
1
295,000
425mm AutoCannon II
6
1,347,500
10MN Afterburner II
1
1,999,000
Barrage M
1
150
Pithum C-Type Medium Shield Booster
1
47,562,000
Republic Fleet EMP M
1
778
Shield Boost Amplifier II
1
868,990
Heavy Assault Missile Launcher II
1
1,033,500
Caldari Navy Scourge Heavy Assault Missile
1
1,055
Loki Defensive - Adaptive Shielding
1
42,800,000
Loki Electronics - Tactical Targeting Network
1
43,883,500
Loki Propulsion - Fuel Catalyst
1
50,999,500
Loki Offensive - Projectile Scoping Array
1
45,900,300
Loki Engineering - Augmented Capacitor Reservoir
1
42,000,000
Medium Capacitor Control Circuit I
3
1,677,500
Total
482,566,347