Orca: WH pos!
2
1
371 Views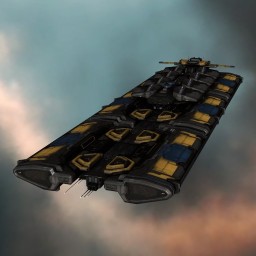 Modulename
It's been thought up before, I know, and wormhole space has kind of lost its magic for a lot of people, but that's exactly why I'm revisiting this concept. This orca is designed to act as a mobile station for your T3 pilot(s) to drop off their sick WH lewts. It easily fits a cloak (no point in wasting cpu on the t2 since you're only going to use it when you're NOT moving) Other than that, just stuff the hangar with salvagers/bombers/probers etc. and have fun!

Now you're probably wondering what the point of the smartbomb/passive tank is. 250ish dps tank isn't alot and an active booster would double that easily right? Well, in my opinion you should be using 99% of your attention on your main's T3 trying to kill whatever's shooting your orca! You don't have time to alt-tab again and again to boost your shields and you'll probably be neuted anyway. Instead, turn the tank on, assign a flight of drones to your main, and then turn on the smart bomb and alt-tab back to your main. This will buy you 225k ehp worth of time while your main does the dps.

Remember that WH's can only let so much through so hopefully that will save you from being ultra-blobbed. The best defence is avoiding action, but I think this one does a good job of taking a punch if it needs to.
Targeting
| | | |
| --- | --- | --- |
| | Maximum targets | 5 |
| | Maximum targeting range | 75 km |
| | Scan resolution | 46.88 |
| | Sensor strength | 0 0 15 0 |
Size/Movement
| | | |
| --- | --- | --- |
| | Maximum velocity | 7.5 |
| | Inertia modifier | 0.108 |
| | Signature radius | 676.13 m |
| | Cargo capacity | 30000 m3 |
Systems
| | | |
| --- | --- | --- |
| | Capacitor capacity | 5512.5 GJ |
| | Capacitor recharge time | 9 minutes 9 seconds |
| | Powergrid | 1245 / 1272MW |
| | CPU | 524.5 / 537.5 tf |
Shields
| | | |
| --- | --- | --- |
| | Shield capacity | 20934.38 |
| | Shield recharge time | 12 minutes 17 seconds |
| | Shield resistances | 70.89% 69.38% 63.25% 51% |
Armor
| | | |
| --- | --- | --- |
| | Armor hit points | 8625 |
| | Armor resistances | 57.5% 23.5% 44.75% 44.75% |
Structure
| | | |
| --- | --- | --- |
| | Structure hit points | 57500 |
| | Structure resistances | 60% 60% 60% 60% |
| | Drone bandwidth | 50 Mbit/sec |
| | Drone control range | 0 m |
Drones
| | | |
| --- | --- | --- |
| | Drone capacity | 75 m3 |
Download EVEMon Skill Plan
[Orca, Orca: WH pos!]
Power Diagnostic System II
Damage Control II

Adaptive Invulnerability Field II
EM Ward Field II
Large Shield Extender II
Large Shield Extender II

Prototype Cloaking Device I
True Sansha Large EMP Smartbomb
Sisters Expanded Probe Launcher

Large Core Defense Field Purger I
Large Core Defense Field Purger I
Large Core Defense Field Purger I


Hobgoblin II
Warrior II
Hornet EC-300

Item
Quantity
Value
Orca
1
625,015,000
Power Diagnostic System II
1
537,986
Damage Control II
1
501,090
Adaptive Invulnerability Field II
1
1,728,000
EM Ward Field II
1
1,417,000
Hobgoblin II
1
305,080
Warrior II
1
295,000
Large Shield Extender II
2
880,000
Prototype Cloaking Device I
1
1,393,530
True Sansha Large EMP Smartbomb
1
105,000,000
Hornet EC-300
1
5,860
Large Core Defense Field Purger I
3
11,806,600
Sisters Expanded Probe Launcher
1
35,216,000
Total
808,594,346