Solid hulk fit.
9
5
633 Views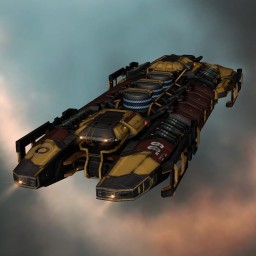 Modulename
This is mainly made for high sec miners or those who have protection from rats while they mine in lower sec areas of space.

You can use T2 crystals of choice on this.

You can use the damage control that is one meta lower then the one shown. Incase you find this one too expensive.

I find a survey scanner a must for miners and don't need comments about removing it.

1,732 mining yield.
10,580 m3 cargo
Cap stable at 61%

19,610 effecitve health. 55 defense. For uniform damage.

Lowest resist on full damage attack is thermal at 18,830

Lowest defense is 41 with em.


Targeting
| | | |
| --- | --- | --- |
| | Maximum targets | 7 |
| | Maximum targeting range | 43.75 km |
| | Scan resolution | 825 |
| | Sensor strength | 0 0 12 0 |
Size/Movement
| | | |
| --- | --- | --- |
| | Maximum velocity | 175 |
| | Inertia modifier | 0.3105 |
| | Signature radius | 202 m |
| | Cargo capacity | 462.88 m3 |
Systems
| | | |
| --- | --- | --- |
| | Capacitor capacity | 781.25 GJ |
| | Capacitor recharge time | 2 minutes 20 seconds |
| | Powergrid | 43.25 / 50MW |
| | CPU | 356 / 387.5 tf |
Shields
| | | |
| --- | --- | --- |
| | Shield capacity | 3400 |
| | Shield recharge time | 12 minutes 30 seconds |
| | Shield resistances | 53.69% 76.84% 72.21% 62.95% |
Armor
| | | |
| --- | --- | --- |
| | Armor hit points | 2030.63 |
| | Armor resistances | 65.2% 21.7% 34.75% 43.45% |
Structure
| | | |
| --- | --- | --- |
| | Structure hit points | 2500 |
| | Structure resistances | 56% 56% 56% 56% |
| | Drone bandwidth | 50 Mbit/sec |
| | Drone control range | 0 m |
Drones
| | | |
| --- | --- | --- |
| | Drone capacity | 50 m3 |
Download EVEMon Skill Plan
[Hulk, Solid hulk fit.]
Pseudoelectron Containment Field I
Mining Laser Upgrade II

Small Shield Extender II
Adaptive Invulnerability Field II
Adaptive Invulnerability Field II
Survey Scanner II

Modulated Strip Miner II
Modulated Strip Miner II
Modulated Strip Miner II

Medium Cargohold Optimization I
Medium Cargohold Optimization I


Hobgoblin II
Mining Drone II

Item
Quantity
Value
Hulk
1
226,000,000
Small Shield Extender II
1
339,990
Adaptive Invulnerability Field II
2
1,728,000
Survey Scanner II
1
669,900
Hobgoblin II
1
305,080
Pseudoelectron Containment Field I
1
2,150,000
Mining Drone II
1
525,000
Modulated Strip Miner II
3
4,100,000
Veldspar Mining Crystal II
1
88,017
Mining Laser Upgrade II
1
750,000
Medium Cargohold Optimization I
2
1,318,610
Total
249,221,207