Typhoon: Passive Phoon LvL 4
172
23
319 Views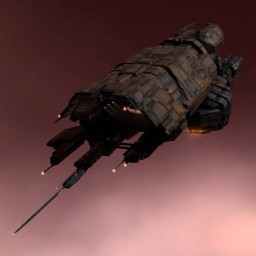 Modulename
This ship has been a work in progress for me for a while now. I can solo any LvL 4 mission with this load out. Ask yourself, "What does the Tyhpoon use?" missiles, drones, and projectile. All three of these things are guaranteed not to use cap. AFK friendly setup
This is a very fun ship, anyone who's had one can agree with me here.
Breaking it down
HIGH::
I have 4 cruise launchers in the high because they're a bit more versatile in mission imo. One less turret then a lot of people use because of the drone link I have in it's place. The purpose of this is to give you a solid 60K range with your drones, as well as more versatility (besides your drones do more damage even if you put the 4's arty there).
MIDS::
Ok lets face it, there are only 4 mid slots but that really doesn't matter for a pst. The two Large Shield extenders is going to give you more shield regeneration then even 2 shield recharger's simply for the reason the shield recharge time stays the same but you have more shields to regenerate over that time. For you EFT gurus it's a 114.67 peak regen vs 86.01 with 2x recharger's.
Before you flame me I only put the 2x Invulnerability fields in because I don't know what mission your gonna do. Simply Switch this out for 2 rat specifics.
LOWS::
Very simple, the shield power relays give you more shield regeneration (which is key for pst). The BCS is to give you more DPS, depending on the mission you may be able to take another shield power relay out for one more BCS.
OTHER::
As far as drones use whatever you want,I carry ogres and hammerheads as I'm sure a lot of people do. Ammo depends on the mission so I didn't bother to put any in.
The core defense field purgers are absolutely necessary for this set up. With my skills the 3 rigs give an extra 316 sustainable defense, almost doubled.
Time for some numbers! (my skills)
390 DPS
275.9 Recharge time
114.67 peak recharge hp/sec
Cap last indefinably with 2 hardeners
VS Guristas
492 sustainable defense
Switching to 6 shield power relays VS Guristas
647 sustainable defense
Switching to 7 shield power relays VS Guristas
851 sustainable defense
You should never need that much defense, and you really wanna do as much damage as possible to make missions shorter.
To sum it up I'd like to point out that anything can be switched out if you have access to faction gear, then things really start getting crazy. Or you could par it down if you need too. BTW everything here can fit very easily if you have even mediocre skills.
Thanks for taking time to view my load out. GL out there!
-Saevus
Targeting
| | | |
| --- | --- | --- |
| | Maximum targets | 7 |
| | Maximum targeting range | 81.25 km |
| | Scan resolution | 143.75 |
| | Sensor strength | 0 19 0 0 |
Size/Movement
| | | |
| --- | --- | --- |
| | Maximum velocity | 162.5 |
| | Inertia modifier | 0.07425 |
| | Signature radius | 428.22 m |
| | Cargo capacity | 625 m3 |
Systems
| | | |
| --- | --- | --- |
| | Capacitor capacity | 6750 GJ |
| | Capacitor recharge time | 1 hours 1 minutes 39 seconds |
| | Powergrid | 12890 / 15625MW |
| | CPU | 626.75 / 800 tf |
Shields
| | | |
| --- | --- | --- |
| | Shield capacity | 14625 |
| | Shield recharge time | 16 minutes |
| | Shield resistances | 48.25% 74.13% 68.95% 58.6% |
Armor
| | | |
| --- | --- | --- |
| | Armor hit points | 7500 |
| | Armor resistances | 60% 10% 25% 35% |
Structure
| | | |
| --- | --- | --- |
| | Structure hit points | 7500 |
| | Structure resistances | 0% 0% 0% 0% |
| | Drone bandwidth | 100 Mbit/sec |
| | Drone control range | 0 m |
Drones
| | | |
| --- | --- | --- |
| | Drone capacity | 125 m3 |
Download EVEMon Skill Plan
[Typhoon, Typhoon: Passive Phoon LvL 4]
Shield Power Relay II
Shield Power Relay II
Shield Power Relay II
Shield Power Relay II
Shield Power Relay II
Ballistic Control System II
Ballistic Control System II

Adaptive Invulnerability Field II
Adaptive Invulnerability Field II
Large Shield Extender II
Large Shield Extender II
Empty

1200mm Heavy 'Scout' Artillery I
1200mm Heavy 'Scout' Artillery I
1200mm Heavy 'Scout' Artillery I
'Arbalest' Cruise Launcher I
'Arbalest' Cruise Launcher I
'Arbalest' Cruise Launcher I
'Arbalest' Cruise Launcher I
Drone Link Augmentor I

Large Core Defense Field Purger I
Large Core Defense Field Purger I
Large Core Defense Field Purger I


Hammerhead II
Ogre I

Item
Quantity
Value
Typhoon
1
179,409,000
Shield Power Relay II
5
409,934
Hammerhead II
1
659,990
Adaptive Invulnerability Field II
2
1,749,000
Ogre I
1
38,009
Large Shield Extender II
2
879,970
1200mm Heavy 'Scout' Artillery I
3
434,630
'Arbalest' Cruise Launcher I
4
7,500
Ballistic Control System II
2
877,500
Drone Link Augmentor I
1
246,500
Large Core Defense Field Purger I
3
10,191,000
Total
221,322,999