Machariel: PVP Speed Tank 1000+ DPS
22
6
2,909 Views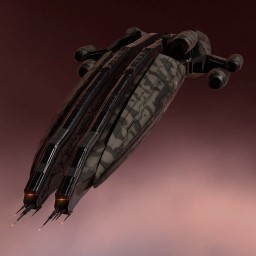 Modulename
OK. This is a PVP Machariel based on a speed tank since this is the most agile BS out there. It has following stats:
DPS: 1,148
Speed: 1,978 m/s
Shield HP: 22,7031
EHP: 92,032
Cap: Stable at 73% (with cap booster 800's running)
The range on this fit suits a nice 28km orbit, well out of standard locking and webbing range of other ships. All your mods will work fine at this range - the Heavy Neut, the Warp Disruptor and your guns.
You would prefer to be in a gang when using this due to the isk involved and if you had Logistics support - well...
This should be fine to be used solo as long as you have no more than a 1v2 fight - but try to pick up on a lone target.
I have been playing with PVP fits for the mach for a while and this is what I have come up with.
Please provide feedback and suggested changes with reasons, very keen to try this out this weekend.
Cheers
EDIT - Swapped T2 Invulnerably Field for Caldari Navy one
EDIT 2 (30/06)- After an unsuccessful test this weekend, where my tacking was that bad I could not break a cane's tank, I have made the following changes to this loadout.
Replaced the T2 LSE for a faction Tracking Computer with tracking speed script and replaced 1 x RF overdrive injector with a RF Tracking Enhancer. This showed incredible results, obliterating the hurricane. Also took on a shield tempest, and got 2000+ dmg a volley at 29km orbit.
Targeting
| | | |
| --- | --- | --- |
| | Maximum targets | 7 |
| | Maximum targeting range | 93.75 km |
| | Scan resolution | 156.25 |
| | Sensor strength | 0 26 0 0 |
Size/Movement
| | | |
| --- | --- | --- |
| | Maximum velocity | 1896.83 |
| | Inertia modifier | 0.05459 |
| | Signature radius | 1714.24 m |
| | Cargo capacity | 631.75 m3 |
Systems
| | | |
| --- | --- | --- |
| | Capacitor capacity | 7250 GJ |
| | Capacitor recharge time | 14 minutes 25 seconds |
| | Powergrid | 19418 / 22437.5MW |
| | CPU | 549.25 / 750 tf |
Shields
| | | |
| --- | --- | --- |
| | Shield capacity | 17718.19 |
| | Shield recharge time | 31 minutes 15 seconds |
| | Shield resistances | 45.31% 72.66% 67.19% 56.25% |
Armor
| | | |
| --- | --- | --- |
| | Armor hit points | 11562.5 |
| | Armor resistances | 66% 23.5% 36.25% 44.75% |
Structure
| | | |
| --- | --- | --- |
| | Structure hit points | 8260 |
| | Structure resistances | 60% 60% 60% 60% |
| | Drone bandwidth | 100 Mbit/sec |
| | Drone control range | 0 m |
Drones
| | | |
| --- | --- | --- |
| | Drone capacity | 125 m3 |
Download EVEMon Skill Plan
[Machariel, Machariel: PVP Speed Tank 1000+ DPS]
Damage Control II
Nanofiber Internal Structure II
Republic Fleet Gyrostabilizer
Republic Fleet Gyrostabilizer
Republic Fleet Gyrostabilizer
Republic Fleet Overdrive Injector
Republic Fleet Tracking Enhancer

Heavy Capacitor Booster II
Dread Guristas Adaptive Invulnerability Field
Shadow Serpentis Tracking Computer
Republic Fleet Warp Disruptor
Gist X-Type 500MN Microwarpdrive

800mm Repeating Cannon II
800mm Repeating Cannon II
800mm Repeating Cannon II
800mm Repeating Cannon II
800mm Repeating Cannon II
800mm Repeating Cannon II
800mm Repeating Cannon II
True Sansha Heavy Energy Neutralizer

Large Core Defense Field Extender I
Large Core Defense Field Extender I
Large Core Defense Field Extender I


Hammerhead II
Warrior II
Vespa EC-600

Item
Quantity
Value
Machariel
1
430,018,000
Damage Control II
1
501,090
Hammerhead II
1
725,965
Warrior II
1
295,000
Nanofiber Internal Structure II
1
290,000
800mm Repeating Cannon II
7
3,499,920
Heavy Capacitor Booster II
1
501
Dread Guristas Adaptive Invulnerability Field
1
170,000,000
True Sansha Heavy Energy Neutralizer
1
96,140,000
Shadow Serpentis Tracking Computer
1
169,000,000
Republic Fleet Gyrostabilizer
3
74,240,900
Republic Fleet Overdrive Injector
1
2,200
Republic Fleet Warp Disruptor
1
118,105,000
Republic Fleet Tracking Enhancer
1
83,011,500
Gist X-Type 500MN Microwarpdrive
1
192,356,000
Republic Fleet EMP L
1
1,034
Republic Fleet Phased Plasma L
1
965
Vespa EC-600
1
1
Large Core Defense Field Extender I
3
10,899,000
Total
1,540,366,395