Dominix Vanilla Level 4 Mission Fit
2
0
15,143 Views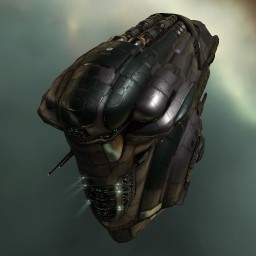 Modulename
Balanced standard level 4 mission fit Domi. Balanced DPS with, Tank, with ability to salvage and Tractor beam (for those annoying mission ninjas).

Seen a lot of mission fit Domi's on here today, and am trying to shed some light on how to properly fit a domi for level 4 missions. There are many variations to this fit, most of them pretty small. ie. rigs, and additional magstabs, or dual LAR ii's

As it is now this gets 687 DPS with 5 Ogre II's
and can tank 787.19 DPS against serpentis in this case.
Targeting
| | | |
| --- | --- | --- |
| | Maximum targets | 7 |
| | Maximum targeting range | 87.5 km |
| | Scan resolution | 112.5 |
| | Sensor strength | 0 0 22 0 |
Size/Movement
| | | |
| --- | --- | --- |
| | Maximum velocity | 363.51 |
| | Inertia modifier | 0.08465 |
| | Signature radius | 465 m |
| | Cargo capacity | 600 m3 |
Systems
| | | |
| --- | --- | --- |
| | Capacitor capacity | 7500 GJ |
| | Capacitor recharge time | 4 minutes 47 seconds |
| | Powergrid | 8951.8 / 12500MW |
| | CPU | 583 / 750 tf |
Shields
| | | |
| --- | --- | --- |
| | Shield capacity | 9000 |
| | Shield recharge time | 31 minutes 15 seconds |
| | Shield resistances | 12.5% 56.25% 47.5% 30% |
Armor
| | | |
| --- | --- | --- |
| | Armor hit points | 10000 |
| | Armor resistances | 57.5% 23.5% 87.02% 87.02% |
Structure
| | | |
| --- | --- | --- |
| | Structure hit points | 10625 |
| | Structure resistances | 60% 60% 60% 60% |
| | Drone bandwidth | 125 Mbit/sec |
| | Drone control range | 0 m |
Drones
| | | |
| --- | --- | --- |
| | Drone capacity | 375 m3 |
Download EVEMon Skill Plan
[Dominix, Dominix Vanilla Level 4 Mission Fit]
Damage Control II
Large Armor Repairer II
Magnetic Field Stabilizer II
Armor Kinetic Hardener II
Armor Kinetic Hardener II
Armor Thermic Hardener II
Armor Thermic Hardener II

Cap Recharger II
Cap Recharger II
Cap Recharger II
Cap Recharger II
100MN Afterburner I

350mm Railgun II
350mm Railgun II
350mm Railgun II
350mm Railgun II
Small Tractor Beam I
Salvager I

Large Auxiliary Nano Pump I
Large Nanobot Accelerator I
Large Capacitor Control Circuit I


Hammerhead II
Ogre II
Hobgoblin II
Warrior II
Warden II

Item
Quantity
Value
Dominix
1
192,000,000
Antimatter Charge L
1
185
Cap Recharger II
4
473,000
Damage Control II
1
501,090
Hammerhead II
1
725,965
Ogre II
1
1,309,990
Hobgoblin II
1
305,080
Warrior II
1
295,000
Large Armor Repairer II
1
1,198,170
Magnetic Field Stabilizer II
1
899,995
Armor Kinetic Hardener II
2
1,500,000
Armor Thermic Hardener II
2
1,576,500
100MN Afterburner I
1
51,000
350mm Railgun II
4
2,663,000
Small Tractor Beam I
1
1,700,000
Salvager I
1
59,998
Large Auxiliary Nano Pump I
1
10,019,500
Large Nanobot Accelerator I
1
1
Large Capacitor Control Circuit I
1
8,648,990
Warden II
1
1,306,700
Total
237,718,664