Machariel: Fastest(???) LVL 4 mission runner
2
1
2,951 Views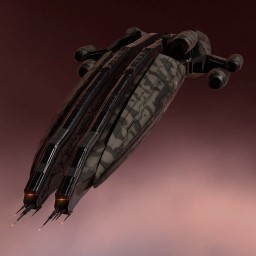 Modulename
this is actually a revision from my previous listing
http://eve.battleclinic.com/loadout/37772-Machariel-My-new-favorite-ships.html
I have taken the ideas from the people that posted and concocted this. This'll take me some time to actually build up and test and if CCP ever unlocks my account then maybe I can get some results sooner.
900+ DPS depending on your skills
69KM falloff
759 DPS tank before implants(4+ minutes of burst)
600m/s velocity w/ 12 second align time
It can be made to perma run tank with the swap of 2 modules. This is for solo mission running and helping lowbe friends attain standing faster.
Targeting
| | | |
| --- | --- | --- |
| | Maximum targets | 7 |
| | Maximum targeting range | 93.75 km |
| | Scan resolution | 156.25 |
| | Sensor strength | 0 26 0 0 |
Size/Movement
| | | |
| --- | --- | --- |
| | Maximum velocity | 605.51 |
| | Inertia modifier | 0.0648 |
| | Signature radius | 350 m |
| | Cargo capacity | 665 m3 |
Systems
| | | |
| --- | --- | --- |
| | Capacitor capacity | 7250 GJ |
| | Capacitor recharge time | 6 minutes 15 seconds |
| | Powergrid | 14995 / 22437.5MW |
| | CPU | 640 / 750 tf |
Shields
| | | |
| --- | --- | --- |
| | Shield capacity | 11650 |
| | Shield recharge time | 31 minutes 15 seconds |
| | Shield resistances | 57.87% 78.93% 74.72% 66.3% |
Armor
| | | |
| --- | --- | --- |
| | Armor hit points | 11562.5 |
| | Armor resistances | 60% 10% 25% 35% |
Structure
| | | |
| --- | --- | --- |
| | Structure hit points | 10325 |
| | Structure resistances | 0% 0% 0% 0% |
| | Drone bandwidth | 100 Mbit/sec |
| | Drone control range | 0 m |
Drones
| | | |
| --- | --- | --- |
| | Drone capacity | 125 m3 |
Download EVEMon Skill Plan
[Machariel, Machariel: Fastest(???) LVL 4 mission runner]
True Sansha Capacitor Power Relay
Republic Fleet Gyrostabilizer
Republic Fleet Gyrostabilizer
Republic Fleet Gyrostabilizer
Republic Fleet Tracking Enhancer
Republic Fleet Tracking Enhancer
Republic Fleet Tracking Enhancer

Caldari Navy Adaptive Invulnerability Field
Caldari Navy Adaptive Invulnerability Field
Core B-Type 100MN Afterburner
Gist B-Type X-Large Shield Booster
Gist X-Type Shield Boost Amplifier

Republic Fleet 800mm Repeating Cannon
Republic Fleet 800mm Repeating Cannon
Republic Fleet 800mm Repeating Cannon
Republic Fleet 800mm Repeating Cannon
Republic Fleet 800mm Repeating Cannon
Republic Fleet 800mm Repeating Cannon
Republic Fleet 800mm Repeating Cannon
Drone Link Augmentor I

Large Capacitor Control Circuit I
Large Capacitor Control Circuit I
Large Capacitor Control Circuit II


Vespa II

Item
Quantity
Value
Machariel
1
430,018,000
True Sansha Capacitor Power Relay
1
47,606,900
Republic Fleet Gyrostabilizer
3
74,240,900
Republic Fleet Tracking Enhancer
3
83,011,500
Republic Fleet 800mm Repeating Cannon
7
65,202,400
Caldari Navy Adaptive Invulnerability Field
2
275,000,000
Core B-Type 100MN Afterburner
1
77,800,000
Gist B-Type X-Large Shield Booster
1
384,000,000
Gist X-Type Shield Boost Amplifier
1
1
Vespa II
1
1
Republic Fleet EMP L
1
1,034
Drone Link Augmentor I
1
178,014
Large Capacitor Control Circuit I
2
8,648,990
Large Capacitor Control Circuit II
1
63,203,900
Total
2,498,279,830