Scorpion - mission runner killer
8
2
7,616 Views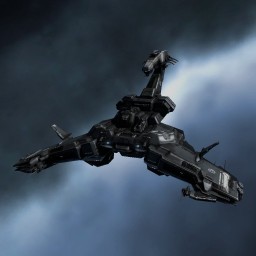 Modulename
The concept is simple - search via agent the killright missionrunner, scan him down with a frig/covert ops and use this scorpion to bring him down.
This is a fit that i used to pawn a "kill right carebear":
http://www.youtube.com/watch?v=j_3A6w4FLIU
Change ecms to racials if u know targets shiptype.
Some stats:
20640 shield buffer (45,433 effective hp)
Cap lasts for 4mins when all modules are online - stable at 35% without the ab.
303m/s with ab 118m/s without
626 DPS volley 4049
Price about 51mln
long align time (19s) and locking (scan res 93.
but its dasent matter really for this work
Targeting
| | | |
| --- | --- | --- |
| | Maximum targets | 7 |
| | Maximum targeting range | 112.5 km |
| | Scan resolution | 137.5 |
| | Sensor strength | 24 0 0 0 |
Size/Movement
| | | |
| --- | --- | --- |
| | Maximum velocity | 311.13 |
| | Inertia modifier | 0.0783 |
| | Signature radius | 580.68 m |
| | Cargo capacity | 550 m3 |
Systems
| | | |
| --- | --- | --- |
| | Capacitor capacity | 7218.75 GJ |
| | Capacitor recharge time | 12 minutes 34 seconds |
| | Powergrid | 11552.8 / 11925MW |
| | CPU | 851.5 / 937.5 tf |
Shields
| | | |
| --- | --- | --- |
| | Shield capacity | 21176.53 |
| | Shield recharge time | 28 minutes 35 seconds |
| | Shield resistances | 0% 50% 40% 20% |
Armor
| | | |
| --- | --- | --- |
| | Armor hit points | 6875 |
| | Armor resistances | 50% 10% 25% 45% |
Structure
| | | |
| --- | --- | --- |
| | Structure hit points | 8125 |
| | Structure resistances | 0% 0% 0% 0% |
| | Drone bandwidth | 75 Mbit/sec |
| | Drone control range | 0 m |
Drones
| | | |
| --- | --- | --- |
| | Drone capacity | 75 m3 |
Download EVEMon Skill Plan
[Scorpion, Scorpion - mission runner killer]
Power Diagnostic System II
Ballistic Control System II
Ballistic Control System II
Ballistic Control System II
Empty

Stasis Webifier II
ECM - Multispectral Jammer II
ECM - Multispectral Jammer II
ECM - Multispectral Jammer II
Warp Disruptor II
Large Shield Extender II
Large Shield Extender II
100MN Afterburner II

Torpedo Launcher II
Torpedo Launcher II
Torpedo Launcher II
Torpedo Launcher II
Heavy Unstable Power Fluctuator I
Heavy Diminishing Power System Drain I

Large Core Defense Field Extender I
Large Core Defense Field Extender I
Empty


Hammerhead II
Warrior II

Item
Quantity
Value
Scorpion
1
164,011,000
Stasis Webifier II
1
850,000
Power Diagnostic System II
1
537,986
Hammerhead II
1
725,965
Torpedo Launcher II
4
3,934,870
Warrior II
1
295,000
ECM - Multispectral Jammer II
3
1,285,000
Warp Disruptor II
1
1,160,000
Large Shield Extender II
2
880,000
100MN Afterburner II
1
2,350,000
Heavy Unstable Power Fluctuator I
1
179,375
Heavy Diminishing Power System Drain I
1
20,000
Ballistic Control System II
3
850,012
Large Core Defense Field Extender I
2
10,899,000
Total
215,831,842