Machariel: First Mach Fit
0
2
23 Views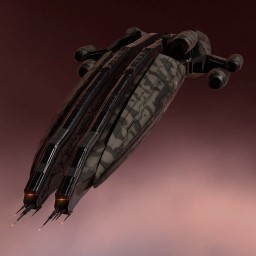 Modulename
first mach fit. putting here so that i can receive criticism, i realize it's not perfect but i do so despise active tanking and armor tanking for that matter...

in EFT 738 DPS with t2 med drones.
EHP is 71, i feel that could be better.
and it is far from cap stable. which also hurts my soul for i am on a never ending quest to make everything and there mom cap stable.
Targeting
| | | |
| --- | --- | --- |
| | Maximum targets | 7 |
| | Maximum targeting range | 93.75 km |
| | Scan resolution | 156.25 |
| | Sensor strength | 0 26 0 0 |
Size/Movement
| | | |
| --- | --- | --- |
| | Maximum velocity | 553.35 |
| | Inertia modifier | 0.0648 |
| | Signature radius | 450.75 m |
| | Cargo capacity | 665 m3 |
Systems
| | | |
| --- | --- | --- |
| | Capacitor capacity | 7250 GJ |
| | Capacitor recharge time | 47 minutes 54 seconds |
| | Powergrid | 15533 / 22437.5MW |
| | CPU | 617.75 / 750 tf |
Shields
| | | |
| --- | --- | --- |
| | Shield capacity | 18150 |
| | Shield recharge time | 13 minutes 11 seconds |
| | Shield resistances | 48.25% 74.13% 68.95% 58.6% |
Armor
| | | |
| --- | --- | --- |
| | Armor hit points | 11562.5 |
| | Armor resistances | 60% 10% 25% 35% |
Structure
| | | |
| --- | --- | --- |
| | Structure hit points | 10325 |
| | Structure resistances | 0% 0% 0% 0% |
| | Drone bandwidth | 100 Mbit/sec |
| | Drone control range | 0 m |
Drones
| | | |
| --- | --- | --- |
| | Drone capacity | 125 m3 |
Download EVEMon Skill Plan
[Machariel, Machariel: First Mach Fit]
Gyrostabilizer II
Gyrostabilizer II
Gyrostabilizer II
Shield Power Relay II
Shield Power Relay II
Shield Power Relay II
Shield Power Relay II

Adaptive Invulnerability Field II
Adaptive Invulnerability Field II
Large Shield Extender II
Large Shield Extender II
100MN Afterburner II

800mm Heavy 'Scout' Repeating Cannon I
800mm Heavy 'Scout' Repeating Cannon I
800mm Heavy 'Scout' Repeating Cannon I
800mm Heavy 'Scout' Repeating Cannon I
800mm Heavy 'Scout' Repeating Cannon I
800mm Heavy 'Scout' Repeating Cannon I
800mm Heavy 'Scout' Repeating Cannon I
Heavy Nosferatu I

Medium Core Defense Field Purger II
Medium Core Defense Field Purger II
Medium Core Defense Field Purger II


Acolyte II
Vespa II
Acolyte EV-300
Hornet EC-300

Item
Quantity
Value
Machariel
1
430,018,000
Gyrostabilizer II
3
794,998
Shield Power Relay II
4
500,000
Acolyte II
1
347,475
Adaptive Invulnerability Field II
2
1,728,000
Large Shield Extender II
2
880,000
800mm Heavy 'Scout' Repeating Cannon I
7
331,279
100MN Afterburner II
1
2,350,000
Heavy Nosferatu I
1
142,006
Vespa II
1
1
Republic Fleet EMP L
1
1,034
Acolyte EV-300
1
500
Hornet EC-300
1
5,860
Medium Core Defense Field Purger II
3
26,998,000
Total
525,778,823