Imperial Navy Slicer: The definite pvp slicer

14
3
26,328 Views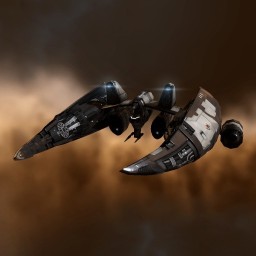 Modulename
Well, maybe not definite, but better than anything else up on here atm. Durable little thing with decent dps.

w/ 5s
172dps/137dps (multi/scorch)
3166m/s
43s with all running, stable with rep / neut off, so you got a bit of leeway there.


This'll pull off solo work along with gang work, a few of these and those small neuts start to get nasty over time even to larger ships.
Targeting
| | | |
| --- | --- | --- |
| | Maximum targets | 5 |
| | Maximum targeting range | 50 km |
| | Scan resolution | 843.75 |
| | Sensor strength | 0 0 0 11 |
Size/Movement
| | | |
| --- | --- | --- |
| | Maximum velocity | 3193.71 |
| | Inertia modifier | 2.2275 |
| | Signature radius | 228 m |
| | Cargo capacity | 130 m3 |
Systems
| | | |
| --- | --- | --- |
| | Capacitor capacity | 619.92 GJ |
| | Capacitor recharge time | 3 minutes 7 seconds |
| | Powergrid | 52.8 / 62.5MW |
| | CPU | 136 / 156.25 tf |
Shields
| | | |
| --- | --- | --- |
| | Shield capacity | 687.5 |
| | Shield recharge time | 7 minutes 48 seconds |
| | Shield resistances | 10.5% 55.25% 46.3% 28.4% |
Armor
| | | |
| --- | --- | --- |
| | Armor hit points | 906.25 |
| | Armor resistances | 70.72% 53.15% 56.08% 61.93% |
Structure
| | | |
| --- | --- | --- |
| | Structure hit points | 750 |
| | Structure resistances | 56% 56% 56% 56% |
| | Drone bandwidth | 0 Mbit/sec |
| | Drone control range | 0 m |
Drones
| | | |
| --- | --- | --- |
| | Drone capacity | 0 m3 |
Download EVEMon Skill Plan
[Imperial Navy Slicer, Imperial Navy Slicer: The definite pvp slicer]
Small Armor Repairer II
Adaptive Nano Plating II
Adaptive Nano Plating II
Heat Sink II
Pseudoelectron Containment Field I

Faint Epsilon Warp Scrambler I
5MN Y-T8 Compact Microwarpdrive

Small Focused Pulse Laser II
Small Focused Pulse Laser II
Small Unstable Power Fluctuator I

Small Semiconductor Memory Cell I
Small Semiconductor Memory Cell I
Small Energy Metastasis Adjuster I



Item
Quantity
Value
Imperial Navy Slicer
1
14,500,000
Small Armor Repairer II
1
450,000
Adaptive Nano Plating II
2
178,678
Heat Sink II
1
735,000
Small Focused Pulse Laser II
2
555,497
Small Unstable Power Fluctuator I
1
2,010,010
Faint Epsilon Warp Scrambler I
1
3,500,000
Pseudoelectron Containment Field I
1
2,150,000
5MN Y-T8 Compact Microwarpdrive
1
190,516
Scorch S
1
45,400
Imperial Navy Multifrequency S
1
284,182
Small Semiconductor Memory Cell I
2
899,990
Small Energy Metastasis Adjuster I
1
70,000
Total
27,203,438