Prowler: the definitive 0.0 fit.
15
1
368 Views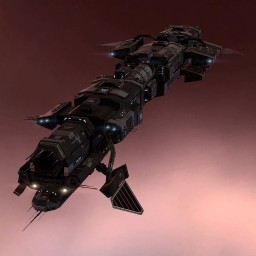 Modulename
So this is a Prowler obviously. It's one of my favorite ships in EVE and I was a bit disappointed after looking over way too many fail-fits on BC, so I decided to step up to the plate and contribute my two cents on how this vessel should be fitted for 0.0 movement.

It is a Blockade Runner, so align times are one of the fundamentals of the vessel's strengths and therefore the fit naturally should take advantage of this in order to be able to silently zip nullsec and lowsec territory without a problem. Anything else is secondary (e.g, capacitor and cargohold capacity).

Make no mistake: this is the way a Prowler should be fit for moving stuff throughout nullsec. Feel free to swap out the Inertia Stabilizer with a Nanofiber and vice-versa. Up to personal preference. I usually settle with one of each.

Constructive criticism, feedback, and ratings are all heavily appreciated.

Note: I had a more detailed description but BC didn't save it so I had to start over.

Enjoy the ship!
Targeting
| | | |
| --- | --- | --- |
| | Maximum targets | 2 |
| | Maximum targeting range | 37.5 km |
| | Scan resolution | 306.25 |
| | Sensor strength | 0 12 0 0 |
Size/Movement
| | | |
| --- | --- | --- |
| | Maximum velocity | 2301.38 |
| | Inertia modifier | 0.21645 |
| | Signature radius | 630 m |
| | Cargo capacity | 3500 m3 |
Systems
| | | |
| --- | --- | --- |
| | Capacitor capacity | 1125 GJ |
| | Capacitor recharge time | 4 minutes 17 seconds |
| | Powergrid | 153 / 162.5MW |
| | CPU | 238 / 287.5 tf |
Shields
| | | |
| --- | --- | --- |
| | Shield capacity | 1875 |
| | Shield recharge time | 15 minutes 37 seconds |
| | Shield resistances | 87.06% 74.13% 68.95% 79.3% |
Armor
| | | |
| --- | --- | --- |
| | Armor hit points | 1692.19 |
| | Armor resistances | 90% 10% 25% 67.5% |
Structure
| | | |
| --- | --- | --- |
| | Structure hit points | 1360 |
| | Structure resistances | 0% 0% 0% 0% |
| | Drone bandwidth | 0 Mbit/sec |
| | Drone control range | 0 m |
Drones
| | | |
| --- | --- | --- |
| | Drone capacity | 0 m3 |
Download EVEMon Skill Plan
[Prowler, Prowler: the definitive 0.0 fit.]
Nanofiber Internal Structure II
Nanofiber Internal Structure II
Empty

Adaptive Invulnerability Field II
Adaptive Invulnerability Field II
50MN Cold-Gas Enduring Microwarpdrive

Covert Ops Cloaking Device II
Empty

Medium Low Friction Nozzle Joints I
Medium Polycarbon Engine Housing I



Item
Quantity
Value
Prowler
1
99,998,600
Adaptive Invulnerability Field II
2
1,728,000
Nanofiber Internal Structure II
2
290,000
50MN Cold-Gas Enduring Microwarpdrive
1
1
Covert Ops Cloaking Device II
1
4,250,000
Medium Low Friction Nozzle Joints I
1
1,580,170
Medium Polycarbon Engine Housing I
1
1,498,440
Total
111,363,211