Myrmidon PvE: L3-L4 setup.
1
0
111 Views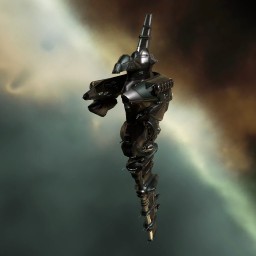 Modulename
My current setup for a PvE Myrmidon.

This setup can very easily manage all Level 3 missions, and also a lot of Level 4, some take a long time though. But as I can't fly a Dominix with enough efficiency, I'm pretty happy with it (I have around 9M SP).

Every suggestions or comments welcome.

Updated with T2 armor hardeners.
Targeting
| | | |
| --- | --- | --- |
| | Maximum targets | 7 |
| | Maximum targeting range | 68.75 km |
| | Scan resolution | 250 |
| | Sensor strength | 0 0 18 0 |
Size/Movement
| | | |
| --- | --- | --- |
| | Maximum velocity | 456.46 |
| | Inertia modifier | 0.4752 |
| | Signature radius | 305 m |
| | Cargo capacity | 400 m3 |
Systems
| | | |
| --- | --- | --- |
| | Capacitor capacity | 3562.5 GJ |
| | Capacitor recharge time | 4 minutes 20 seconds |
| | Powergrid | 914 / 1312.5MW |
| | CPU | 480.75 / 500 tf |
Shields
| | | |
| --- | --- | --- |
| | Shield capacity | 4375 |
| | Shield recharge time | 17 minutes 30 seconds |
| | Shield resistances | 12.5% 56.25% 47.5% 30% |
Armor
| | | |
| --- | --- | --- |
| | Armor hit points | 5625 |
| | Armor resistances | 68.13% 42.63% 88.87% 80.54% |
Structure
| | | |
| --- | --- | --- |
| | Structure hit points | 5937.5 |
| | Structure resistances | 60% 60% 60% 60% |
| | Drone bandwidth | 100 Mbit/sec |
| | Drone control range | 0 m |
Drones
| | | |
| --- | --- | --- |
| | Drone capacity | 200 m3 |
Download EVEMon Skill Plan
[Myrmidon, Myrmidon PvE: L3-L4 setup.]
Damage Control II
Medium Armor Repairer II
Energized Adaptive Nano Membrane II
Armor Kinetic Hardener II
Armor Kinetic Hardener II
Armor Thermic Hardener II

Cap Recharger II
Cap Recharger II
10MN Afterburner II
Omnidirectional Tracking Link I
Drone Navigation Computer I

200mm Compressed Coil Gun I
200mm Compressed Coil Gun I
200mm Compressed Coil Gun I
200mm Compressed Coil Gun I
200mm Compressed Coil Gun I
Drone Link Augmentor I

Medium Auxiliary Nano Pump I
Medium Capacitor Control Circuit I
Medium Capacitor Control Circuit I


Hammerhead II
Hobgoblin II
Light Armor Maintenance Bot I

Item
Quantity
Value
Myrmidon
1
56,002,000
Antimatter Charge M
1
76
Cap Recharger II
2
473,000
Damage Control II
1
501,090
Hammerhead II
1
725,965
Hobgoblin II
1
305,080
Medium Armor Repairer II
1
1,038,960
Energized Adaptive Nano Membrane II
1
665,000
Armor Kinetic Hardener II
2
1,500,000
Armor Thermic Hardener II
1
1,576,500
10MN Afterburner II
1
1,999,000
200mm Compressed Coil Gun I
5
25,004
Drone Link Augmentor I
1
178,014
Omnidirectional Tracking Link I
1
1,000
Light Armor Maintenance Bot I
1
1,000
Drone Navigation Computer I
1
1
Medium Auxiliary Nano Pump I
1
2,547,500
Medium Capacitor Control Circuit I
2
1,677,500
Total
72,967,208