Dominix: L4 mission runner
20
3
814 Views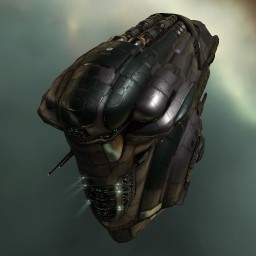 Modulename
Designed to be able to solo L4 missions

Drones and hardeners to be swapped out according to npc in mission.


Updated for moar dps and new better skills leaving more room in mid slots. The guns are for when solo. You can swap out for RR, although this will need the mids to be all cap rechargers, probs doing cap transfer would be better along with RR.
Targeting
| | | |
| --- | --- | --- |
| | Maximum targets | 7 |
| | Maximum targeting range | 87.5 km |
| | Scan resolution | 112.5 |
| | Sensor strength | 0 0 22 0 |
Size/Movement
| | | |
| --- | --- | --- |
| | Maximum velocity | 136.25 |
| | Inertia modifier | 0.08465 |
| | Signature radius | 465 m |
| | Cargo capacity | 600 m3 |
Systems
| | | |
| --- | --- | --- |
| | Capacitor capacity | 7500 GJ |
| | Capacitor recharge time | 3 minutes 17 seconds |
| | Powergrid | 9100 / 12500MW |
| | CPU | 575 / 750 tf |
Shields
| | | |
| --- | --- | --- |
| | Shield capacity | 9000 |
| | Shield recharge time | 31 minutes 15 seconds |
| | Shield resistances | 0% 50% 40% 20% |
Armor
| | | |
| --- | --- | --- |
| | Armor hit points | 10000 |
| | Armor resistances | 77.5% 59.5% 70.75% 70.75% |
Structure
| | | |
| --- | --- | --- |
| | Structure hit points | 10625 |
| | Structure resistances | 0% 0% 0% 0% |
| | Drone bandwidth | 125 Mbit/sec |
| | Drone control range | 0 m |
Drones
| | | |
| --- | --- | --- |
| | Drone capacity | 375 m3 |
Download EVEMon Skill Plan
[Dominix, Dominix: L4 mission runner]
Capacitor Power Relay II
Large Armor Repairer II
Large Armor Repairer II
Armor EM Hardener II
Armor Kinetic Hardener II
Armor Explosive Hardener II
Armor Thermic Hardener II

Cap Recharger II
Cap Recharger II
Cap Recharger II
Omnidirectional Tracking Link I
Omnidirectional Tracking Link I

Dual 250mm Prototype Gauss Gun
Dual 250mm Prototype Gauss Gun
Dual 250mm Prototype Gauss Gun
Dual 250mm Prototype Gauss Gun
Dual 250mm Prototype Gauss Gun
Drone Link Augmentor I

Large Capacitor Control Circuit I
Large Capacitor Control Circuit I
Large Capacitor Control Circuit I


Ogre I
Hobgoblin I
Warden I
Garde I

Item
Quantity
Value
Dominix
1
192,000,000
Iron Charge L
1
24
Lead Charge L
1
37
Antimatter Charge L
1
185
Capacitor Power Relay II
1
424,499
Cap Recharger II
3
473,000
Ogre I
1
50,835
Hobgoblin I
1
734
Large Armor Repairer II
2
1,198,170
Dual 250mm Prototype Gauss Gun
5
33,755
Armor EM Hardener II
1
1,598,920
Armor Kinetic Hardener II
1
1,500,000
Armor Explosive Hardener II
1
1,690,780
Armor Thermic Hardener II
1
1,576,500
Drone Link Augmentor I
1
178,014
Omnidirectional Tracking Link I
2
1,000
Warden I
1
89,700
Garde I
1
67,042
Large Capacitor Control Circuit I
3
8,648,990
Total
229,110,354