Hawk PVE
0
0
172 Views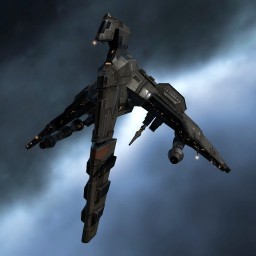 Modulename
Purpose: Solo ratting and complex frigate for use against Guristas and Serpentis, with enough cargo space to operate solo or unsupported for extended periods.

While I love the Harpy, its small cargo bay is a downside for use as a 0.0 ratter or PVE boat in general. Among Assault Frigates, the Hawk has a truly massive cargo bay, much to my delight.

Vitals (all level V, before OH):

Cost: ~100-150mil
DPS: 170 with CN ammo, 150 with T1 ammo
Tank vs. equal Kin/Therm: 285 sustained, 332 reinforced (resist: 0/89.4/84.1/50)
Speed: 844 m/s with AB, 2205 m/s with MWD
Caps out in 2 min 5 sec with everything running. With AB and blasters off it permatanks 332 dps.

Has enough spare CPU and PG to swap the AB for a MWD.

Pros:

-Great tank
-Large cargo bay
-Adaptable to both deadspace and belt ratting.

Cons:

-Relatively low DPS
-Possible con is short range


Thoughts/suggestions before I fly this into a gate camp?
Targeting
| | | |
| --- | --- | --- |
| | Maximum targets | 6 |
| | Maximum targeting range | 56.25 km |
| | Scan resolution | 718.75 |
| | Sensor strength | 16 0 0 0 |
Size/Movement
| | | |
| --- | --- | --- |
| | Maximum velocity | 844.33 |
| | Inertia modifier | 2.5434 |
| | Signature radius | 39 m |
| | Cargo capacity | 300 m3 |
Systems
| | | |
| --- | --- | --- |
| | Capacitor capacity | 390.63 GJ |
| | Capacitor recharge time | 1 minutes 41 seconds |
| | Powergrid | 43.5 / 56.25MW |
| | CPU | 208.25 / 237.5 tf |
Shields
| | | |
| --- | --- | --- |
| | Shield capacity | 1168.75 |
| | Shield recharge time | 7 minutes 48 seconds |
| | Shield resistances | 0% 50% 84.06% 89.38% |
Armor
| | | |
| --- | --- | --- |
| | Armor hit points | 483.75 |
| | Armor resistances | 50% 10% 62.5% 86.25% |
Structure
| | | |
| --- | --- | --- |
| | Structure hit points | 632.5 |
| | Structure resistances | 0% 0% 0% 0% |
| | Drone bandwidth | 0 Mbit/sec |
| | Drone control range | 0 m |
Drones
| | | |
| --- | --- | --- |
| | Drone capacity | 0 m3 |
Download EVEMon Skill Plan
[Hawk, Hawk PVE]
Magnetic Field Stabilizer II
Ballistic Control System II

1MN Afterburner II
Domination Thermic Dissipation Amplifier
Domination Kinetic Deflection Amplifier
Pithi C-Type Small Shield Booster
Empty

Light Neutron Blaster II
Light Neutron Blaster II
Rocket Launcher II
Rocket Launcher II
Rocket Launcher II

Small Capacitor Control Circuit I
Small Capacitor Control Circuit I



Item
Quantity
Value
Hawk
1
25,000,000
1MN Afterburner II
1
1,724,990
Light Neutron Blaster II
2
622,220
Magnetic Field Stabilizer II
1
899,995
Rocket Launcher II
3
414,808
Domination Thermic Dissipation Amplifier
1
20,000,000
Domination Kinetic Deflection Amplifier
1
13,797,500
Pithi C-Type Small Shield Booster
1
67,615,000
Ballistic Control System II
1
850,012
Caldari Navy Antimatter Charge S
1
484
Caldari Navy Scourge Rocket
1
674
Small Capacitor Control Circuit I
2
404,236
Total
133,185,992