Scorpion: level 4 mission.
2
7
463 Views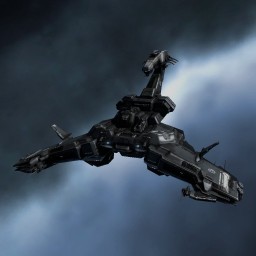 Modulename
Well i decided to post this loadout here on Battleclinic because many players are trying to take their Scorpions to level 4 missions, well the Scorpion is a fail mission boat so i wanted to show those newbies the best way of fitting the Scorpion for level 4 missions.
The Drake or the Raven are much more viable and i recommend them 100% more than the Scorpion for missions, but this loadout here is for those who still want to stick to it.
Hi-slots: Torps for more dps and railguns for something that is out of range of the torps. You can switch those torps out for cruise missiles and those railguns out for salvager/Tractor beam but you will loose alot of dps.
You can also rig the ship for more range on those torps but then you wont be cap stable.
Med-slots: 2 shield boost amplifiers, x-large shield booster and two hardeners form the tank of the ship (change those invulns for mission specific hardeners).
Then we have the target painter for the torps to hit better. And 2 cap rechargers to keep the ship cap stable.
Low-slots:
2 Ballistic control systems for extra dps and 2 cap power relays to be cap stable.
Drones: I choose minmatar drones for the fact how fast they are, but you can replace it with any other tech II type of drones.
Rig slots: 3 CCC rigs to keep the ship cap stable.
Please dont tell me to get a Drake or a Raven because i am not running this fit my self, i posted this here only to help those guys that want to stick to a Scorpion for level 4 missions.
Hope that helps something and please leave comments if you have any suggestions for improvements
.
Some basic stats:
Tank: 489
Dps: 410 w/o drones (490 with warrios II's and 538 with valkyrie II's)
Resists depends on hardeners.
Cap stable at 43%
Targeting
| | | |
| --- | --- | --- |
| | Maximum targets | 7 |
| | Maximum targeting range | 112.5 km |
| | Scan resolution | 137.5 |
| | Sensor strength | 24 0 0 0 |
Size/Movement
| | | |
| --- | --- | --- |
| | Maximum velocity | 117.5 |
| | Inertia modifier | 0.0783 |
| | Signature radius | 480 m |
| | Cargo capacity | 550 m3 |
Systems
| | | |
| --- | --- | --- |
| | Capacitor capacity | 6875 GJ |
| | Capacitor recharge time | 3 minutes 7 seconds |
| | Powergrid | 9829 / 11250MW |
| | CPU | 842.5 / 937.5 tf |
Shields
| | | |
| --- | --- | --- |
| | Shield capacity | 8750 |
| | Shield recharge time | 31 minutes 15 seconds |
| | Shield resistances | 48.25% 74.13% 68.95% 58.6% |
Armor
| | | |
| --- | --- | --- |
| | Armor hit points | 6875 |
| | Armor resistances | 50% 10% 25% 45% |
Structure
| | | |
| --- | --- | --- |
| | Structure hit points | 8125 |
| | Structure resistances | 0% 0% 0% 0% |
| | Drone bandwidth | 75 Mbit/sec |
| | Drone control range | 0 m |
Drones
| | | |
| --- | --- | --- |
| | Drone capacity | 75 m3 |
Download EVEMon Skill Plan
[Scorpion, Scorpion: level 4 mission.]
Capacitor Power Relay II
Capacitor Power Relay II
Ballistic Control System II
Ballistic Control System II
Empty

Cap Recharger II
Cap Recharger II
Adaptive Invulnerability Field II
Adaptive Invulnerability Field II
X-Large Shield Booster II
Target Painter II
Shield Boost Amplifier II
Shield Boost Amplifier II

Prototype 'Arbalest' Torpedo Launcher
Prototype 'Arbalest' Torpedo Launcher
Prototype 'Arbalest' Torpedo Launcher
Prototype 'Arbalest' Torpedo Launcher
350mm Prototype Gauss Gun
350mm Prototype Gauss Gun

Large Capacitor Control Circuit I
Large Capacitor Control Circuit I
Large Capacitor Control Circuit I


Warrior II
Valkyrie II

Item
Quantity
Value
Scorpion
1
164,011,000
Capacitor Power Relay II
2
424,499
Cap Recharger II
2
473,000
Adaptive Invulnerability Field II
2
1,728,000
Warrior II
1
295,000
Prototype 'Arbalest' Torpedo Launcher
4
186,015
X-Large Shield Booster II
1
1,446,000
350mm Prototype Gauss Gun
2
150,001
Target Painter II
1
578,450
Valkyrie II
1
119,500
Ballistic Control System II
2
850,012
Caldari Navy Iron Charge L
1
652
Shield Boost Amplifier II
2
868,990
Large Capacitor Control Circuit I
3
8,648,990
Caldari Navy Mjolnir Torpedo
1
2,059
Total
202,132,695