Imperial Navy Slicer - PeeVeePee
2
0
62 Views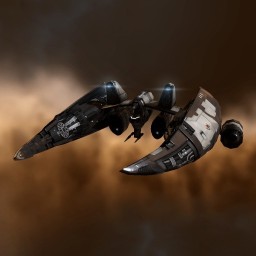 Modulename
Alright, LONG ago, when I first moved to 0.0, I had a Slicer that I tried to use for pvp. It failed miserably. Now, with the changes wrought by the almighty Dominion, I've decided to revisit the Slicer and use the benefit of my much improved pvp experience (and love of all things lazor-ey) to see if I could make it work.
Now, this fit is basically based on a Crusader fit that I've used with much success, which I stole from someone here on battleclinic, although I can't remember who. On the whole, it's not as effective as the Crusader as a solo boat or a gang tackler, but you can still do both jobs, just slower, with a much bigger epeen. I stuck a smartbomb in the last high cause cpu was tight and it's the only thing I could fit that I figure is useful at the range you're operating at, it can help when you're kiting/killing drones.

Stats: (my skills)

Speed: 3698m/s
Tank: Not much, if you get in scramble range you're dead, it's as simple as that, you have to use your MWD and long range weapons/point to dictate range on any fight you get into, and as always, pick your fights carefully. You might come home in structure, but at least that means you lived.
Dps: 101 with Scorch (your primary crystal cause you're working at range) 125 with Imperial Navy Multifrequency
Cap: Lasts 44 seconds with everything running.
Targeting
| | | |
| --- | --- | --- |
| | Maximum targets | 5 |
| | Maximum targeting range | 50 km |
| | Scan resolution | 843.75 |
| | Sensor strength | 0 0 0 11 |
Size/Movement
| | | |
| --- | --- | --- |
| | Maximum velocity | 4374.24 |
| | Inertia modifier | 1.53567 |
| | Signature radius | 228 m |
| | Cargo capacity | 83.2 m3 |
Systems
| | | |
| --- | --- | --- |
| | Capacitor capacity | 500 GJ |
| | Capacitor recharge time | 3 minutes 7 seconds |
| | Powergrid | 39.6 / 62.5MW |
| | CPU | 133.5 / 156.25 tf |
Shields
| | | |
| --- | --- | --- |
| | Shield capacity | 687.5 |
| | Shield recharge time | 7 minutes 48 seconds |
| | Shield resistances | 0% 50% 40% 20% |
Armor
| | | |
| --- | --- | --- |
| | Armor hit points | 903.98 |
| | Armor resistances | 50% 20% 25% 35% |
Structure
| | | |
| --- | --- | --- |
| | Structure hit points | 480 |
| | Structure resistances | 0% 0% 0% 0% |
| | Drone bandwidth | 0 Mbit/sec |
| | Drone control range | 0 m |
Drones
| | | |
| --- | --- | --- |
| | Drone capacity | 0 m3 |
Download EVEMon Skill Plan
[Imperial Navy Slicer, Imperial Navy Slicer - PeeVeePee]
Overdrive Injector System II
Overdrive Injector System II
Heat Sink II
Nanofiber Internal Structure II
Nanofiber Internal Structure II

5MN Microwarpdrive II
Warp Disruptor II

Small Plasma Smartbomb II
Dual Light Pulse Laser II
Dual Light Pulse Laser II

Small Hyperspatial Velocity Optimizer I
Small Polycarbon Engine Housing I
Small Energy Burst Aerator I



Item
Quantity
Value
Imperial Navy Slicer
1
14,500,000
5MN Microwarpdrive II
1
2,804,910
Overdrive Injector System II
2
451,938
Small Plasma Smartbomb II
1
1,050,000
Heat Sink II
1
735,000
Nanofiber Internal Structure II
2
290,000
Dual Light Pulse Laser II
2
478,999
Warp Disruptor II
1
1,160,000
Scorch S
1
45,400
Imperial Navy Multifrequency S
1
284,182
Small Hyperspatial Velocity Optimizer I
1
350,000
Small Polycarbon Engine Housing I
1
338,244
Small Energy Burst Aerator I
1
73,765
Total
23,783,375