Worm: 13.600 ehp, 140 dps - the Caldari Ishkur
11
3
760 Views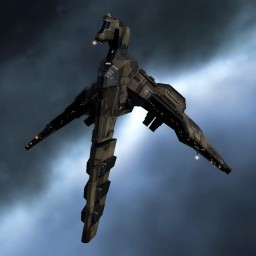 Modulename
This Worm is meant for solo pvp mainly against other frigates for Caldari pilots who'd like to fly a drone boat. The cool thing about the Worm is that it's basically a caldari ship; anyone who's ever flown a Drake has all the skills needed to fly this (except maybe the T2 launchers).
You get about the same out of this as you would from an Ishkur, but you don't have to invest all that training in gunnery, armor tanking and the gallente AF skills. What you need is good skills in shield tanking, missiles and light drones, which any caldari player should already have. The fit is however about twice as expensive as the average ishkur fit, but it's not meant to be a pilot's main setup anyway; if you wanted to fly drone boats all the time, you'd already have the skills to fly gallente ships.

To fit this, you'll need Shield upgrades V aswell as a 3% PG implant (AWU wont help you here). If you prefer, you can upgrade one of the power cores to a navy version, and it'll fit without implants.

You can also ditch one of the extenders for a web and swap a powercore for a speed/dmg mod if you want to, but this will bring your buffer down to 10.000 EHP (which is still nice though).
Feel free to pimp it with faction AB, neut, launchers and T2 rigs if you're a rich bastard, and if you wanna really pimp it you can put on two of those shiny new navy power cores and upgrade the extenders to T2 versions (you'll need a 5% pg implant).


- The stats (with V in relevant skills)-

EHP: 13.592
Shield: 4.937
Resistances: 35% EM, 60% kin, 48% therm, 67% exp
Peak shied recharge: 26,3 hp/s
Tank ability: 55,3 dps omni (passive!)
Capacitor: last 3:30 with eveything, stable at 85% with neut off
Dps: 140 with rage ammo and 5 x hobgoblin II
range: 15,2 km (with faction), 13,6 km (with rage)
Sig radius: 63m (with rage), 56m (with faction)
Speed: 971 m/s
Inertia: 2.35


I know the dps isn't that impressive, but IMO installing damage mods on this ship is just not worth it, cause the base dps of two unbonused launchers is just crap. The idea is to take advantage of the über tank and outlast the opponent.
The cool thing about the tank is that besides the awesome buffer, it tanks about as much as an active tanked frigate when at its peak recharge rate. The difference is that this tank lasts forever, nomatter how much you're getting neuted/nossed, and you can in return use all that spare cap to neut all those active tanks to hell.

Another thing to take into consideration is that this ship has a pretty nice range for a rocket boat. If you're engaging a blaster fitted frigate, you should try to stay out of web range for as long as possible and let your missiles and drones do their work. The DG scram is there to help keep frigates with web in scramrange, but you can swap it for a T2 one if you want.

Keep in mind that the extenders (and rage ammo) have a drawback to sig radius, which might be a problem if you wanna engage bigger ships.

This is the first fitting I've posted and I'm also quite inexperienced to pvp so this fit and explanation is entirely theoretical, I have not actually flown it. Any suggestions are most welcome.
Targeting
| | | |
| --- | --- | --- |
| | Maximum targets | 5 |
| | Maximum targeting range | 37.5 km |
| | Scan resolution | 812.5 |
| | Sensor strength | 15 0 0 0 |
Size/Movement
| | | |
| --- | --- | --- |
| | Maximum velocity | 1083.66 |
| | Inertia modifier | 2.565 |
| | Signature radius | 60.85 m |
| | Cargo capacity | 130 m3 |
Systems
| | | |
| --- | --- | --- |
| | Capacitor capacity | 475 GJ |
| | Capacitor recharge time | 2 minutes 39 seconds |
| | Powergrid | 67.2 / 75MW |
| | CPU | 186.5 / 225 tf |
Shields
| | | |
| --- | --- | --- |
| | Shield capacity | 4999.88 |
| | Shield recharge time | 7 minutes 48 seconds |
| | Shield resistances | 12.5% 56.25% 47.5% 30% |
Armor
| | | |
| --- | --- | --- |
| | Armor hit points | 625 |
| | Armor resistances | 57.5% 23.5% 36.25% 53.25% |
Structure
| | | |
| --- | --- | --- |
| | Structure hit points | 775 |
| | Structure resistances | 60% 60% 60% 60% |
| | Drone bandwidth | 10 Mbit/sec |
| | Drone control range | 0 m |
Drones
| | | |
| --- | --- | --- |
| | Drone capacity | 25 m3 |
Download EVEMon Skill Plan
[Worm, Worm: 13.600 ehp 140 dps - the Caldari Ishkur ]
Damage Control II
Micro Auxiliary Power Core I
Micro Auxiliary Power Core I

1MN Afterburner II
Medium F-S9 Regolith Compact Shield Extender
Medium F-S9 Regolith Compact Shield Extender
Dread Guristas Warp Scrambler

Small Unstable Power Fluctuator I
Rocket Launcher II
Rocket Launcher II

Small Core Defense Field Extender I
Small Core Defense Field Extender I
Small Core Defense Field Extender I


Hobgoblin II
Warrior II

Item
Quantity
Value
Worm
1
79
1MN Afterburner II
1
1,724,990
Damage Control II
1
501,090
Hobgoblin II
1
305,080
Warrior II
1
295,000
Small Unstable Power Fluctuator I
1
2,010,010
Medium F-S9 Regolith Compact Shield Extender
2
1,610,100
Rocket Launcher II
2
414,808
Micro Auxiliary Power Core I
2
280,940
Dread Guristas Warp Scrambler
1
66,908,900
Inferno Rage Rocket
1
60
Caldari Navy Inferno Rocket
1
632
Small Core Defense Field Extender I
3
484,937
Total
77,812,347