Mackinaw: Sensible fit! - 2x IHU
6
1
565 Views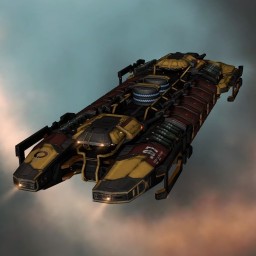 Modulename
Pretty simple mac fit

Want to maximise the amount of ice you mine so 2x IHU is a given...
Im not entirely sure where this preconception that you cant fit 2x IHU without implants comes from but... its wrong (maby a bug in one of the fitting tools people love to play with... or a patch change in the past). This fits with mining upgrades IV trained. (V seems like a waste of time to me)

Now that the rig prices have come down to 'reasonable' levels (thank god), it is actually feasable to use t2 rigs. With one T2 rig and one T1 rig it gives you a cargohold of 8280, enough for 2 cycles, which means you have longer before you have to tab back from your movie, book, porn, whatever it is you do to get you through the tedium of ice mining.

Using two t1 rigs wont be enough to fit 2 cycles so no point other than wasting money.
Using two t2 rigs wont give you enough to fit another block of ice... so again, no point.

Rats in the belts will not kill you. There's no ice mining drones so you might as well throw out some cheapy t1 light drones, they will pop anything that decides to come play with you...
If you position youself smartly in the ice fields then this will not be a problem anyway.

As for suicide ganks... yes it happens.
It does not happen very often... unless you annoy someone...
If someone REALLY wants to suicide gank you then a booster, hardener, extender etc.. will not stop them... Throwing a 30mil faction booster on will simply mean you loose a 30 mil faction booster as well when someone decides to gank you...

Targeting
| | | |
| --- | --- | --- |
| | Maximum targets | 6 |
| | Maximum targeting range | 37.5 km |
| | Scan resolution | 687.5 |
| | Sensor strength | 0 0 13 0 |
Size/Movement
| | | |
| --- | --- | --- |
| | Maximum velocity | 112.5 |
| | Inertia modifier | 0.44466 |
| | Signature radius | 250 m |
| | Cargo capacity | 621 m3 |
Systems
| | | |
| --- | --- | --- |
| | Capacitor capacity | 625 GJ |
| | Capacitor recharge time | 2 minutes 20 seconds |
| | Powergrid | 22 / 43.75MW |
| | CPU | 212 / 337.5 tf |
Shields
| | | |
| --- | --- | --- |
| | Shield capacity | 3750 |
| | Shield recharge time | 18 minutes 45 seconds |
| | Shield resistances | 0% 50% 40% 20% |
Armor
| | | |
| --- | --- | --- |
| | Armor hit points | 2594.69 |
| | Armor resistances | 60% 10% 25% 35% |
Structure
| | | |
| --- | --- | --- |
| | Structure hit points | 3375 |
| | Structure resistances | 0% 0% 0% 0% |
| | Drone bandwidth | 50 Mbit/sec |
| | Drone control range | 0 m |
Drones
| | | |
| --- | --- | --- |
| | Drone capacity | 50 m3 |
Download EVEMon Skill Plan
[Mackinaw, Mackinaw: Sensible fit! - 2x IHU]
Ice Harvester Upgrade II
Ice Harvester Upgrade II
Empty

Empty
Empty
Empty
Empty

Ice Harvester II
Ice Harvester II

Medium Cargohold Optimization I
Medium Cargohold Optimization II


Hobgoblin I

Item
Quantity
Value
Mackinaw
1
196,500,000
Hobgoblin I
1
734
Ice Harvester II
2
4,055,000
Ice Harvester Upgrade II
2
750,000
Medium Cargohold Optimization I
1
1,318,610
Medium Cargohold Optimization II
1
15,750,000
Total
223,179,344