Tengu
34
7
28,037 Views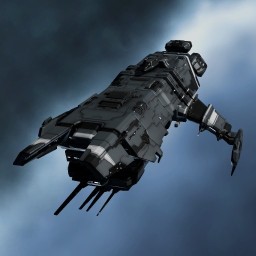 Modulename
My main mission ship is my Golem (which is posted already) and I also have a CNR that I use for a few missions. Previously I have posted a HAM tengu which is a good fitting if it is your main mission ship (i.e. you don't have a CNR or Golem yet).
This fitting is basically to fill a very specific role. The two missions that my Golem and CNR have a little issue on are "The Score" and "Massive Attack".
The reason this fit uses HM and not HAM's is that there are a ton of little ships and the HM's just deal with them better.
The fitting is not cap stable nor does it need to be, just pulse the booster every now and again. I will admit that this fit is horribly overtanked, but there is nothing else to do to improve the dps so the tank is just big.
I say there is nothing to do to improve the dps because it has 6 launchers, 4 BCU's and 2 T2 rigors. You could add a 3rd rigor or a TP but they will not make any difference. The reason is that you are already hitting cruisers for full damage, and instapopping all non-elite frigs. You sometimes save 1 volley on an elite frig with a tp but since the RoF is 3 seconds you are only saving 3 seconds per elite frig, since you don't encounter that many it is not worth it in my opinion.
Here is a video of this ship doing The Score. Bear in mind that most mission runners will try to decline this mission or don't like doing it because it has long gate crawls and kills their isk/hr, with this Tengu fit you do the mission so fast that it really doesn't hurt your isk/hr because you get a decent bounty and really good LP for the time it takes to do it.
http://www.youtube.com/watch?v=9xoZtHy6AC4
Targeting
| | | |
| --- | --- | --- |
| | Maximum targets | 5 |
| | Maximum targeting range | 117.1875 km |
| | Scan resolution | 293.75 |
| | Sensor strength | 35 0 0 0 |
Size/Movement
| | | |
| --- | --- | --- |
| | Maximum velocity | 650.14 |
| | Inertia modifier | 0.26123 |
| | Signature radius | 150 m |
| | Cargo capacity | 0 m3 |
Systems
| | | |
| --- | --- | --- |
| | Capacitor capacity | 2070.31 GJ |
| | Capacitor recharge time | 3 minutes 36 seconds |
| | Powergrid | 642 / 750MW |
| | CPU | 544.75 / 635 tf |
Shields
| | | |
| --- | --- | --- |
| | Shield capacity | 4562.5 |
| | Shield recharge time | 20 minutes 22 seconds |
| | Shield resistances | 57.87% 78.93% 87.36% 91.57% |
Armor
| | | |
| --- | --- | --- |
| | Armor hit points | 3062.5 |
| | Armor resistances | 50% 10% 62.5% 86.25% |
Structure
| | | |
| --- | --- | --- |
| | Structure hit points | 2076.25 |
| | Structure resistances | 0% 0% 0% 0% |
| | Drone bandwidth | 0 Mbit/sec |
| | Drone control range | 0 m |
Drones
| | | |
| --- | --- | --- |
| | Drone capacity | 0 m3 |
Download EVEMon Skill Plan
[Tengu, Tengu]
Caldari Navy Ballistic Control System
Caldari Navy Ballistic Control System
Caldari Navy Ballistic Control System
Caldari Navy Ballistic Control System

Cap Recharger II
Republic Fleet 10MN Afterburner
Caldari Navy Shield Boost Amplifier
Caldari Navy Adaptive Invulnerability Field
Caldari Navy Adaptive Invulnerability Field
Pithum A-Type Medium Shield Booster

Heavy Missile Launcher II
Heavy Missile Launcher II
Heavy Missile Launcher II
Heavy Missile Launcher II
Heavy Missile Launcher II
Heavy Missile Launcher II

Medium Capacitor Control Circuit I
Medium Warhead Rigor Catalyst II
Medium Warhead Rigor Catalyst II

Tengu Defensive - Amplification Node
Tengu Electronics - Dissolution Sequencer
Tengu Propulsion - Fuel Catalyst
Tengu Offensive - Accelerated Ejection Bay
Tengu Engineering - Augmented Capacitor Reservoir


Item
Quantity
Value
Tengu
1
187,000,000
Cap Recharger II
1
437,990
Heavy Missile Launcher II
6
1,000,000
Caldari Navy Ballistic Control System
4
1
Republic Fleet 10MN Afterburner
1
56,517,100
Caldari Navy Shield Boost Amplifier
1
50,000,000
Caldari Navy Adaptive Invulnerability Field
2
300,000,000
Pithum A-Type Medium Shield Booster
1
295,219,000
Caldari Navy Scourge Heavy Missile
1
1,162
Tengu Defensive - Amplification Node
1
51,000
Tengu Electronics - Dissolution Sequencer
1
57,000,000
Tengu Propulsion - Fuel Catalyst
1
46,000,000
Tengu Offensive - Accelerated Ejection Bay
1
46,390,000
Tengu Engineering - Augmented Capacitor Reservoir
1
59,000,000
Medium Capacitor Control Circuit I
1
1,413,100
Medium Warhead Rigor Catalyst II
2
24,000,000
Total
1,453,029,356