Wormhole Myrmidon Done Right!
31
4
1,898 Views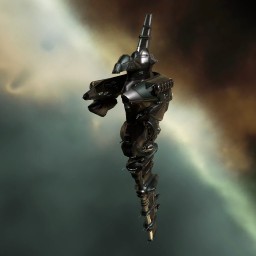 Modulename
After your feedback and looking at numbers in EFT this is the best myrmidon fit I could come up with for wormholes. I have tested this loadout in class 1 and 2 wormholes both solo and in small gangs and it works very well. No salvagers b/c I prefer to clean house then get a destroyer in or have someone else in a destroyer. Rep drones are awesome to have in wormholes. You can rep your own/other peoples drones after each site and can help others who cannot tank as well. This is one of the main reasons I justify bringing hobs/hams over wars/valks. If you do not feel confident enough to get them back in time, feel free to swap.

Also, I am not trained for autocannons so for those of you who will say "Use autos instead b/c myr have no bonuses to hybrids" please hold your comments! I have rails on right now b/c most non-frigate sleepers are long-ish range. Most sleeper frigates web as well, so you can stick the hobs on them and they will make quick work of them.

In the end, this is a long range setup. Putting autos/blasters on here would drive you nuts trying to zip around to every sleeper to kill them. You COULD put a MWD with autos/blasters on here (which I have tried) but that severely cripples your cap and tanking ability. Fear not though, I am working on a close range setup but it will take some time to complete.

Now to the numbers! I will post stats with my character.

31,480 Effective HP (5,860 armor)
61.5% EM | 76.6% THERM/KIN | 67.6% EXP
303/320 Sustained defense efficiency
83.8 (turret) + 161.2 (drone) = 245 DPS
356 m/s

My cap only lasts 7m 45s BUT if I train energy management to lvl4 I am stable @ 33%!

Export to EFT and see how this fits for you. In the end though, this is a good long range w-hole myrmidon. If you use or like, please rate! Thanks in advance for all comments/suggestions and ratings!
Targeting
| | | |
| --- | --- | --- |
| | Maximum targets | 7 |
| | Maximum targeting range | 68.75 km |
| | Scan resolution | 125 |
| | Sensor strength | 0 0 18 0 |
Size/Movement
| | | |
| --- | --- | --- |
| | Maximum velocity | 45.65 |
| | Inertia modifier | 0.4752 |
| | Signature radius | 305 m |
| | Cargo capacity | 400 m3 |
Systems
| | | |
| --- | --- | --- |
| | Capacitor capacity | 3562.5 GJ |
| | Capacitor recharge time | 2 minutes 46 seconds |
| | Powergrid | 1089.8 / 1312.5MW |
| | CPU | 436 / 500 tf |
Shields
| | | |
| --- | --- | --- |
| | Shield capacity | 4375 |
| | Shield recharge time | 17 minutes 30 seconds |
| | Shield resistances | 0% 50% 40% 20% |
Armor
| | | |
| --- | --- | --- |
| | Armor hit points | 5625 |
| | Armor resistances | 62.5% 68.3% 77.11% 77.11% |
Structure
| | | |
| --- | --- | --- |
| | Structure hit points | 5937.5 |
| | Structure resistances | 0% 0% 0% 0% |
| | Drone bandwidth | 100 Mbit/sec |
| | Drone control range | 0 m |
Drones
| | | |
| --- | --- | --- |
| | Drone capacity | 200 m3 |
Download EVEMon Skill Plan
[Myrmidon, Wormhole Myrmidon Done Right!]
Medium Armor Repairer II
Medium Armor Repairer II
Energized Adaptive Nano Membrane II
Armor Kinetic Hardener II
Armor Explosive Hardener II
Armor Thermic Hardener II

Cap Recharger II
Cap Recharger II
Cap Recharger II
Cap Recharger II
10MN Afterburner II

250mm Railgun II
250mm Railgun II
250mm Railgun II
250mm Railgun II
Prototype Cloaking Device I
Sisters Core Probe Launcher

Medium Auxiliary Nano Pump I
Medium Capacitor Control Circuit I
Medium Capacitor Control Circuit I


Hammerhead II
Hobgoblin II
Medium Armor Maintenance Bot I

Item
Quantity
Value
Myrmidon
1
56,002,000
Antimatter Charge M
1
76
Cap Recharger II
4
473,000
Hammerhead II
1
725,965
Hobgoblin II
1
305,080
250mm Railgun II
4
1,584,190
Medium Armor Repairer II
2
1,038,960
Energized Adaptive Nano Membrane II
1
665,000
Prototype Cloaking Device I
1
1,393,530
Armor Kinetic Hardener II
1
1,500,000
Armor Explosive Hardener II
1
1,690,780
Armor Thermic Hardener II
1
1,576,500
10MN Afterburner II
1
1,999,000
Medium Armor Maintenance Bot I
1
528
Sisters Core Probe Launcher
1
37,900,000
Sisters Core Scanner Probe
1
460,101
Medium Auxiliary Nano Pump I
1
2,547,500
Medium Capacitor Control Circuit I
2
1,677,500
Total
120,427,740