Drake: Sleeper spider tank
83
15
1,010 Views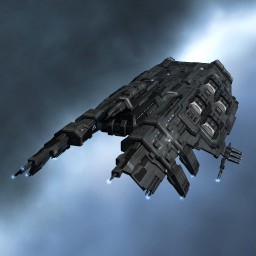 Modulename
At my skills:
High shield 6563 hp, high 51,642 EHP
Omni tank shield: modest 75 hps plus 367 hps per additional Drake (S95a).
Firepower: modest 254 dps, high 2034 damage per volley
Cap stable 46%
CPU easily becomes an issue when considering additional resists, T2 launchers, or additional BCS (lows).

May want to consider a Tengu fitted along these lines, or a hurricane also, for other options following this line of thought.
Targeting
| | | |
| --- | --- | --- |
| | Maximum targets | 8 |
| | Maximum targeting range | 75 km |
| | Scan resolution | 243.75 |
| | Sensor strength | 19 0 0 0 |
Size/Movement
| | | |
| --- | --- | --- |
| | Maximum velocity | 175 |
| | Inertia modifier | 0.432 |
| | Signature radius | 295 m |
| | Cargo capacity | 450 m3 |
Systems
| | | |
| --- | --- | --- |
| | Capacitor capacity | 3125 GJ |
| | Capacitor recharge time | 1 minutes 57 seconds |
| | Powergrid | 799 / 1000MW |
| | CPU | 626.5 / 625 tf |
Shields
| | | |
| --- | --- | --- |
| | Shield capacity | 6562.5 |
| | Shield recharge time | 17 minutes 30 seconds |
| | Shield resistances | 75.87% 77.36% 72.83% 63.78% |
Armor
| | | |
| --- | --- | --- |
| | Armor hit points | 4062.5 |
| | Armor resistances | 57.5% 23.5% 36.25% 53.25% |
Structure
| | | |
| --- | --- | --- |
| | Structure hit points | 4687.5 |
| | Structure resistances | 60% 60% 60% 60% |
| | Drone bandwidth | 25 Mbit/sec |
| | Drone control range | 0 m |
Drones
| | | |
| --- | --- | --- |
| | Drone capacity | 25 m3 |
Download EVEMon Skill Plan
[Drake, Drake: Sleeper spider tank]
Capacitor Power Relay II
Damage Control II
Ballistic Control System II
Ballistic Control System II

Cap Recharger II
Cap Recharger II
Cap Recharger II
Adaptive Invulnerability Field II
Adaptive Invulnerability Field II
EM Ward Field II

'Arbalest' Heavy Missile Launcher
'Arbalest' Heavy Missile Launcher
'Arbalest' Heavy Missile Launcher
'Arbalest' Heavy Missile Launcher
'Arbalest' Heavy Missile Launcher
'Arbalest' Heavy Missile Launcher
'Arbalest' Heavy Missile Launcher
Large S95a Remote Shield Booster

Medium Capacitor Control Circuit I
Medium Capacitor Control Circuit I
Medium Capacitor Control Circuit I


Hornet EC-300

Item
Quantity
Value
Drake
1
56,596,000
Scourge Heavy Missile
1
58
Capacitor Power Relay II
1
450,000
Cap Recharger II
3
437,990
Damage Control II
1
448,449
Adaptive Invulnerability Field II
2
1,749,000
EM Ward Field II
1
1,449,700
'Arbalest' Heavy Missile Launcher
7
1,500,020
Large S95a Remote Shield Booster
1
337,646
Ballistic Control System II
2
877,500
Hornet EC-300
1
5,894
Medium Capacitor Control Circuit I
3
1,413,100
Total
80,594,157